Chicago Collaborative Divorce Attorneys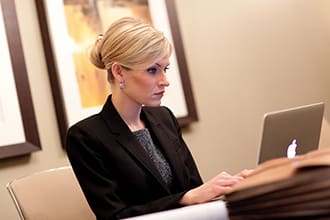 Join one of our experienced family law attorneys and learn about the divorce process, common issues, and participate in a Q and A session.
RSVP here.
Upcoming dates:
Chicago Collaborative Divorce Lawyers at Sterling Hughes, LLC
Are you ready to move forward? Call (312) 757-8082 to schedule a strategy session with one of our attorneys.
Taking steps towards a collaborative divorce can feel like a maze of emotional and legal challenges. It's a journey that demands the use of not only your heart but also your head. It's in times like these that you need the guiding hand of a Chicago divorce lawyer who can stand beside you. Having a legal representative such as an attorney can make all the difference, making an intricate process streamlined and less stressful. Among the numerous benefits, one stands out, and that is the possibility to transform stressful situations into manageable ones with deft legal guidance.
Your Trusted Partner in Family Law
Sterling Hughes stands as a beacon of hope in the city of Chicago, dedicated to helping clients navigate through their legal battles. The unique feature that makes the team stand out is its dedicated team of seasoned attorneys who relentlessly endeavor for the best possible outcomes for their clients. Their primary focus is on making this complex process as simple and quick as possible while ensuring that the client's best interests are protected. This commitment sets them apart from other law firms in the city. Each client receives individual attention in an environment poised to make the client's experiences as stress-free as possible.
The Approach That Puts Your First
The approach in handling each collaborative divorce case in Chicago is above all personalized. Every client's unique situation is understood, and the services are tailored to meet the specific needs of the client. Transparent quotes are provided after careful appraisal of each individual case. The firm offers a fixed fee pricing structure that eliminates the stress associated with hourly billing. Comprehensive high-quality legal representation that takes into account every detail of your case, without the worry of costs escalating, is their service hallmark. It ensures client satisfaction and better outcomes.
Leveraging Vast Experience in Collaborative Divorce
We use our broad knowledge base in family law to deliver excellent service to its clients. Our understanding of collaborative divorce law extends deep and wide, ensuring that clients receive support without delays or financial strain. This extensive practical experience is transformed into a higher level of confidence and competence while dealing with issues related to family law. The clients can relax knowing that they are in capable hands.
Ensuring Seamless Legal Proceedings
Sterling Hughes is dedicated to reducing stress, unnecessary delays, and disruptions during proceedings. They aim to make the process as effortless and quick as possible, ensuring smoother transitions. The focus on timely resolution enables clients to see their desired outcomes promptly. The team adeptly handles several pertinent legal proceedings, providing comprehensive service in family law cases. There is a firm commitment to fostering collaboration and reducing conflict, thereby achieving clear resolution reflecting both parties' decisions.
Unwavering Support through the Unexplored Terrain
When going through collaborative divorce, factors such as the effect on children, finances, and emotional well-being play a significant role. Circumstances change over time, and individuals may need to modify existing arrangements. Our attorneys can guide clients through such modifications and provide continuous support. The law firm supports clients beyond the initial consultation and ensures clear communication channels with regular updates. We are dedicated to maintaining long-term relationships with clients even after their immediate needs have been resolved.
An Assured Advantage by Opting for an Experienced Attorney
An attorney with a history of handling similar cases successfully can be a significant advantage. The experienced attorneys at Sterling Hughes give confidence in their clients, providing them peace of mind during the legal process. They understand the focus points of collaborative divorce and work towards ensuring peaceful resolutions. Selecting an attorney proficient in family law, negotiation, and litigation is crucial. Our team members guide clients through every step, providing advice and representation.
Arriving at Agreeable Resolutions
The family law process consists of several stages, including initial consultation, document filing, negotiation, and potentially court proceedings. Our lawyers take clients through each stage while addressing timelines and potential challenges along the way. They guide through every step of the process, providing strategic advice and advocating for the clients' best interests. Their effective strategies and approaches help navigate through collaborative divorce cases successfully.
Start Your New Chapter
Starting the collaborative divorce process requires a consultation with an attorney to evaluate the situation and understand the available options. It's essential to determine whether individuals qualify for the process as eligibility varies based on jurisdiction and individual circumstances. Schedule a consultation to understand their rights, options, and potential outcomes better. A consultation can empower individuals by providing a clear picture of what lies ahead.
For Immediate help with your family law case or answering any questions please call (312) 757-8082 now!
Frequently Asked Questions
Does the collaborative process happen outside of court in Chicago?
Yes, the collaborative divorce process happens outside of court in Chicago. You and your spouse work together in face-to-face settlement meetings with your collaborative attorneys and any additional neutral professionals on the team. Negotiations focus on finding win-win solutions versus relying on contested court proceedings.
Are communications during collaborative divorce confidential in Chicago?
Generally, communications during collaborative divorce are confidential in Chicago. Parties usually sign a participation agreement that bars use of any statements made during the process later on in court. Exceptions exist for threats, abuse/neglect, or crimes. Confidentiality promotes open and honest negotiations to reach settlement.
Does either spouse have to reveal infidelity during a collaborative divorce in Chicago?
No, neither spouse is required to reveal infidelity during a collaborative divorce in Chicago. Illinois is a no-fault divorce state, so adultery or misconduct does not need to be alleged or proven. Settlement discussions can remain focused on equitable distribution of assets, co-parenting, and other forward-looking matters. Past wrongdoings are typically not relevant to creating agreeable divorce terms.