Chicago Property Division Attorneys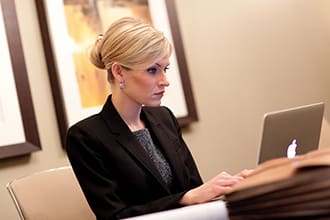 Join one of our experienced family law attorneys and learn about the divorce process, common issues, and participate in a Q and A session.
RSVP here.
Upcoming dates:
Chicago Property Division Lawyers at Sterling Hughes, LLC
Are you ready to move forward? Call (312) 757-8082 to schedule a strategy session with one of our attorneys.
Dealing with property division can be an emotional roller coaster. The complexities involved can feel overwhelming, leaving many individuals feeling lost and uncertain. The assistance of a Chicago family law lawyer can significantly simplify this complicated process. A reputable law firm, such as Sterling Hughes in Chicago, Illinois, can provide the guidance needed to navigate this challenging time. Having knowledgeable legal assistance significantly reduces the stress associated with this critical phase in one's life.
Embracing the Journey of Property Distribution
Sterling Hughes has a reputation in Chicago for making property division less burdensome for clients. Our firm has a team of committed attorneys dedicated to alleviating client stress and ensuring favorable outcomes. We aim to navigate this intricate legal case quickly and simply, always prioritizing client interests. The strong knowledge of our team sets us apart from competitors in Chicago. We remain focused on providing personalized attention, enhancing our clients' experience and confidence in our services.
Legal Services That Work for You
Understanding a client's unique family law needs is paramount. Our legal team invests time in understanding individual circumstances to tailor our services effectively. We provide transparent quotes and adapt our services to suit specific needs. Our fixed fee pricing structure eliminates any potential financial surprises, offering cost-effectiveness. Clients can relax knowing they are receiving comprehensive, high-quality legal representation at a reasonable price. This customized strategy leads to increased client satisfaction and improved outcomes.
Building on Years of Family Law Success
Drawing from years of experience, our law firm serves clients excellently. The attorneys in our firm have a deep understanding of the legal process, which instils confidence in our clients. We focus on making the process affordable, ensuring clients receive the support they need without unnecessary delays or financial strain. This wealth of experience translates into proficient handling of family law matters, reassuring our clients that they have entrusted their cases to capable hands.
Commitment to Seamless Legal Proceedings
We are committed to minimizing disruptions and maximizing resolution during legal proceedings. By streamlining the legal process, we aim to reduce stress and unnecessary delays for our clients. Our goal is to make family law proceedings effortless and fast, ensuring a smooth transition and minimizing disruptions to our clients' lives. Our professional lawyers handle cases thoroughly, providing a well-rounded approach to family law cases. We are committed to achieving a clear resolution reflecting both parties' decisions, fostering collaboration, and reducing conflict.
Continuing Support Beyond the Courtroom
Navigating through property division requires considering several factors such as the impact on children, financial implications, and emotional well-being. With circumstances changing over time, modifications may become necessary, and Sterling Hughes can help with that. We provide guidance for these changes granting ongoing support to our clients. Beyond the initial consultation and representation, we also keep our clients informed and updated about the progress of their legal case. We are dedicated to maintaining long-term relationships with our clients, even after their immediate needs have been resolved.
Strength in Choice: The Value of an Experienced Attorney
Selecting an attorney with a proven track record and successful experience in handling similar cases is advantageous. Our ability to handle numerous cases instils confidence in clients contributing to their peace of mind during the legal process. In property division matters, protecting the best interests of children, ensuring fair distribution of assets, and promoting peaceful resolutions are crucial. Choosing a family law attorney becomes imperative because of their comprehensive knowledge of family law, familiarity with local courts and judges, and experience in negotiation and litigation. The role of the attorney is vital as they act as strong advocates guiding clients through the legal process and providing advice at every step.
The Path Towards Resolution
The legal process involves several stages including initial consultation, filing documents, negotiation, and potentially court proceedings. Understanding what to expect during the process is important since it outlines potential challenges and emphasizes maintaining open communication with the attorney. Our firm's comprehensive knowledge of family law enables us to guide clients through each stage, providing strategic advice, and advocating for their best interests. We employ unique strategies to navigate cases effectively, ensuring a higher likelihood of reaching a favorable resolution.
Starting an Initial Consultation in Your Legal Journey
Beginning the property division process requires consultation with an attorney to evaluate the situation, understand rights, and explore available options. Eligibility varies based on jurisdiction and individual circumstances. At Sterling Hughes, we encourage individuals to schedule consultations to determine their eligibility. Consulting with an attorney can empower individuals providing them with a clear understanding of their rights, options, and potential outcomes. Early consultation can prevent legal pitfalls, preserve evidence, and establish a strong foundation for a successful case.
Navigating through property division is not an easy task and having the right legal assistance significantly simplifies the process. With our personalized approach, extensive experience, commitment to smooth proceedings, ongoing support, and the importance of consulting with an attorney, Sterling Hughes stands out as a trusted choice for representation in Chicago. When facing such complexities, it is important to have a knowledgeable attorney by your side. Our commitment to service aids in easing the difficult process and supporting clients through each stage with compassion. We encourage individuals to take that step of reaching out to discuss their individual cases, goals and how we can assist them in achieving the best possible outcome for their case. To understand the geographical context of where your case will be handled, know that Chicago resides in Cook County. We invite you to contact us for consultation or further information as we are committed to serving the Chicago community.
For Immediate help with your family law case or answering any questions please call (312) 757-8082 now!
Frequently Asked Questions
Who gets to stay in the family home after a divorce in Chicago?
In a Chicago divorce, who stays in the family home depends on several factors. The court looks at who has physical custody of minor children, incomes and ability to afford the mortgage, tax implications, and parties' agreement. Often the custodial parent can stay until children reach 18. The court may order the house sold and proceeds divided if neither spouse can afford it alone.
What is the process for appraising assets and determining values for property division?
The process for appraising assets and determining values for property division in a Chicago divorce involves each spouse exchanging financial documentation like tax returns, bank statements, property records, and retirement account details. Significant assets like real estate or businesses get professional valuations. Values are established as of the date of dissolution. The lawyers often negotiate asset values, with the court making final determinations if disputes remain.
How are bank accounts divided during a divorce in Chicago, Illinois?
Bank accounts in a divorce are generally divided by tracing contributions made during the marriage to determine equitable distribution, rather than simply splitting current balances. All marital deposits into accounts remain marital property. Any non-marital funds deposited can be set aside. The court divides the marital portion equitably, often 50/50. Your lawyer can help trace non-marital contributions to be awarded separately.