Chicago Military Divorce Attorneys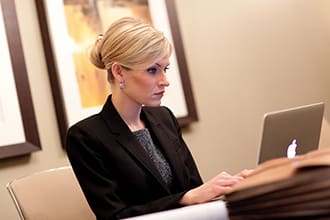 Join one of our experienced family law attorneys and learn about the divorce process, common issues, and participate in a Q and A session.
RSVP here.
Upcoming dates:
Chicago Military Divorce Lawyers at Sterling Hughes, LLC
Are you ready to move forward? Call (312) 757-8082 to schedule a strategy session with one of our attorneys.
A military divorce can be an emotionally tumultuous journey, punctuated by complex challenges and logistical hurdles. Add to this the fact that military regulations and state divorce laws can intersect in complicated ways, thereby making the process increasingly difficult for those who do not comprehend these complexities. Armed with the assistance of skilled legal guidance from Sterling Hughes, one can turn this daunting challenge into a streamlined process. The team of experienced Chicago divorce lawyers can aid in navigating the often confusing landscape of family law and provide the necessary legal support throughout this critical period.
Go-To Assistance When Steering Through the Terrain of Military Divorce
We have a long-standing reputation for assisting clients with complicated family law cases. The dedicated team prides itself on its diligent efforts to alleviate the stress associated with legal proceedings, working tirelessly to secure favorable outcomes for clients. Our goal is to efficiently navigate through the complex legal process, ensuring our clients' best interests are always protected. The unique value of the team, relative to similar firms in Chicago, derives from our unrivaled understanding of military divorce laws. Our unwavering commitment to providing personal attention to each case helps enhance the overall client experience.
Tailored Approach to Family Law in Chicago
Understanding individual needs is central to the approach adopted by Sterling Hughes. They devote significant time and effort into comprehending the unique circumstances of each case, offering customized recommendations that align with their clients' specific needs. They operate on a fixed fee pricing structure, eliminating the surprise bills often associated with hourly-based pricing models. By choosing to work with the team, clients are assured of receiving comprehensive legal services without worrying about escalating costs.
A Wealth of Experience
With its rich history of serving clients with excellence, Sterling Hughes stands as a beacon of experience in the realm of family law. Their deep understanding of military divorces and commitment to rendering the process more affordable allow clients to receive necessary support without any unnecessary delays or financial strain. This experience translates into a high level of confidence and competence when handling family law matters, reassuring clients that they are in capable hands.
Guiding You Towards Effortless Proceedings
Minimizing disruptions and expediting resolutions during family law proceedings are intrinsic to the philosophy at the family law firm. They aim to reduce stress and remove unnecessary delays, ensuring a smooth transition for their clients through the legal process. The firm's dedicated lawyers work on handling legal proceedings related to property division, child custody and support and alimony, thereby providing a well-rounded approach to family law cases. The firm is committed to achieving clear resolutions reflecting both parties' decisions, thus fostering collaboration and reducing conflict.
Consistent Support Throughout the Journey
Navigating a military divorce requires considering numerous factors, including the impact on children, financial implications, and emotional well-being. Sterling Hughes is there to guide clients through these considerations and provide ongoing support as circumstances evolve over time and call for alterations in existing arrangements. This law firm is committed to keeping clients informed and updated on the progress of their cases while ensuring clear communication channels and regular updates. Post-resolution, Sterling Hughes remains dedicated to maintaining long-term relationships with clients, continuing to offer support and resources necessary for their continued well-being.
The Importance of an Attorney's Track Record in Military Divorce Cases
Selecting an attorney with a successful track record in similar cases plays a crucial role when facing challenges in family law. Sterling Hughes' track record and vast experience instill confidence in clients and contribute to their peace of mind during these trying times. A key focus here is protecting the best interests of children, ensuring fair distribution of assets, and promoting peaceful resolutions. The attorneys act as strong advocates and guides for their clients throughout the legal process, offering advice and representation at every step.
An Overview of the Legal Process
Our attorneys are well-versed in the military divorce process, outlining all necessary steps involved including initial consultation, filing documents, negotiation, and potentially court proceedings. They assist clients in understanding legal requirements, documentation procedures, and dealing with opposing parties in order to effectively navigate cases. This approach ensures a higher likelihood of achieving a favorable resolution.
Embarking on Your Journey
Securing quality legal assistance when facing a military divorce is crucial due to the complexities involved. By offering support throughout each stage, Sterling Hughes ensures that clients feel taken care of with compassion and professional skill. Starting the process necessitates consultation with a Chicago military divorce attorney to evaluate situations accurately, understand rights fully, and explore all available options. Early consultation can prevent legal pitfalls, preserve evidence, and establish a strong foundation for a successful case. Schedule a consultation to get peace of mind.
For Immediate help with your family law case or answering any questions please call (312) 757-8082 now!
Frequently Asked Questions
What are the residency requirements to file for military divorce in Chicago?
To file for military divorce in Chicago, one spouse must meet Illinois and Chicago residency requirements - living in the state for at least 90 days and in the county for at least 30 days before filing. The servicemember's residency does not determine jurisdiction. As long as venue requirements are met for the divorcing spouse residing in Chicago, a case can proceed.
How does the Servicemembers Civil Relief Act impact the attempt to divorce a servicemember in Chicago?
The Servicemembers Civil Relief Act (SCRA) protects active duty servicemembers from default judgements and allows for stays in family law cases in some situations, such as deployment. This aims to prevent servicemembers from being disadvantaged in litigation due to military duties. Your Chicago military divorce lawyer can argue against inappropriate use of SCRA protections by your spouse in your case.
Does my spouse's combat-related PTSD impact divorce and custody matters?
If a divorcing military spouse suffers from PTSD or other combat-related conditions, it may impact custody rights and arrangements. There would need to be evidence that the condition interferes with their ability to safely and adequately parent. Mental health records, testimony, and evaluations can prove stability and fitness. A Chicago military divorce attorney experienced with such cases can help protect custody rights while being sensitive to mental health struggles.