Chicago Uncontested Divorce Attorneys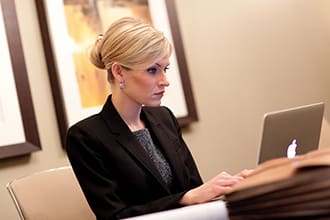 Join one of our experienced family law attorneys and learn about the divorce process, common issues, and participate in a Q and A session.
RSVP here.
Upcoming dates:
Chicago Uncontested Divorce Lawyers at Sterling Hughes, LLC
Are you ready to move forward? Call (312) 757-8082 to schedule a strategy session with one of our attorneys.
The heart-wrenching journey of an uncontested divorce often leaves individuals grappling with emotions, complexities, and challenges. Managing such sensitive and personal legal cases without a Chicago divorce attorney can only amplify the stress. It's at this critical time that the attorneys at Sterling Hughes step in. This law firm, based in Chicago, Illinois, simplifies the process for clients by providing reliable and competent legal advice.
Climbing the Mountain of Family Law
Sterling Hughes distinguishes itself among other law firms in Chicago with its unique approach to uncontested divorce cases. The dedicated team of lawyers is committed to making the process less stressful and more straightforward, prioritizing the best interests of clients. The firm's attorneys do this by understanding the nuances of family law and leveraging their thorough comprehension to guide clients to favorable outcomes.
Our Personalized Approach to Legal Services in Chicago
Dedicated to understanding each client's unique circumstances, we tailor our legal services to each unique situation in the realm of family law. We take the time to comprehend individual scenarios and provide transparent quotes. Adding to the advantage is their fixed fee pricing structure, which eliminates the surprise costs associated with hourly billing, furnishing comprehensive, high-quality legal representation.
Putting Our Experience to Work
Our family law attorneys have a wealth of experience in dealing with complex legal cases. Their deep understanding of the uncontested divorce process has led to a streamlined process, making it affordable and efficient for clients. With vast experience comes high confidence in handling family law matters, reassuring clients that they are in capable hands.
Our Dedication to Effortless Proceedings
Minimizing disruptions and maximizing solutions during family law proceedings is at the core of our commitment. We aim to make the uncontested divorce process seamless and fast, ensuring timely resolution. Our professional lawyers adeptly handle related matters like property division, child custody, and support, fostering collaboration and reducing conflict in divorce proceedings.
Continued Assistance Through Your Journey
When navigating through an uncontested divorce, it's essential to consider factors like the impact on children, potential financial implications, and emotional well-being. Sterling Hughes provides family law modification services to adapt to changing circumstances. They guide clients through these modifications and offer ongoing support beyond the initial consultation. The firm's commitment to keeping clients informed reflects in their clear communication channels and regular updates.
Choosing an Attorney with Experience and Success
The advantages of working with an attorney who has successfully handled similar cases in the past cannot be overstated. Our track record provides confidence in clients when it comes to managing family law cases. Upholding children's well-being, safeguarding an equitable allocation of assets, and encouraging amicable settlements are vital considerations when selecting an attorney. Therefore, opting for a lawyer with substantial experience emerges as a prudent choice.
Plotting the Route to Favorable Outcomes
The team guides clients competently through each stage of the uncontested divorce process. With detailed insights into the challenges and legal requirements of such proceedings, they provide strategic advice and advocate for clients' best interests. Their unique strategies and thorough understanding of family law cases increase the likelihood of achieving favorable outcomes.
Starting You with a Strong Foundation
Starting the process of an uncontested divorce begins with a consultation with a lawyer to evaluate the situation, understand rights, and explore available options. To determine whether you're eligible for such a process, reach out to Sterling Hughes. Without seeking legal advice on such matters, individuals risk running into potential pitfalls. An early consultation can prevent these issues and provide clarity on rights, options, and potential outcomes.
For Immediate help with your family law case or answering any questions please call (312) 757-8082 now!
Frequently Asked Questions
Is there a required separation period before filing for an uncontested divorce in Chicago?
No, there is no mandatory separation period required before filing for an uncontested divorce in Chicago. Illinois eliminated its former 6-month separation prerequisite for no-fault divorce many years ago. As long as one spouse meets the residency requirements, an uncontested divorce can proceed in Chicago even if you were living together up until filing. However, a period of living apart can provide evidence the marriage is irretrievably broken.
Can I get an uncontested divorce in Chicago if my spouse will not sign or cooperate?
Yes, you can still pursue an uncontested divorce in Chicago even if your spouse refuses to sign or cooperate. Without their consent, it simply converts to a contested case but remains no-fault. Your Chicago attorney can advise how to serve your spouse and include proposed marital settlement terms to get approval on an uncontested basis.
Do I have to disclose infidelity if filing for an uncontested Chicago divorce?
No, there is no obligation to disclose infidelity when filing for an uncontested divorce. Illinois is a no-fault state, so adultery or misconduct does not need to be alleged or proven. The grounds for an uncontested, no-fault divorce are just that irreconcilable differences caused an irretrievable breakdown of the marriage. Any terms of settlement can be negotiated privately between spouses and lawyers.