Arlington Heights Paternity Attorneys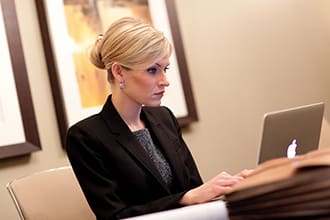 Join one of our experienced family law attorneys and learn about the divorce process, common issues, and participate in a Q and A session.
RSVP here.
Upcoming dates:
Arlington Heights Paternity Lawyers at Sterling Hughes, LLC
Are you ready to move forward? Call (312) 757-8082 to schedule a strategy session with one of our attorneys.
Determining legal paternity can be an emotionally complex process full of challenges. Establishing parental rights and obligations for a child requires in-depth guidance to handle legal intricacies smoothly. An Arlington Heights family law attorney who streamlines the process is invaluable, providing support during this difficult situation. With experienced counsel, you can confidently navigate the specifics of family law and related matters like child support, custody, and visitation rights. The right lawyer will handle your case efficiently with care and empathy.
Attorneys That Offer Trusted Guidance
Our paternity attorneys in Arlington Heights focus on reducing client stress. We understand the challenges individuals face when establishing paternity. Our goal is securing the best outcome as quickly as possible while protecting your interests. With extensive family law knowledge, our lawyers can effectively handle even highly complex cases. We take pride in our personalized approach, getting to know you and your needs so we can customize our legal services.
Personalized Legal Strategies for You
Understanding the unique challenges faced by individuals dealing with legal cases in Arlington Heights is crucial. We prioritize understanding each client's specific needs and tailor their services accordingly. By offering transparent quotes based on individual circumstances, we eliminate unexpected costs usually associated with legal consultations. Our fixed fee pricing structure eliminates the concern of escalating costs, providing comprehensive, high-quality legal representation without financial stress. This personalized approach increases client satisfaction and leads to better outcomes.
Our Extensive Family Law Experience Streamlines the Process
Our legal team is no stranger to serving its clients with excellence. Our extensive understanding of paternity processes equips them to handle these cases with utmost confidence and competence. Our primary goal is to make the legal journey affordable and timely, allowing their clients to receive support seamlessly. The vast experience of this team translates into competent handling of family law matters, assuring clients of a steadfast hand to guide them.
Our Commitment to Smooth Paternity Proceedings
We are dedicated to minimizing disruptions during paternity proceedings. Our goal is ensuring the process goes as smoothly as possible for Arlington Heights clients. We work to reduce stress by streamlining procedures and focusing on timely resolutions, so you can move forward. Our lawyers have experience establishing paternity, child custody, support, and visitation rights. We take a well-rounded approach while prioritizing outcomes reflecting the child's best interests. Throughout proceedings, our commitment remains on collaboration and avoiding unnecessary conflict.
Minimizing disruptions in one's life while aiming for maximum resolution during legal proceedings is our dedication. Striving to streamline the process, they aim for a smooth transition, minimizing disruptions and ensuring timely hurdle-free resolution. Their professional lawyers handle various family law proceedings, including property division, child custody and support, and alimony. They are committed to achieving a resolution that reflects both parties' wishes, minimizing conflict.
Ongoing Support Throughout Your Journey
While going through legal proceedings, several considerations like children's impact, financial implications, and emotional well-being are taken into account. Sterling Lawyers offers family law modifications, understanding that circumstances can change over time. Our attorneys guide clients through these modifications and offer ongoing support. They ensure clear communication channels and regular updates, providing resources to help clients throughout their journey. Our firm is dedicated to maintaining long-term relationships with its clients, even after their immediate needs have been met.
Lawyers with Proven Track Records
Selecting an attorney with a proven successful track record can be advantageous when dealing with family law cases. The experience and successful history provide confidence in its clients as they navigate through their legal journey. Choosing a family law attorney is crucial as it highlights their familiarity with local courts and judges and provides experience in negotiation and litigation.
Developing a Favorable Action Plan
The first step towards a paternity case process is consultation, allowing individuals to understand their rights and explore options. Eligibility varies based on jurisdiction and individual circumstances. A consultation with the Arlington Heights paternity attorneys can empower individuals by giving them a clear understanding of their rights and potential outcomes. Seeking consultation can prevent legal pitfalls, preserve evidence, and establish a strong foundation for a successful case.
Let Our Team Ease Your Burden
When dealing with child paternity cases in Arlington Heights, Wisconsin, it is imperative to seek legal assistance due to the involved complexities. Clients can take the next step by contacting Sterling Lawyers to discuss their case and goals. Located in Cook County, we extend our accessibility and dedication to serve the community of Arlington Heights with a commitment to providing invaluable guidance through any family law concerns. Take the first step by contacting us today to schedule an initial consultation.
For Immediate help with your family law case or answering any questions please call (312) 757-8082 now!
Frequently Asked Questions
Do I need a lawyer to establish paternity in Arlington Heights?
Establishing paternity can be a complex legal process with significant long-term implications, so working with a knowledgeable paternity lawyer in Arlington Heights is highly recommended. A lawyer can advise you on your rights and responsibilities, ensure proper legal procedures are followed, represent your interests in negotiations or court proceedings, and help craft custody, visitation and child support agreements. Navigating the legal system without an attorney can put you at a disadvantage and lead to unfavorable outcomes. Though you may technically file yourself, having an experienced attorney on your side protects your relationship with your child.
What are my rights as an unmarried father in a paternity case in Arlington Heights?
As an unmarried father in Illinois, you have the right to seek legal paternity of your child through the courts. Once paternity is established, you have the same legal rights as married fathers regarding decision-making responsibilities and parenting time. A lawyer can help ensure you get fair consideration for custody and visitation based on the child's best interests. Unmarried fathers also have the right to work with the courts to set up a child support order. Your paternity rights include asking for genetic testing if it is contested. An attorney can advise you on using the test results to secure your rights.
How can a lawyer help me enforce my paternity rights as a father in Arlington Heights?
If you are struggling to exercise your paternity rights, a skilled Arlington Heights attorney can be invaluable. The lawyer can first send demand letters asserting your rights and trying to resolve matters out of court. If needed, they can file motions to compel compliance with paternity judgments and agreements regarding custody, visitation or child support. They can also file contempt motions if the other party violates orders. In extreme cases, an attorney can help restrict access to the child if your involvement is being wrongfully impeded. Throughout the process, the lawyer can advise you on steps to take and legal strategies to enforce your rights as the father. With an attorney's counsel, you are better positioned to assert your rights.
Sterling Lawyers, LLC in Arlington Heights is formerly known as 'Sterling Hughes, LLC'