Arlington Heights Uncontested Divorce Attorneys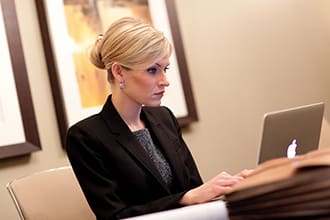 Join one of our experienced family law attorneys and learn about the divorce process, common issues, and participate in a Q and A session.
RSVP here.
Upcoming dates:
Arlington Heights Uncontested Divorce Lawyers at Sterling Hughes, LLC
Are you ready to move forward? Call (312) 757-8082 to schedule a strategy session with one of our attorneys.
Going through an uncontested divorce still involves emotional challenges and complex legal processes. Ending a marriage through mutual agreement requires skilled guidance to handle intricacies smoothly. An attorney who streamlines the process is invaluable, providing support during this difficult transition. With an experienced Arlington Heights divorce attorney, you can confidently navigate the specifics of family law and related matters like property division, child custody, and spousal support. The right lawyer will handle your case efficiently with care and empathy.
Dedicated Uncontested Divorce Attorneys
Our uncontested divorce attorneys in Arlington Heights focus on reducing client stress. We understand the singular challenges those seeking an amicable divorce face. Our goal is securing the best outcome as quickly as possible while protecting your interests. With extensive family law knowledge, our lawyers can effectively handle even highly complex cases. We take pride in our personalized approach, getting to know you and your needs so we can customize our legal services. The attorneys assist with various aspects of the legal proceedings such as property division, child custody and support, and alimony. All this is done while maintaining a clear focus on the mutual decisions of the parties involved. In doing so, they foster collaboration and reduce conflict, thus ensuring a smooth and amicable resolution.
Continual Assistance Throughout the Legal Journey
An uncontested divorce often starts a ripple effect of changes in various aspects of life, such as the impact on children, financial implications, and emotional well-being. Modifications might be necessary as circumstances change over time. The attorneys at Sterling Lawyers provide continual guidance through these changes, ensuring clients never have to navigate these waters alone. Beyond initial consultation and representation, the firm offers ongoing support by keeping clients informed and updated, and additional resources or referrals as needed. Sterling Lawyers is dedicated to forging long-term relationships with clients, extending their services beyond immediate legal needs.
The Pillar of Legal Success: A Proven Attorney
Choosing an attorney with a successful track record in similar cases is integral when dealing with uncontested divorce. Sterling Lawyers instills confidence in clients through proven success in past cases, allowing clients peace of mind during the legal process. The primary concern is to protect the welfare of children, guarantee equitable allocation of assets, and encourage peaceful solutions. A thorough understanding of family law, familiarity with local courts and judges, and strong negotiation skills make an attorney invaluable in this process. The dedicated attorneys act as strong advocates, guidance providers, and representatives throughout each legal step.
Paving the Path to Resolution
The process involves numerous steps, from initial consultation to document filing to potential court proceedings. Each step comes with potential challenges that require competent navigation. Sterling Lawyers uses its considerable knowledge in family law to guide clients through each stage, providing strategic advice and advocating for their best interests. Despite the inherent legal complexities, we ensure effective navigation of family law cases.
Realizing Your Legal Power: The Importance of Consultation
For individuals considering an uncontested divorce, a consultation with an attorney offers a crucial first step. Early consultations allow individuals to understand their rights, explore potential options, and prevent pitfalls in the future. This empowers them by giving a clear understanding of possible outcomes and establishing a strong case foundation. Appropriate legal guidance is essential in successfully navigating the nuances of family law cases. The early bird not only gets the worm but also avoids potential legal landmines. Call today to schedule a consultation to set yourself up for a brighter future.
For Immediate help with your family law case or answering any questions please call (312) 757-8082 now!
Frequently Asked Questions
Does an uncontested divorce mean no lawyers are involved in Arlington Heights?
No, an uncontested divorce does not mean no lawyers are involved in Arlington Heights. While spouses can complete forms themselves in an Illinois uncontested divorce, it is advisable to consult attorneys to review agreements and ensure proper filing. Lawyers can negotiate terms for property, support, custody that become the basis for the uncontested paperwork. They prepare and file pleadings correctly to finalize the divorce smoothly.
Can I complete the uncontested divorce forms myself in Illinois or do I need a lawyer?
You can complete Illinois uncontested divorce forms yourself in Arlington Heights. However, getting legal advice is highly recommended to ensure agreements meet all requirements and properly protect your rights. Mistakes completing forms could invalidate the divorce. A skilled Arlington Heights divorce lawyer can properly file the uncontested pleadings and represent you far more effectively than filing yourself.
How can having a separation agreement impact getting an uncontested Arlington Heights divorce?
If you have a separation agreement in place, getting an uncontested Arlington Heights divorce is often simplified. A drafted marital settlement agreement that resolves property division, spousal support, parenting time and responsibilities can essentially form the basis for an uncontested divorce petition. Your attorney can efficiently finalize an uncontested divorce by filing your existing separation agreement with the court.
Sterling Lawyers, LLC in Arlington Heights is formerly known as 'Sterling Hughes, LLC'