Arlington Heights Collaborative Divorce Attorneys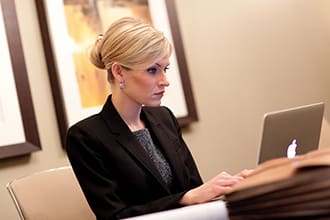 Join one of our experienced family law attorneys and learn about the divorce process, common issues, and participate in a Q and A session.
RSVP here.
Upcoming dates:
Arlington Heights Collaborative Divorce Lawyers at Sterling Hughes, LLC
Are you ready to move forward? Call (312) 757-8082 to schedule a strategy session with one of our attorneys.
Going through a collaborative divorce introduces unique challenges and complexities. Ending a marriage cooperatively requires excellent guidance to handle legal intricacies smoothly. An Arlington Heights divorce lawyer who streamlines the process is invaluable, providing support during this difficult transition. With experienced counsel, you can confidently navigate the specifics of collaborative divorce and related matters like property division, child custody, and spousal support. The right lawyer will handle your case with care and efficiency.
Understanding the Emotional Aspects of Collaborative Divorce
Sterling Lawyers stands as a beacon of support for individuals seeking representation for their cases. The committed team of attorneys at this firm is devoted to simplifying this intricate process, always ensuring the client's unique needs are met. The team's dedication to achieving favorable outcomes for their clients is second to none. Unique features like a reliable intake team and a flat fee pricing model further distinguish our team from the rest.
Individualized Representation for Your Situation
Our attorneys put great effort into understanding the specific needs and circumstances of each client. A customized service focused on the unique aspects and requirements of your collaborative divorce. This approach translates into a fixed fee pricing structure that ensures cost-effectiveness and eliminates the surprise costs often associated with hourly rates. This comprehensive, high-quality representation also promises a higher satisfaction level and better overall outcomes for our clients.
Successfully Guiding Clients Through the Legal Process
Sterling Lawyers has a commendable track record of serving clients with exceptional, high-quality service. The attorneys' in-depth understanding of the legal process offers clients confidence and reassurance during this critical period. With a commitment to making this process affordable and efficient, clients receive the support they need without any unnecessary financial strain or delays.
Minimizing Disruptions During the Proceedings
We are committed to crafting an effortless and quick family law process for its clients. This strategy ensures a swift resolution that reflects both parties' decisions, fostering collaboration and reducing conflict. Moreover, the firm's proficient attorneys handle all legal proceedings related to family law cases, including property division, child custody, support, and alimony.
Providing Support Through Any Needed Changes
When confronted with a family law challenge, one must consider various factors such as children's welfare, financial implications, and emotional well-being. The team understands that circumstances may change over time, requiring adjustments to existing arrangements. That's why the Arlington Heights collaborative divorce attorneys provide continuous support to their clients, even beyond the initial consultation and legal representation.
Selecting a Knowledgeable Advocate for Your Case
In choosing an attorney for a collaborative divorce, the experience and proven track record matter significantly. An attorney's role in family law can't be understated, as they act as a strong advocate and guide through the legal process. The complexities involved in such situations necessitate aligning with dedicated attorneys who will stand by your side through thick and thin. Our emphasis on client well-being and ease throughout this critical life transition sets us apart as the preferred choice for legal cases.
Outlining the Steps to a Peaceful Case
The process typically involves various steps like initial consultation, document filing, negotiation, and potentially court proceedings. Sterling Lawyers escorts its clients through each stage with strategic advice, advocating for their best interests. The firm's profound understanding of collaborative divorce allows them to tackle any complexities effectively and ensures a higher likelihood of achieving a favorable resolution.
Let Us Help You Achieve a Fair Outcome
Initiating the collaborative divorce process requires proper consultation with an attorney who understands your situation thoroughly. Our attorneys advise their clients about their rights and explore available options according to their unique circumstances. Early consultation can prevent legal pitfalls, preserve essential evidence, and lay a strong foundation for your case. Take the first step by contacting Sterling Lawyers today to schedule a consultation.
For Immediate help with your family law case or answering any questions please call (312) 757-8082 now!
Frequently Asked Questions
What happens if my spouse and I can't reach agreements during the collaborative divorce in Arlington Heights?
If you are unable to reach agreements during the collaborative divorce process in Arlington Heights, the case cannot proceed. Either spouse can choose to terminate and litigate any unresolved issues through the court. In most cases, the collaborative lawyers and team withdraw and each spouse hires new litigation counsel. There may be some penalties if one side terminates in bad faith.
Does the collaborative process happen outside of court in Arlington Heights?
Yes, the collaborative divorce process happens outside of court in Arlington Heights. You and your spouse work together face-to-face with your attorneys and any neutral team members like financial advisors or child professionals. Settlement meetings focus on mutually acceptable solutions vs the adversarial court process.
What training and credentials should collaborative divorce lawyers have in Arlington Heights?
Collaborative divorce attorneys in Arlington Heights should have extensive family law experience, legal knowledge and communication skills. They must complete training in interest-based negotiation, mediation and the collaborative model before taking cases. Many belong to professional collaborative practice associations and pursue ongoing education in this area of peaceful divorce resolution. Look for proper credentials.
Sterling Lawyers, LLC in Arlington Heights is formerly known as 'Sterling Hughes, LLC'