Arlington Heights Divorce Mediation Attorneys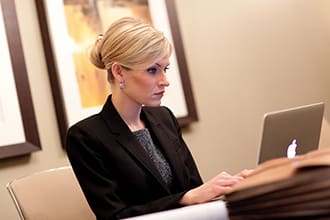 Join one of our experienced family law attorneys and learn about the divorce process, common issues, and participate in a Q and A session.
RSVP here.
Upcoming dates:
Arlington Heights Divorce Mediation Lawyers at Sterling Hughes, LLC
Are you ready to move forward? Call (312) 757-8082 to schedule a strategy session with one of our attorneys.
Going through a divorce is difficult, even when the split is amicable. Divorce mediation provides a way to dissolve a marriage with minimal conflict. However, the process still involves complex legal, financial, and emotional factors to work through. An attorney who streamlines mediation smooths the transition. With compassionate legal guidance, you can navigate this challenging new chapter. An experienced Arlington Heights divorce attorney makes the process effortless, providing critical support when it matters most.
Offering Trusted Guidance in the Face of Adversity
Sterling Lawyers stands out for its unique approach to addressing divorce mediation needs. Its dedicated team of lawyers ensures that the complex process is navigated quickly and simply, safeguarding clients' best interests. The firm's unique blend of extensive knowledge and dedication sets it apart from other law providers in the town. Sterling Lawyers provides personalized attention to each client, enhancing the client's experience and making them feel more comfortable during such trying times.
Customized Legal Strategies for Your One-of-a-Kind Situation
Understanding the unique needs of every legal case is at the core of our being. The team takes the time to understand each client's specific situation and tailors its services accordingly. The firm offers a fixed fee pricing structure which eliminates the surprises associated with hourly billing, ensuring a comprehensive, high-quality legal representation without the worry of escalating costs. This personalized approach results in increased client satisfaction and improved outcomes.
Family Law Experience That Simplifies Mediation
We have extensive experience serving clients with excellence in the realm of family law. Our firm's seasoned attorneys have deep knowledge about the ins and outs of divorce mediation. They are committed to streamlining the process, making it affordable for clients, and ensuring they receive the support they need without delays or financial strain. This established experience conveys a higher level of confidence when dealing with legal matters, providing reassurance to clients and ensuring their cases are handled competently.
Our Goal of Smooth Divorce Mediation Proceedings
We minimize disruptions during legal proceedings. We streamline the process to reduce stress and delays. Our goal is ensuring mediation goes smoothly so you can move forward. From child custody to property division, our lawyers handle all aspects of mediated divorce effectively. We take a holistic approach focused on achieving resolutions reflecting both parties' interests. Throughout mediation, we promote collaboration and avoid unnecessary disputes.
Continued Support Throughout Your Case
Minimizing disruptions and maximizing resolution during legal proceedings are key commitments of our team. We aim to make the divorce mediation process effortless and fast, ensuring a smooth transition and minimum disruptions in clients' lives. The attorneys proficiently handle various aspects such as property division, child custody, and support, and alimony—providing a well-rounded approach to family law cases. Our goal is to achieve a clear resolution that reflects both parties' decisions, reducing conflict and fostering collaboration.
Selecting a Divorce Mediation Attorney
When choosing a lawyer for legal representation, experience and a proven track record are two key factors to consider. Sterling Lawyers creates confidence in clients through its demonstrable success in handling similar cases. Family law issues such as protecting children's best interests, ensuring fair distribution of assets, and promoting peaceful resolutions are at the forefront of their approach. This level of competence acts as a solid pillar of support to clients, guiding them through every step of their legal journey.
Charting the Path to Success
Understanding the divorce mediation process is crucial for those involved. This process can include various steps such as initial consultation, filing documents, negotiation, and potentially court proceedings. Sterling Lawyers guides clients through each stage of the process by providing strategic advice based on their comprehensive understanding of family law. They effectively navigate this process whilst tackling any challenges to ensure a favorable resolution for their clients.
Lighten Your Load with a Dedicated Support Team
The first step in the process is to consult with a skilled attorney to understand your rights and explore available options. Sterling Lawyers encourages individuals to schedule a consultation to evaluate their circumstances. Early consultation can significantly reduce the risk of legal pitfalls and preserve evidence for building a robust case. It empowers individuals by providing them clarity regarding their rights, possible options, and likely outcomes. Contact us today to schedule a consultation.
For Immediate help with your family law case or answering any questions please call (312) 757-8082 now!
Frequently Asked Questions
How is mediation different from going to court for a divorce in Arlington Heights?
Unlike contested divorces which are resolved through adversarial court hearings and proceedings, divorce mediation provides an opportunity for spouses to work collaboratively with a neutral mediator to negotiate the terms of their divorce. Mediation is a more informal, flexible process focused on compromise and finding mutually agreeable solutions versus battling it out before a judge. It allows the couple to work through issues like asset division, spousal support, and child custody outside of court. Mediation can reduce acrimony and cost while preserving control over the outcome. However, a mediated settlement still must be submitted to the court to be finalized into a legally binding agreement.
Does information discussed in mediation remain confidential with a lawyer?
Yes, the confidentiality of the mediation process is preserved even with lawyers involved. Mediation confidentiality rules prohibit disclosure of any communications, admissions or discussions that take place. This fosters open and honest dialogue. Lawyers are bound by these rules of confidentiality just like the parties. Nothing said in the meeting can later be used in court. The only exceptions are for any threats of bodily harm or crime disclosed.
Can a mediated divorce settlement be made legally binding with an attorney?
Absolutely. While the mediated settlement is created by the spouses working collaboratively, review by an experienced divorce lawyer is essential to ensure the agreement is legally sound and enforceable before it is submitted to court. The attorney can help craft the settlement terms into a proper Marital Settlement Agreement that abides by Arlington Heights divorce laws. The lawyer can then prepare all the necessary legal paperwork for the court filing to get the mediated divorce settlement entered into the record as a final, legally binding agreement. This provides the required court oversight while avoiding litigation.
Sterling Lawyers, LLC in Arlington Heights is formerly known as 'Sterling Hughes, LLC'