Arlington Heights Spousal Support Attorneys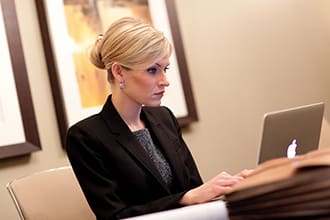 Join one of our experienced family law attorneys and learn about the divorce process, common issues, and participate in a Q and A session.
RSVP here.
Upcoming dates:
Arlington Heights Spousal Support Lawyers at Sterling Hughes, LLC
Are you ready to move forward? Call (312) 757-8082 to schedule a strategy session with one of our attorneys.
Going through spousal support proceedings introduces many challenges and complex legal issues. Determining appropriate arrangements after separation or divorce requires guidance to handle intricacies smoothly. An Arlington Heights divorce lawyer who streamlines the process is invaluable, providing assistance during this difficult transition. With experienced counsel, you can confidently navigate the specifics of alimony and achieve a favorable outcome. The right lawyer will handle your case efficiently with care and empathy.
A Team That Understands the Complexity of Family Law
We offer a set of unique features and services that have made us a highly trusted choice for clients seeking representation in Arlington Heights. Our dedicated team of attorneys is committed to relieving clients' stress and obtaining favorable outcomes in every legal case. We aim for a quick and simple resolution to your case, ensuring your best interests are protected. Our knowledge in this specific area sets us apart from other law firms in the city. We are committed to providing personalized attention to each client, enhancing their experience with us.
Representation that Puts Your First
Understanding your unique spousal maintenance needs in Arlington Heights is fundamental to our approach. At Sterling Lawyers, we take the time to comprehend each client's specific needs and tailor our services accordingly. We delve into understanding your unique situation and provide transparent quotes, customizing our services to meet your individual needs. Our fixed fee pricing structure offers cost-effectiveness and eliminates surprises commonly associated with hourly billing. This comprehensive, high-quality legal representation does not escalate your costs, reinforcing the benefits of working with a law firm that offers a personalized approach.
Successfully Guiding Clients Through Support Proceedings
Our law firm has a wealth of experience serving clients with excellence. Our attorneys' deep knowledge of the spousal support process allows us to serve you better. We streamline the process and make it affordable for clients, ensuring they receive necessary support without delays or financial strain. Our firm's experience translates into a higher level of confidence and competence when dealing with these matters, reassuring clients that their cases are in capable hands.
Minimizing Disruptions During This Difficult Time
Our law firm is committed to minimizing disruptions and ensuring resolution during family law proceedings. We aim for an effortless and fast alimony process, ensuring a smooth transition and minimal disruptions to clients' lives. Our professional attorneys work on various legal proceedings, such as property division, child custody, and support, and alimony, providing a holistic approach to family law cases. We focus on achieving a clear resolution that reflects both parties' decisions, fostering collaboration, and reducing conflict.
Providing Ongoing Assistance Through Any Changes
When going through the journey of spousal support, it's important to consider factors such as the impact on children, financial implications, and emotional well-being. We understand that circumstances can change over time and individuals may need to adapt existing arrangements. We guide clients through these modifications, offering continuous help. Our assistance extends beyond just the initial consultation and legal representation, ensuring we keep you informed and updated on your case's progress.
Selecting a Knowledgeable Advocate for Your Case
Working with an attorney who has successfully handled similar cases in the past provides significant advantages. The experience and track record of the attorney instill confidence in clients and contribute to their peace of mind during the legal process. The primary focus of spousal maintenance is protecting the best interests of children, ensuring fair distribution of assets, and promoting peaceful resolutions. A family law attorney is crucial for their in-depth knowledge of family law, familiarity with local courts and judges, and experience in negotiation and litigation.
Outlining the Strategic Path to Resolution
Understanding the process can be overwhelming. It involves an initial consultation, filing documents, negotiation, and potentially court proceedings. During this process, it's essential to maintain open communication with your attorney. Common challenges during these proceedings include legal requirements, documentation, or dealing with opposing parties. Our knowledge in this area enables us to guide clients through each stage, offering strategic advice and advocating for their best interests.
Schedule a Consultation – Empower Yourself
Starting the legal process involves consulting with an attorney to evaluate your situation, understand your rights, and explore available options. Eligibility for this process varies based on jurisdiction and individual circumstances. Early consultation can help prevent potential legal pitfalls, preserve evidence, establish a strong foundation for a successful case, and empower you through knowledge. The complexities involved warrant having a knowledgeable attorney on your side. We are committed to personalized service and easing this difficult process while supporting clients through each stage with compassion. Our firm stands out as a trusted choice for representation in Arlington Heights, located in Cook County. Reach out to us to discuss your case, goals, and how we can assist you in achieving a positive outcome.
For Immediate help with your family law case or answering any questions please call (312) 757-8082 now!
Frequently Asked Questions
What factors determine spousal support eligibility and amount in an Arlington Heights divorce?
Key factors determining spousal support in an Arlington Heights divorce include the length of the marriage, each spouse's income and employment potential, financial needs and living expenses, contributions to one spouse's education or career loss, and the marital standard of living. Age, health, child rearing responsibilities, and the property division also impact Illinois support awards.
Can I get alimony if my spouse committed adultery in Arlington Heights?
In Arlington Heights, adultery no longer impacts spousal support eligibility or amounts. Under previous Illinois divorce law, marital misconduct like adultery could bar alimony. But under current statutes, the court cannot consider fault and must determine maintenance based on need and ability to pay regardless of infidelity or other bad behavior.
Does it matter if I was the primary breadwinner or stay-at-home parent for alimony in Arlington Heights?
The role of primary breadwinner versus stay-at-home parent is often important for spousal support determination in Arlington Heights. If one spouse sacrificed career advancement to raise children, take care of the home, or support the other's education or job, they have a stronger claim for maintenance. The court looks at disparities in earning capacity and contributions to economic well-being during the marriage.
Sterling Lawyers, LLC in Arlington Heights is formerly known as 'Sterling Hughes, LLC'