Sheboygan Property Division Attorneys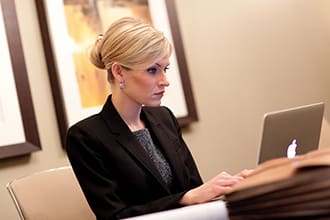 Join one of our experienced family law attorneys and learn about the divorce process, common issues, and participate in a Q and A session.
RSVP here.
Upcoming dates:
Sheboygan Property Division Lawyers at Sterling Lawyers, LLC
Legal Options that Work for You
There are three basic separation paths depending on your situation. If you're not sure what to choose or are ready to take the next step, call to speak with an attorney for case-specific advice.
Uncontested
Help from the Pros for Simpler Cases
Starting at $2750
Best when you both agree on most separation issues
Get help preparing the paperwork
Ask question at legally complex points
Have peace of mind with your settlement
Mediated
Greater Level of Help for Amicable Situations
$3,500 - $6,500/couple
Most amicable process for long-term harmony
Neutral mediation attorney guides you from start to settlement
Reduce conflict by deciding on property division and custody matters together
Fraction of contested divorce costs
Contested
When You Need an Advocate in Your Corner
$499/mo - $100,000
Best for adversarial relationships
Necessary if abuse, substance abuse, or violence is present
Your personal negotiation and litigation team
Critical when trust is an Issue
Entering the realm of property division can be fraught with emotional turmoil and challenging complexities. Many individuals struggle with the intricate details and legalities entailed in this process. Enlisting the aid of a Sheboygan family law lawyer can alleviate many of these challenges, making the journey smoother and less taxing. Relying on a seasoned lawyer can provide reassurance, offering support during this critical time and helping navigate the complexities involved.
Reliable Allies When Facing the Unknown
Nestled amidst the vibrant community of Sheboygan, Wisconsin, our family law firm stands as a beacon for those seeking assistance in family law. The compassionate team at Sterling Law Offices is unfailingly dedicated to alleviating clients' stress and ensuring favorable outcomes efficiently. They aim to navigate this intricate process swiftly, safeguarding their clients' best interests. What makes them shine among Sheboygan property division attorneys is their commitment to providing personalized attention, treating each client as unique, thereby enhancing their experience during this stressful time.
Legal Services Tailored to Your Needs
By understanding your unique property division requirements, the team provides a tailored approach to each case. In addition to taking the time to recognize every client's specific needs, our family law firm provides transparent quotes, ensuring no shocking costs at the end. With an innovative fixed-fee pricing structure, the law firm offers cost-effectiveness and eliminates surprises associated with hourly billing. The comprehensive and high-quality legal representation you receive comes without lurking worries about escalating costs, providing you with a favorable experience.
Knowledge That Can Only Be Gained from Experience
Sterling Law Offices has a long-standing record of serving clients with excellence in family law matters. The superior knowledge and understanding they possess make them a reliable choice to handle your legal case. They pledge to streamline the process, making it affordable for clients without needless delays or financial strain. The sheer depth of their experience translates into a higher level of reassurance when dealing with property division matters.
Ensuring Seamless Legal Proceedings
The commitment extends beyond merely providing legal assistance. They work tirelessly towards minimizing disruptions and maximizing resolution during family law proceedings. Their approach ensures a smooth transition and helps clients achieve their desired outcomes promptly. The professional lawyers handle a gamut of legal proceedings, from property division to child custody and support, offering comprehensive solutions for family law cases.
Continuing Support for Your Journey
Handling property division requires considering several factors, including financial implications, emotional well-being, and the impact on children. Sterling Law Offices recognizes that circumstances can change over time, necessitating the adaptation of existing agreements. The seasoned attorneys guide clients through these modifications, providing continuous support throughout the journey. They are committed to keeping clients informed about their case's progress while offering various resources for counsel and assistance. This dedication cements their long-term relationships with clients, establishing them as a trustworthy choice for legal assistance.
The Importance of Choosing an Attorney
Choosing the right attorney is a crucial decision. Reliability stems from years of experience handling similar cases successfully and having a proven track record in family law matters. Sterling Law Offices has built its reputation in Sheboygan on this foundation. Their longstanding experience instills confidence in clients, offering peace of mind during the legal process. Focusing on protecting children's best interests and ensuring fair distribution of assets, their role is indispensable in handling legal cases.
Unraveling the Process of Property Division
The journey towards resolution in a legal case involves multiple steps, like an initial consultation, document filing, negotiation, and possibly court proceedings. Knowing what to expect ahead of time helps minimize surprises. Sterling Law Offices guides clients through each stage, offering strategic advice based on their extensive knowledge in property division. They employ unique strategies to navigate cases effectively, improving the chances of achieving favorable outcomes.
The Significance of Early Consultation
Embarking on the journey of family law can be made less arduous with supportive guidance from a trusted legal partner. Our Sheboygan property division lawyers provide personalized attention, ensuring your best interests are protected throughout this complex process. With an extensive track record in family law matters, we provide a positive outcome. Take the next step and reach out to us for a consultation to empower your journey with insight and clarity.
For Immediate help with your family law case or answering any questions please call (262) 221-8123 now!
Frequently Asked Questions
What can I do to protect or secure my inheritance or separate property in a Sheboygan divorce?
To protect an inheritance or separate property in a Sheboygan divorce, take steps to segregate and document it long before filing. Keep the assets or funds intended as separate property in accounts or titles in your name only. Maintain records showing that the assets were acquired by gift or inheritance during the marriage. Ask for a written appraisal of high value items like jewelry.
Who gets to stay in the family home after we divorce in Sheboygan?
Determining who gets to stay in the family home after a Sheboygan divorce depends on several factors. The judge will consider who has physical custody of minor children, the parties' incomes and ability to afford housing, tax implications, and the parties' willingness to buy the other spouse out. Often the spouse with custody stays in the home until the children reach 18. The judge may order the home sold and proceeds divided if neither spouse can afford it alone.
Can I request an unequal property division in my favor in a Sheboygan divorce?
You can request an unequal property division in your favor in a Sheboygan divorce by showing special circumstances. Factors like a major disparity in incomes, sacrificing career for family, supporting a disabled spouse, or misconduct like hiding assets may justify unequal division. Adultery no longer impacts the division of assets in Wisconsin. Consult an experienced Sheboygan divorce lawyer to argue for a favorable unequal distribution based on contributions, economic hardship, or other valid grounds. But there is no guarantee - the judge will divide marital property equitably, which may not mean an exact 50/50 split.