Sheboygan Contested Divorce Attorneys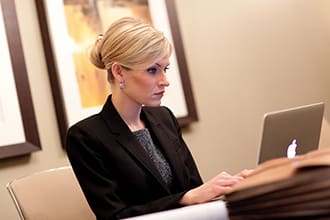 Join one of our experienced family law attorneys and learn about the divorce process, common issues, and participate in a Q and A session.
RSVP here.
Upcoming dates:
Tue, Dec 5 at 5:30pm
With
Attorney Mike Kyrios
Sheboygan Contested Divorce Lawyers at Sterling Lawyers, LLC
Legal Options that Work for You
There are three basic separation paths depending on your situation. If you're not sure what to choose or are ready to take the next step, call to speak with an attorney for case-specific advice.
Uncontested
Help from the Pros for Simpler Cases
Starting at $2750
Best when you both agree on most separation issues
Get help preparing the paperwork
Ask question at legally complex points
Have peace of mind with your settlement
Mediated
Greater Level of Help for Amicable Situations
$3,500 - $6,500/couple
Most amicable process for long-term harmony
Neutral mediation attorney guides you from start to settlement
Reduce conflict by deciding on property division and custody matters together
Fraction of contested divorce costs
Contested
When You Need an Advocate in Your Corner
$499/mo - $100,000
Best for adversarial relationships
Necessary if abuse, substance abuse, or violence is present
Your personal negotiation and litigation team
Critical when trust is an Issue
Facing a contested divorce can be an emotionally taxing journey, filled with complexities and challenges that individuals never thought they'd have to confront. It is during these turbulent times that the comforting presence of an attorney, adept in handling such delicate matters, becomes essential. A legal professional like a Sheboygan contested divorce attorney, with their wealth of knowledge in family law, can make the divorce process significantly more manageable. They not only navigate the intricate legal landscape for you but also provide much-needed emotional support, ensuring an easier transition into your new life chapter.
Confronting Emotional Crossroads with Your Sheboygan Contested Divorce Lawyer
Sterling Law Offices is a trusted name for individuals seeking legal representation for their contested divorce. The dedicated team of Sheboygan divorce attorneys is committed to mitigating client stress and working towards favorable outcomes. One of the unique features that set them apart from other firms in the city is their commitment to providing personalized attention to every client. They aim to guide clients through the complex divorce process as smoothly and quickly as possible, always protecting their best interests.
Custom Solutions Catering to Your Unique Needs
Understanding the unique needs of every client forms the basis of our approach towards handling your contested divorce case. Our dedicated attorneys devote considerable time to understand each client's specific needs and tailor their services according to these requirements. The firm prides itself on transparent quotes and a fixed fee pricing structure, eliminating surprises that come with hourly billing. This focus on affordability and tailored approach ensures that clients receive comprehensive and high-quality legal representation without worrying about escalating costs.
Our Unmatched Experience in Family Law
At the heart of our success lies each lawyer's extensive experience and profound understanding of contested divorce cases. They are committed to making legal services affordable and accessible to clients, ensuring that the support they require is never delayed or strained by financial concerns. Our firm's track record brings confidence in clients, providing reassurance that our legal matters are being handled by knowledgeable and capable attorneys.
Smoothing Your Path through Legal Proceedings
Sterling Law Offices remains steadfastly committed to minimizing disruptions and attaining resolution during legal proceedings. Their objective is to streamline the contested divorce process, thereby reducing unnecessary stress or delays for the clients. From property division and child custody to alimony, their proficient attorneys provide a comprehensive approach to family law cases. Central to their mission is achieving a clear resolution that reflects the decisions of both parties, which fosters collaboration and reduces conflict.
Aiding Your Change with Our Unbroken Support in the Face of Challenge
The journey through contested divorce involves considering several factors such as the emotional well-being of those involved, financial implications, and the impact on children. Sterling Law Offices understands this and offers modification services, recognizing that circumstances can change over time. The committed attorneys provide ongoing support, guiding clients through these modifications. Beyond the initial consultation and legal representation, they keep clients informed about their case progress. The firm offers additional resources such as access to educational workshops and legal research materials, demonstrating their dedication to maintaining long-term relationships with clients.
The Impact of a Seasoned Attorney on Your Case
Clients gain the advantage of working with attorneys who have successfully handled numerous similar cases in the past. This assures confidence and peace of mind throughout the legal process. We focus on crucial aspects of contested divorce such as protecting children's best interests, ensuring fair distribution of assets, and promoting peaceful resolutions. The importance of choosing a seasoned family law attorney cannot be understated. Our attorneys have a broad knowledge base, experience in negotiation and litigation, and familiarity with local courts that can make a significant difference in the outcome of your case.
The Process of Resolving a Contested Divorce
Understanding the legal steps involved in a contested divorce process is critical. The steps typically include an initial consultation, filing documents, negotiation, and potential court proceedings. At Sterling Law Offices, their consummate knowledge in the field enables them to guide clients through each stage, addressing potential challenges such as legal requirements, documentation or dealing with opposing parties. They employ unique strategies that effectively navigate a contested divorce case, ensuring a higher likelihood of achieving a favorable resolution.
Being Proactive: Why Early Consultation is the Key
Starting the contested divorce process involves an essential first step – consulting with a contested divorce attorney. This will help individuals understand their rights, evaluate their situation, and explore available options. Eligibility varies based on jurisdiction and individual circumstances. Consulting with an attorney from Sterling Law Offices can shed light on potential risks and implications associated with not seeking legal advice during a contested divorce. A consultation empowers individuals by providing a clear understanding of their rights, options, and potential outcomes for their case.
Navigating through contested divorce requires determination, emotional resilience, and above all else – skilled legal assistance. Our team provides just that with a commitment to easing your burdensome journey by providing personalized service and guidance at every step of the way. Be it understanding family law complexities in Sheboygan or ensuring a smooth transition into your new life phase; they stand by your side as a trusted choice for contested divorce representation. Don't let the challenges overwhelm you; reach out to Sterling Law Offices today to discuss your individual case and learn how they can help ensure a positive outcome.
For Immediate help with your family law case or answering any questions please call (262) 221-8123 now!
Frequently Asked Questions
What are the grounds for a contested divorce in Sheboygan, WI?
The main grounds for a contested divorce are irreconcilable differences, adultery, and cruel treatment. To contest the divorce, you need evidence like records and testimony that disprove the stated grounds. A Sheboygan contested divorce attorney can help gather this evidence to build your case.
How can I prepare for a contested divorce trial?
Preparing for a contested divorce trial involves gathering documentation on finances and assets, lining up supporting witnesses, understanding court procedures, and extensively discussing strategy with your attorney. Being well-prepared with evidence and clear objectives is key.
In Sheboygan, can I represent myself in a contested divorce?
You can technically represent yourself, but contested divorce law is complex. A lawyer navigates procedures, applies leverage, and negotiates effectively. With high stakes, having an attorney handle aspects like data, witnesses, and negotiations allows you to focus on making good decisions. For most people, the investment is worth the outcome. Simple cases may be doable pro se.