Beloit Military Divorce Attorneys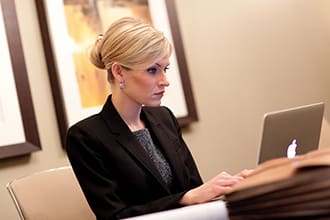 Join one of our experienced family law attorneys and learn about the divorce process, common issues, and participate in a Q and A session.
RSVP here.
Upcoming dates:
Tue, Dec 5 at 5:30pm
With
Attorney Mike Kyrios
Beloit Military Divorce Lawyers at Sterling Lawyers, LLC
Legal Options that Work for You
There are three basic separation paths depending on your situation. If you're not sure what to choose or are ready to take the next step, call to speak with an attorney for case-specific advice.
Uncontested
Help from the Pros for Simpler Cases
Starting at $2750
Best when you both agree on most separation issues
Get help preparing the paperwork
Ask question at legally complex points
Have peace of mind with your settlement
Mediated
Greater Level of Help for Amicable Situations
$3,500 - $6,500/couple
Most amicable process for long-term harmony
Neutral mediation attorney guides you from start to settlement
Reduce conflict by deciding on property division and custody matters together
Fraction of contested divorce costs
Contested
When You Need an Advocate in Your Corner
$499/mo - $100,000
Best for adversarial relationships
Necessary if abuse, substance abuse, or violence is present
Your personal negotiation and litigation team
Critical when trust is an Issue
Military divorce proceedings can frequently be an overwhelmingly emotional journey, warranting a fair share of legal complexities and challenges. In the face of such turmoil, having a skilled attorney ensuring a streamlined and hassle-free legal process can be a game-changer. Sterling Lawyers, a reputable law firm based in Beloit, Wisconsin, offers precisely this peace of mind. With their seasoned legal guidance, navigating these complexities becomes relatively less daunting, allowing you to concentrate on your wellbeing amid these trying times.
Embarking on the Journey of Military Divorce
Sterling Lawyers in Beloit is renowned for its unique approach in handling military divorce cases. The law firm takes immense pride in their dedicated team of attorneys who consistently strive to alleviate the stress of their clients while procuring favorable outcomes. With the primary objective of simplifying this intricate process, protecting clients' interests and assuring faster resolutions takes precedence. Sterling's distinctive understanding of military divorce cases sets them apart from other attorneys in the city. With a strong emphasis on personalized attention, every client's experience is enhanced.
Our Uniquely Tailored Approach to Client Engagement
Understanding that every military divorce case is unique, our Beloit divorce lawyers provide a tailor-made approach for your specific case in Beloit. The law firm invests significant time understanding each client's distinctive needs, delivering transparent quotes and designing services that cater to individual requirements. Breathing life into the concept of cost-effectiveness, the firm operates on a fixed fee pricing structure, eliminating the unexpected billing surprises. The service the firm offers assures comprehensive and high-quality representation without any escalating costs, subsequently leading to exceptional client satisfaction and favorable outcomes.
Harnessing Decades of Family Law Experience
A hallmark of Sterling Lawyers is the exceptional experience they boast in the realm of family law. Deep understanding of military divorce procedures held by the firm's attorneys is a clear demonstration of their vast experience. At Sterling, the promise is to streamline the process, making it affordable for clients while ensuring they receive the support they need without delays or financial strain. This, in turn, translates into a higher level of confidence and reassurance in dealing with the legal matters connected to military divorce.
Ensuring Seamless Legal Proceedings
Sterling Lawyers is committed to minimizing disruptions and expediting the resolution of family law proceedings. Efforts to streamline the process for clients, thereby reducing stress and delays, are unwavering. With a goal to make the military divorce process effortless and fast, the firm ensures a smooth transition, minimizing disruptions to client lives. Apart from focusing on reaching timely resolutions, the professional attorneys deftly navigate through property division, child custody and support, and alimony disputes. Ensuring a clear resolution based on both parties' decisions, the firm fosters collaboration and reduces conflicts.
Undivided Attention & Continued Support: Sterling's Client-Centric Approach
Military divorce proceedings involve considering various aspects such as children's wellbeing, financial implications, and personal emotional health. Sterling Lawyers understand that situations can change over time, requiring modifications in the existing arrangements. Their Beloit military divorce attorneys can guide clients through these modifications and provide unwavering support. Their dedication extends to educating clients and keeping them abreast of the progress of their cases through clear communication channels and regular updates. The firm also offers access to educational workshops, legal research materials, and professional referrals as additional resources, underscoring their commitment to long-term client relationships.
Why Experience Should be Your Main Consideration in Attorney Choice
Experience and a proven track record become crucial when selecting an attorney for your military divorce case. Sterling Lawyers' wealth of successful cases inspires confidence, ensuring peace of mind during the legal process. Main goals are protecting children's interests, equitable asset distribution, and promoting peaceful resolutions. Selecting a family law attorney adept with local courts, judges, and negotiation and litigation processes becomes critical, emphasizing the attorney's integral role in successful resolution of military divorce cases.
Tracing the Military Divorce Route
The journey of military divorce involves consultation, filing documents, negotiation, and potentially court proceedings. Each stage is fraught with its unique challenges, such as legal requirements, dealing with opposing parties, and paperwork, calling for in-depth knowledge of the process. Sterling Lawyers' proficiency in navigating through these stages ensures strategic advice and advocacy through every step, enhancing the chances of a gratifying resolution.
Your First Step Towards Empowerment
It is essential to begin your military divorce journey with a consultation with a qualified attorney. With regulations and eligibility varying based on jurisdictions and circumstances, a consultation with a skilled legal professional could provide an evaluation of your situation and explain available options. Not seeking legal advice can lead to unforeseen challenges. However, a consultation with a military divorce attorney from Sterling Lawyers can empower you with a clear understanding of your rights and potential outcomes.
Sterling Lawyers based in the heart of Rock County, Beloit, Wisconsin, showcases a perfect blend of extensive family law experience, a personalized approach, and ongoing support for military divorce proceedings. This tumultuous journey is made less daunting with the seasoned law firm's commitment to smooth proceedings and easing clients' difficulties through every stage of the process. The firm's dedication makes them a trusted choice for military divorce representation in Beloit. To understand how Sterling Lawyers can help you navigate this tumultuous journey, contact them to discuss your case and achieve a positive outcome in your legal procedure.
For Immediate help with your family law case or answering any questions please call (262) 221-8123 now!
Frequently Asked Questions
How are military pensions divided in a military divorce?
Military pensions are subject to division during a divorce under the Uniformed Services Former Spouses' Protection Act. You should consult a Beloit military divorce attorney for detailed information.
How is child custody determined in military divorce cases?
Child custody in military divorce cases is determined based on numerous factors, including the best interest of the child. It's advised to discuss your situation with a Beloit military divorce lawyer.
What are the residency requirements for filing a military divorce in Beloit?
Military divorce laws allow you to file for divorce in the state where you or your spouse has legal residency. This can be the state where the person who serves in the military claims legal residency or the state where the military service member is stationed, or the state where the spouse who does not serve resides. However, the specifics can vary, so it is essential to consult a Beloit military divorce lawyer to navigate these complex laws and rules effectively and ensure your rights are protected.
Sterling Lawyers, LLC in Beloit is formerly known as 'Sterling Law Offices, S.C.'