Beloit Collaborative Divorce Attorneys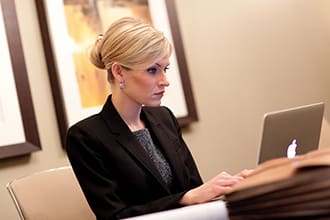 Join one of our experienced family law attorneys and learn about the divorce process, common issues, and participate in a Q and A session.
RSVP here.
Upcoming dates:
Beloit Collaborative Divorce Lawyers at Sterling Lawyers, LLC
Legal Options that Work for You
There are three basic separation paths depending on your situation. If you're not sure what to choose or are ready to take the next step, call to speak with an attorney for case-specific advice.
Uncontested
Help from the Pros for Simpler Cases
Starting at $2750
Best when you both agree on most separation issues
Get help preparing the paperwork
Ask question at legally complex points
Have peace of mind with your settlement
Mediated
Greater Level of Help for Amicable Situations
$3,500 - $6,500/couple
Most amicable process for long-term harmony
Neutral mediation attorney guides you from start to settlement
Reduce conflict by deciding on property division and custody matters together
Fraction of contested divorce costs
Contested
When You Need an Advocate in Your Corner
$499/mo - $100,000
Best for adversarial relationships
Necessary if abuse, substance abuse, or violence is present
Your personal negotiation and litigation team
Critical when trust is an Issue
Divorce often signifies an emotional roller coaster, laden with daunting complexities. Opting for a collaborative divorce may present a more amicable and less adversarial framework for couples seeking to part ways. Understanding this emotional labyrinth becomes a prerequisite for a legally smooth process and calls for a Beloit divorce lawyer by your side. An experienced and reliable guide like Sterling Lawyers can streamline this transition and make it feel less taxing. Harnessing proficient legal guidance, a team of dedicated attorneys can effectively manage the roller coaster of legal proceedings, ensuring a smooth and less stressful conclusion.
The Go-to Collaborative Divorce Attorneys in Beloit
Sterling Lawyers, your trusted Beloit collaborative divorce attorneys, have a dedicated team that aims to unburden you from the complexities that come along with the legal territory. The team's experience and dedication ensure a swift and hassle-free process for the sake of their clients' well-being. Their objective is straight-forward: to navigate through the legal labyrinth quickly while ensuring the preservation of their clients' interests. The team's commitment to providing personalized service enhances the client's journey through often difficult waters.
The Merit of Tailored Legal Service
Understanding the unique facets of your collaborative divorce case in Beloit, Sterling Lawyers prioritize a personalized approach. The lawyers invest time in comprehending each client's specific requirements and tailor their services accordingly. Their commitment to being transparent with their legal fees eliminates any potential surprise costs and ensures comprehensive and high-quality representation. A personal touch, combined with the flat-fee pricing structure, ensures a more comfortable journey for their clients.
A Trove of Family Law Experience
Sterling Lawyers houses that bring with them a wealth of family law experience. The firm's lawyers possess deep knowledge about the collaborative divorce process, equipping them to make the legal journey seamless and affordable for you. Their extensive experience can instill a sense of confidence and competence, assuring clients that their legal matters are being handled adeptly.
Upholding Smooth Legal Formalities
Minimizing distress and accelerating resolution during the legal proceedings is Sterling Lawyers' ultimate goal. By streamlining the collaborative divorce process, disruptions and stress are significantly reduced, resulting in a swift resolution. Their lawyers also proficiently handle ancillary matters such as property division, child custody, support, and alimony, offering a rounded strategy for your family law case. They foster a clear resolution that mirrors both parties' decisions, promoting harmony and reducing the potential for conflict.
Our Dedication to Supporting You
A supportive attorney's hand is necessary during a collaborative divorce given the potential impact on children, financial implications, and emotional wellbeing. Sterling Lawyers extend services beyond the initial consultation by offering family law modification services tailored to changing circumstances over time. Their lawyers provide continuous guidance, ensuring clear communication channels, and regular updates about the progress of your family law case. This extended support reflects the firm's dedication to maintaining lasting relationships with their clients.
The Crucial Role of Experience in Selecting a Lawyer
Your peace of mind during the legal process largely depends on the attorney you select. With a proven track record and several successful Beloit collaborative divorce cases under their belt, Sterling Lawyers instills confidence in their clientele. Protecting the best interests of children, ensuring fair division of assets, and facilitating peaceful resolutions are their paramount concerns. Their lawyers serve as strong advocates, guiding clients through every step of the legal process, offering strategic advice, and mitigating unforeseen complications.
Treading Through the Complexities of Family Law
Collaborative divorce involves several steps, including initial consultation, document filing, negotiation, and potentially courtroom proceedings. Sterling Lawyers simplify this process for you by proactively addressing timelines, potential challenges, and maintaining open communication. Their deep understanding of the intricacies of family law cases equips them to efficiently guide clients, thus ensuring favorable outcomes.
The Sterling Advantage in Collaborative Divorce
Getting started with a collaborative divorce process usually begins with consultation. Sterling Lawyers strongly recommends consulting with a proficient lawyer to understand your rights, explore available options, and evaluate your circumstances better. Besides providing deep insights into your case, a consultation can also help you ascertain whether you're suitable for a collaborative divorce. It's worth remembering that not seeking legal advice comes with potential risks and implications. Consultations can thus empower you with a clear understanding of your rights, possible outcomes, and strategies for your case.
Choosing Sterling Lawyers for your family law needs will reward you with a team of experienced lawyers who provide a personalized, comprehensive approach, coupled with a solid track record. They understand the complexities you may face during this emotionally taxing journey and appreciate the benefits of having a competent attorney by your side. The firm's commitment extends beyond just legal assistance, as they provide ongoing support before, during, and after your family law case. Their position as trusted collaborative divorce attorneys servicing the city of Beloit and the whole of Rock County, Wisconsin, is solid. For further assistance or a consultation, reach out to Sterling Lawyers today to map a positive outcome in your case.
For Immediate help with your family law case or answering any questions please call (262) 221-8123 now!
Frequently Asked Questions
What issues can be resolved through collaborative divorce in Beloit?
Common issues resolved collaboratively include asset division, child custody, parenting time, child and spousal support, and debt allocation. Your Beloit collaborative divorce lawyer will confirm if your concerns can be addressed.
What happens if we can't agree in collaborative divorce in Beloit?
If you reach impasse, your Beloit collaborative divorce lawyer will first try to facilitate further dialogue and compromise. If all options fail, they cannot represent you in court, per the collaborative process, so you would hire new counsel.
How do I find the right collaborative divorce lawyer in Beloit?
Look for an attorney experienced specifically in collaborative law. Ensure they have strong negotiation skills, a collaborative mindset, and a reputation for protecting client interests through the collaborative process. One of the best ways to do this is by looking at past client reviews. This way, you get real feedback about a law firm's performance.
Sterling Lawyers, LLC in Beloit is formerly known as 'Sterling Law Offices, S.C.'