Beloit Spousal Support Attorneys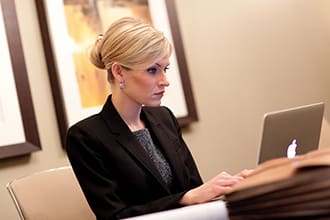 Join one of our experienced family law attorneys and learn about the divorce process, common issues, and participate in a Q and A session.
RSVP here.
Upcoming dates:
Beloit Spousal Support Lawyers at Sterling Lawyers, LLC
Legal Options that Work for You
There are three basic separation paths depending on your situation. If you're not sure what to choose or are ready to take the next step, call to speak with an attorney for case-specific advice.
Uncontested
Help from the Pros for Simpler Cases
Starting at $2750
Best when you both agree on most separation issues
Get help preparing the paperwork
Ask question at legally complex points
Have peace of mind with your settlement
Mediated
Greater Level of Help for Amicable Situations
$3,500 - $6,500/couple
Most amicable process for long-term harmony
Neutral mediation attorney guides you from start to settlement
Reduce conflict by deciding on property division and custody matters together
Fraction of contested divorce costs
Contested
When You Need an Advocate in Your Corner
$499/mo - $100,000
Best for adversarial relationships
Necessary if abuse, substance abuse, or violence is present
Your personal negotiation and litigation team
Critical when trust is an Issue
The journey towards obtaining spousal maintenance can be filled with emotions, complexities, and challenges. Navigating this terrain calls for the guidance of a skilled Beloit divorce lawyer who can direct you through this intricate process with understanding and empathy. Skilled attorneys can make this path smoother, ensuring a less stressful experience for individuals. Seeking legal support from accomplished firms such as Sterling Lawyers enables individuals to navigate the complexities of spousal support with confidence and composure.
Your Champions in Beloit with Trusted Spousal Support Attorneys
Sterling Lawyers stands out in Beloit, Wisconsin, due to its exemplary services and unique approach towards handling alimony representation. The team of seasoned attorneys at Sterling is committed to relieving clients' stress by resolving their legal cases promptly. They work towards traversing the legal process speedily, safeguarding the best interests of their clients. Their competence in family law cases sets them apart from other firms. They also take pride in their dedication to providing personalized attention, which significantly enhances the client's experience.
Solutions to Fit Your Needs
Every client's unique alimony needs are understood and respected. Time is dedicated to understanding every client's distinct situation, followed by transparent quoting of legal fees and tailoring services to meet individual needs. Clients value the fixed fee pricing structure at Sterling, which eliminates unexpected expenses usually associated with hourly billing. This personalized approach to legal cases results in comprehensive, high-quality legal representation without the worry of escalating costs, ensuring maximum client satisfaction and positive outcomes.
Family Law Experience That Matters
With years of experience serving clients with dedication and excellence, we stand as a beacon of trust for those in desperate need of legal guidance in Beloit. The attorneys at our family law firm are well-versed in the intricate process of spousal maintenance, committed to making it affordable and expeditious for their clients, without adding any financial strain. This experience fosters a high level of competence and assurance while dealing with family law matters, instilling confidence in their clients.
Seamless Family Law Proceedings
Our team is unequivocally committed to minimizing disruptions during the alimony process. The firm works hard to streamline this legal journey, reducing stress and unnecessary delays for clients. Aiming for a swift and effortless resolution, the firm focuses on minimizing disruptions to their clients' lives. Their skilled attorneys handle legal aspects like child custody, property division, alimony, providing a well-rounded approach to family law cases, while fostering collaboration and reducing conflict.
Beyond Representation
Numerous factors come into play when dealing with a legal case. These include the impact on children, financial implications, and emotional well-being. Recognizing that circumstances can change over time, Sterling offers family law modification services as well. The spousal support attorneys help clients navigate through these modifications and offer ongoing support. Besides the initial consultation and legal representation, the firm also provides consistent communication. The firm is also known for their dedication to maintaining long-term relationships with their clients.
The Bedrock of Successful Representation
Choosing an attorney who has a record of handling similar cases successfully brings immense advantages. Rooted in family law, our team has a record of successful cases that instills confidence in future clients, bringing peace of mind to an otherwise stressful procedure. An attorney who understands the best interests of children, ensures fair distribution of assets, and promotes peaceful resolutions is essential while tackling an alimony case. Therefore, choosing a proficient attorney is crucial for a positive outcome in any legal case.
A Spousal Support Guide
The process of spousal support includes various stages – initial consultation, filing documents, negotiation, and potentially court proceedings. We help clients understand what to expect during these proceedings, emphasizing open communication with their attorney. The skilled attorneys efficiently guide clients through these stages, offering strategic advice, and advocating for their best interests. They employ unique strategies to ensure a higher likelihood of achieving a favorable resolution.
The Power of a Legal Consultation
At the onset of the process, it's essential to consult with an attorney. A consultation helps in understanding rights, exploring options, and assessing individual situations. Eligibility for spousal support can vary based on jurisdiction and personal circumstances. Sterling Lawyers advises potential clients to determine their eligibility by scheduling a consultation. The consultation is a crucial step in the entire process, aiding individuals to understand their rights, options, and potential outcomes. Early consultation helps in preventing legal pitfalls, preserving evidence, and establishing a solid foundation for a successful case.
Serving You Better
With our team of proficient lawyers, offer personalized service in dealing with family law cases. Our commitment to support clients at every step demonstrates their deep understanding and empathy towards each case. We have a unique approach that benefits the client in terms of cost and experience. Located in Rock County, Wisconsin, Sterling Lawyers provides unmatched legal assistance in Beloit. Contact the team now and discuss your case, goals, and ways to assist you.
For Immediate help with your family law case or answering any questions please call (262) 221-8123 now!
Frequently Asked Questions
Does misconduct impact spousal support in Beloit?
Marital misconduct is not directly considered in setting spousal support in Beloit, but related factors like prior domestic violence or financial misconduct may indirectly influence determinations in some cases. Discuss concerns with your Beloit spousal support lawyer.
How long does spousal support last in Beloit?
Length of spousal support in Beloit depends on factors like marriage duration, age, education level, health, and employability. A Beloit spousal support lawyer can provide insight into likely duration based on case specifics and support your request or defense of a reasonable term.
What types of spousal support are available in Beloit?
Common types of spousal support include temporary, rehabilitative, permanent periodic, and lump sum awards. A Beloit spousal support lawyer can explain options and recommend which may suit your situation best depending on need, marriage history, and capacity to become self-sufficient.
Sterling Lawyers, LLC in Beloit is formerly known as 'Sterling Law Offices, S.C.'