Beloit Divorce Mediation Attorneys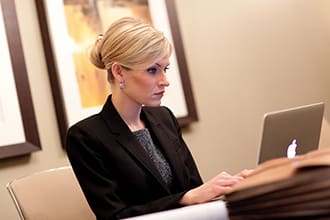 Join one of our experienced family law attorneys and learn about the divorce process, common issues, and participate in a Q and A session.
RSVP here.
Upcoming dates:
Tue, Dec 5 at 5:30pm
With
Attorney Mike Kyrios
Beloit Divorce Mediation Lawyers at Sterling Lawyers, LLC
Legal Options that Work for You
There are three basic separation paths depending on your situation. If you're not sure what to choose or are ready to take the next step, call to speak with an attorney for case-specific advice.
Uncontested
Help from the Pros for Simpler Cases
Starting at $2750
Best when you both agree on most separation issues
Get help preparing the paperwork
Ask question at legally complex points
Have peace of mind with your settlement
Mediated
Greater Level of Help for Amicable Situations
$3,500 - $6,500/couple
Most amicable process for long-term harmony
Neutral mediation attorney guides you from start to settlement
Reduce conflict by deciding on property division and custody matters together
Fraction of contested divorce costs
Contested
When You Need an Advocate in Your Corner
$499/mo - $100,000
Best for adversarial relationships
Necessary if abuse, substance abuse, or violence is present
Your personal negotiation and litigation team
Critical when trust is an Issue
Divorce mediation isn't strictly a legal process – it's an emotional one as well. The thought of untangling the web of shared life with your spouse can feel overwhelming, adding layers of emotional stress to an already trying time. At such a defining moment, it's essential that you have legal guidance from a reliable Beloit divorce attorney to alleviate some of these pressures, ensuring the process is painless and less complicated. Sterling Lawyers in Beloit, Wisconsin, can be the beacon of trust to navigate the complexities of your family law case. There's tremendous comfort in knowing that you have an empathetic yet assertive legal team to support you in these challenging times.
Weathering the Emotional Storm: A Guide to Divorce Mediation
Sterling Lawyers stands as a beacon of hope for individuals seeking capable representation in their family law cases in Beloit. The law firm's unique approach is structured around the needs of every unique client, backed by a team of seasoned attorneys. The purpose? To alleviate the stress associated with the legal case proceedings, working tirelessly to deliver favorable outcomes. The main goal remains to make the complicated journey a simple one while safeguarding the interests of clients. The law firm's reputation is founded on the personalized attention given to every client, enhancing their experience beyond the standard lawyer-client relationship.
Tailored Solutions: Our Unique Approach to Your Unique Case
Each client's divorce mediation requirements in Beloit are unique. Sterling Lawyers invests time to comprehend each client's specific case, tailoring their services to match the given requirements. Sterling Lawyers pledges transparency in their quotes, guaranteeing a fit that corresponds to the unique needs of every client. One of the key features that set them apart is their fixed-fee pricing structure. Clients can expect high-quality legal representation without worrying about escalating costs. This personalized approach not only increases client satisfaction but also results in better case outcomes.
Harnessing Years of Excellence in Family Law
The track record of Sterling Lawyers is enriched with extensive experience in representing clients in family law. The firm's attorneys bring deep knowledge of the divorce mediation process, streamlining the procedures to make it affordable for clients. Their insights in family law can translate into heightened confidence and competence when handling divorce cases, offering reassurance to clients that their cases are in capable hands.
Seamless Legal Proceedings to minimize Disruptions
Sterling Lawyers is committed to minimizing disruptions and streamlining your legal proceedings. The firm's primary objective is to make the divorce mediation process seamless and swift, ensuring minimal disruptions to clients' lives. The importance of timely resolution in cases is underlined with the attorneys adeptly handling aspects such as property division, child custody and support, alimony, and more. The firm's approach promotes collaboration, advocates for decisions by both parties, and reduces conflict.
Your Ally Today and Beyond
The voyage through the divorce mediation process can be an emotional roller coaster. There are multiple aspects to consider such as emotional well-being, financial implications, and the significant impact on children. Sterling Lawyers also offers modification services because life circumstances can change over time and existing arrangements may need to be adapted. The dedicated team continually guides clients through these necessary modifications, guaranteeing support at every twist and turn.
The Importance of Selecting an Attorney
The benefits of engaging a lawyer with a rich history of successes in similar cases are manifold. The firm's track record engenders trust in clients and contributes to their peace of mind during the legal course. The lawyer's main focus while tackling divorce mediation proceedings is centered on protecting the children's best interests, ensuring a fair distribution of assets, and advocating for peaceful resolutions. Selecting a family law attorney is pivotal due their familiarity with local courts and judges, and negotiation and litigation capabilities. In such circumstances, the attorney transforms into an advocate, illumining the path for the client during each step of the mediation.
Step-by-Step: Traversing the Road to Resolution
The divorce mediation process is a journey composed of various meticulous steps. The expedition begins with an initial consultation, progresses to filing documents follows through into the critical stage of negotiation, and may eventually culminate in court proceedings. The process of journeying through these legal steps comes with its share of potential challenges and the need for open communication with the lawyer. Sterling Lawyers with its knowledge of family law guides its clients through each stage, providing strategic advice and advocating for their best interests.
Unlocking Your Full Potential
Initiating the legal process emphasizes the necessity for consultation with a family law attorney to evaluate their situation, comprehend their rights, and explore viable options. A common question that arises pertains to whether individuals qualify for divorce mediation. This is a consideration that varies based on jurisdiction and individual specifics. Fortunately, Sterling Lawyers welcomes you to schedule a consultation to ascertain your eligibility. Early consultation comes with a host of benefits such as preventing legal pitfalls, preserving evidence, and forming the underpinnings of a successful legal case.
Navigating the path of divorce mediation necessitates finding the most adept lawyer to represent your interests. The team's extensive experience, personalized approach, ongoing support, and commitment to fostering smooth proceedings underscore its trustworthy reputation. In a challenging time, they offer a comforting presence. The law firm stands as a trusted choice for representation in Beloit, Rock County, Wisconsin. Emerging from the complexities of a family law case may be challenging, but remember, you are not alone in your journey. Sterling Lawyers is committed to serving the Beloit community. We invite you to reach out and consult with our attorneys to discuss your individual case.
For Immediate help with your family law case or answering any questions please call (262) 221-8123 now!
Frequently Asked Questions
When should I consider seeking the assistance of a Beloit divorce mediation lawyer?
It's advisable to seek the help of a Beloit divorce mediation lawyer at the very beginning of your divorce process. The attorney can help streamline the process, facilitate communication and negotiations, and help protect your rights and interests, making the entire divorce process smoother and less emotionally draining.
Will a divorce mediation attorney in Beloit be able to represent me in court if mediation fails?
A divorce mediation attorney in Beloit acts as a neutral third party during mediation and does not represent either party in court. If mediation fails, you may need to hire a different attorney to represent you in court proceedings.
What does the process of working with a Beloit divorce mediation lawyer typically look like?
When working with a Beloit divorce mediation lawyer, you and your spouse will arrange a series of meetings with the attorney. During these sessions you'll discuss and negotiate all aspects of your divorce agreement, from property division to child custody and support. The goal is to reach a mutually satisfactory agreement which can then be filed with the court. The lawyer will guide the process, ensuring it's fair and that all legal requirements are met.
Sterling Lawyers, LLC in Beloit is formerly known as 'Sterling Law Offices, S.C.'