Naperville Uncontested Divorce Attorneys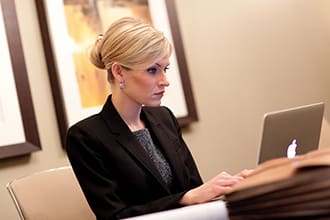 Join one of our experienced family law attorneys and learn about the divorce process, common issues, and participate in a Q and A session.
RSVP here.
Upcoming dates:
Naperville Uncontested Divorce Lawyers at Sterling Hughes, LLC
Are you ready to move forward? Call (312) 757-8082 to schedule a strategy session with one of our attorneys.
Embarking on the journey of an uncontested divorce may be one of the most daunting challenges individuals face in their lifetime. Amidst the emotional turmoil, individuals often grapple with complex legal processes, and the assistance of an attorney becomes indispensable. A Naperville divorce attorney can simplify the process, mitigating stress and providing legal guidance when it's needed most. Navigating these complex issues with seasoned legal assistance offers numerous benefits, including peace of mind and more favorable outcomes.
Traversing the Emotional Terrain of the Legal Space
Sterling Lawyers has become a trusted choice for those seeking representation for an uncontested divorce. Committed to relieving clients' stress and ensuring favorable outcomes, the firm's dedicated and experienced attorneys work relentlessly. The team's objective is to navigate the complex process swiftly and smoothly while zealously protecting clients' interests. This deep understanding of family law sets them apart from other law firms, and they are committed to delivering personalized attention to enhance clients' experiences.
Tailoring Your Legal Journey
Understanding your unique needs is at the heart of our approach. The team takes the time to comprehend each client's specific needs, offering tailored services accordingly. We strive to understand unique situations and offer transparent quotes, providing custom solutions to fulfill individual requirements. Fixed fee pricing structures eliminate financial surprises, ensuring cost-effectiveness. This personalized approach contributes to increased client satisfaction and better outcomes.
A History of Proficiency in Family Law
Sterling Lawyers boasts an impressive record of serving clients with excellence in various family law matters. Their comprehensive knowledge of the family law process allows the attorneys to handle cases with assurance and competence. Committed to streamlining the process and making it affordable, clients receive crucial support without unnecessary delays or financial strain. The firm's vast experience translates into a higher degree of confidence when dealing with divorce matters, reassuring clients that their cases are handled professionally and competently.
Keeping Divorce Proceedings Seamless
We are committed to minimizing disruptions and achieving swift resolution during legal proceedings. We want to make the process of uncontested divorce feel effortless and fast, ensuring a smooth transition and minimizing disruptions to clients' lives. The professional team ambitiously tackles legal proceedings involving property division, child custody and support, and alimony. We are dedicated to achieving a clear resolution that reflects the wishes of our clients by fostering collaboration and reducing conflict.
Supporting You Beyond the Basics
There are many factors to consider when going through an uncontested divorce, such as the impact on children, financial implications, and emotional well-being. Sterling Lawyers offers modification services, understanding that circumstances can change over time, necessitating adjustments to existing arrangements. The team can guide clients through these modifications and provide consistent support. Their commitment to keeping clients informed and updated about their case progress is unwavering. The firm also offers additional resources, such as access to legal research materials and referrals to other relevant professionals, displaying their dedication to long-term client relationships.
Building Confidence with a Team Backed by a Proven Track Record
The advantages of working with an attorney with a proven track record in similar cases are numerous. Our track record helps clients rest assured during the legal process. The focus point of an uncontested divorce includes protecting the best interests of children, ensuring fair distribution of assets, and promoting peaceful resolutions. Choosing an attorney who is well-versed with family law, conversant with local courts and judges, and skilled in negotiation and litigation is crucial. The attorney acts as a strong advocate, guiding clients through the legal process, providing advice and representation at every step.
Unveiling the Legal Journey
The process of an uncontested divorce involves initial consultation, filing documents, negotiation, and potentially court proceedings. Knowing what to expect during the process is essential. It includes timelines, potential challenges, and maintaining open communication with the attorney. Sterling Lawyers guides clients through each stage, providing strategic advice and advocating for their best interests, using unique strategies to navigate cases effectively, ensuring a higher likelihood of reaching a favorable resolution.
The Power of Legal Consultation
The journey of an uncontested divorce begins with consulting an attorney. Consultation with a Naperville uncontested divorce attorney evaluates your situation, illuminates your rights, and explores available options. Schedule a consultation to determine your eligibility. Consulting with an attorney early on can help avoid legal mistakes, protect important evidence, and build a strong basis for a victorious outcome.
For Immediate help with your family law case or answering any questions please call (312) 757-8082 now!
Frequently Asked Questions
How soon can I remarry after an uncontested divorce?
After an uncontested divorce in Naperville, there is no longer a waiting period before remarrying. As soon as the divorce decree is entered by the judge, both parties are free to legally remarry right away. Previously, Illinois required a 6 month waiting period after a divorce was finalized before remarriage was permitted. However, this restriction was removed in 2016. Now as soon as your uncontested Naperville divorce is finalized by the court, you can obtain a new marriage license and legally remarry immediately.
What issues cannot be agreed upon in an uncontested Naperville divorce?
There are certain issues that cannot be fully resolved merely through agreement in an uncontested Naperville divorce. Child custody, visitation, and child support require court approval of arrangements to protect the best interests of the children. Spousal maintenance also requires judicial review. And the division of retirement and pension funds necessitates specific court orders to implement. While you can agree on negotiated terms for these issues, the judge still needs to review and issue rulings on them as part of finalizing an uncontested divorce.
What if my spouse won't sign uncontested divorce papers?
If your spouse refuses to sign the uncontested divorce papers in Naperville, you have some options. First, determine if they have specific concerns that you could potentially address to move ahead uncontested. If not, your attorney can advise filing a contested divorce and serving your spouse. You can still seek similar terms but will now litigate. Some judges will still grant certain uncontested provisions. While lack of consent removes the uncontested route, your divorce can still proceed. Your lawyer can help navigate this situation.