Naperville Divorce Mediation Attorneys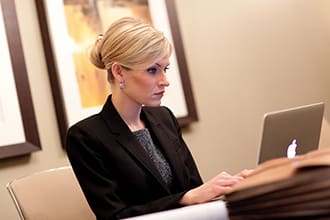 Join one of our experienced family law attorneys and learn about the divorce process, common issues, and participate in a Q and A session.
RSVP here.
Upcoming dates:
Naperville Divorce Mediation Lawyers at Sterling Hughes, LLC
Are you ready to move forward? Call (312) 757-8082 to schedule a strategy session with one of our attorneys.
Divorce mediation can often be a distressing period, entailing a range of emotional, legal, and financial complexities. Understanding the intricate systems and managing the emotional strain becomes progressively challenging for individuals involved. Sterling Lawyers, located in Naperville, Illinois, aim to help ease this journey by offering efficient and empathetic legal guidance and personalized services tailored for clients' individual needs.
Embracing the Challenge of Divorce Mediation
Each dedicated Naperville divorce attorney is recognized as trusted representatives for legal cases in Naperville, offer a unique range of services. Their objective is to swiftly navigate through the maze of legal complexities, shielding clients' interests. Their exceptional understanding of legal intricacies makes them stand out among other law firms in the city. They are committed to providing individual attention to every client and enhancing their experience through a personalized approach.
Tailored Solutions for Unique Needs
We firmly believe in adapting our services to meet unique needs in handling your family law matters. Our lawyers invest their time to understand each client's specific situation and provide transparent quotes. Their fixed fee pricing structure offers cost-effectiveness and ensures that clients can anticipate their expenses, thereby eliminating any hidden surprises. The benefits of such personalized service include increased client satisfaction and better outcomes.
Leveraging Years of Family Law Wisdom
The experienced attorneys at the law firm have served a large number of clients successfully over the years. They possess a deep understanding of the divorce mediation process, which enables them to serve clients efficiently. Sterling Lawyers focus on making the process not just affordable but also supportive for clients, ensuring they receive the necessary assistance without any unnecessary delays. Their extensive experience gives them the confidence and capability to handle divorce mediation matters effectively.
Seamless Legal Proceedings
Commitment is a key idea at our family law firm. We pledge to ease the disruptiveness and maximize resolution during family law proceedings by simplifying the legal process. The aim is to ensure a smooth and speedy transition through the legal case, thus minimizing disruptions to clients' lives. Our firm's divorce mediation lawyers handle legal proceedings like property division, child custody and support, and alimony, providing a balanced approach to family law matters.
Consistent Support Throughout Your Legal Journey
Several factors need consideration when handling a legal case such as divorce mediation. These include the impact on children, financial implications, and emotional well-being. Sterling Lawyers offer ongoing support beyond just the initial consultation by providing family law modification services as circumstances can change over time. They keep clients updated on the progress of their case and offer additional resources such as access to legal research materials and educational workshops for comprehensive support throughout the process.
The Keystone of Selecting Your Legal Advocate
Choosing a Naperville divorce mediation attorney who handles family law cases with a proven track record is vital. The team builds confidence with their clients by displaying a successful track record through social media mentions and client testimonials. The goal throughout the process is to safeguard children's wellbeing, achieving an equitable division of property, and encourage harmonious settlements.
The Roadmap to Effective Conflict Resolution
The process involves several stages including the initial consultation, filing documents, negotiation, and potentially court proceedings. Sterling Lawyers guide their clients through each stage with strategic advice. They help handle common challenges that clients may encounter during divorce mediation proceedings such as legal requirements, documentation, or dealing with opposing parties.
Laying the Groundwork: The Importance of Initial Consultation
It is crucial to seek quality legal assistance when dealing with family law, considering the complexities involved. The first step involves consulting with a divorce mediation attorney to evaluate one's situation, understand their rights, and explore available options.  A consultation with an attorney can empower individuals by providing you a clear understanding of your rights, options, and potential outcomes. Determine your eligibility by scheduling a consultation.
For Immediate help with your family law case or answering any questions please call (312) 757-8082 now!
Frequently Asked Questions
Can our minor children attend divorce mediation sessions in Naperville?
Involving minor children in divorce mediation sessions in Naperville is generally not recommended. Mediation is meant to facilitate communication between the disputing parties - the parents. Bringing children into this environment can be stressful for them. They may feel pressured to take sides or may hear adult issues not meant for them. The mediator focuses on the parents so that they reach agreements, not resolving issues directly involving the children. However, the children's needs and interests can still be discussed and provided for in a mediated settlement.
How do we initiate divorce mediation in Naperville?
To initiate divorce mediation in Naperville, both spouses must agree to try the process. You can search online for a qualified mediator or ask your divorce attorneys for mediator referrals. Schedule an initial orientation where you and your spouses' objectives are made clear. You will then decide on scheduling regular sessions and provide financial documents so agreements can be reached. Many online tools also exist to streamline scheduling and information sharing throughout the mediation process in Naperville.
How can divorce mediation in Naperville benefit the children?
Divorce mediation can benefit children in Naperville by helping parents reduce conflict and reach amicable solutions. Children are deeply affected by high-tension disputes between parents. Mediation facilitates effective communication and compromise, rather than escalation. Settlements also come faster, providing stability sooner for kids. When parents mediate in good faith, the process models conflict resolution skills for children. This promotes the civility kids need from parents, even post-divorce.