Green Bay Divorce Mediation Attorneys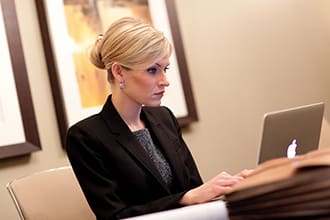 Join one of our experienced family law attorneys and learn about the divorce process, common issues, and participate in a Q and A session.
RSVP here.
Upcoming dates:
Tue, Dec 5 at 5:30pm
With
Attorney Mike Kyrios
Green Bay Divorce Mediation Lawyers at Sterling Lawyers, LLC
Legal Options that Work for You
There are three basic separation paths depending on your situation. If you're not sure what to choose or are ready to take the next step, call to speak with an attorney for case-specific advice.
Uncontested
Help from the Pros for Simpler Cases
Starting at $2750
Best when you both agree on most separation issues
Get help preparing the paperwork
Ask question at legally complex points
Have peace of mind with your settlement
Mediated
Greater Level of Help for Amicable Situations
$3,500 - $6,500/couple
Most amicable process for long-term harmony
Neutral mediation attorney guides you from start to settlement
Reduce conflict by deciding on property division and custody matters together
Fraction of contested divorce costs
Contested
When You Need an Advocate in Your Corner
$499/mo - $100,000
Best for adversarial relationships
Necessary if abuse, substance abuse, or violence is present
Your personal negotiation and litigation team
Critical when trust is an Issue
Divorce mediation, known for its emotional toll, can be draining and complex. Sterling Lawyers based in Green Bay, Wisconsin understands how daunting this process can be. They focus on streamlining this process, ensuring you are not alone in this trying time. With their seasoned legal team by your side, you can enjoy a more structured and understandable legal process.
Reliable Divorce Mediation Attorneys of Green Bay
Sterling Lawyers in Green Bay stand out due to their commitment to personal and legal client support. Their seasoned team of attorneys is dedicated to guiding you through the complexities of this intricate process. They focus on easing clients' stress, aiming to achieve the most favorable outcome for your case. Their broad understanding of this field sets them apart from their competitors. They provide every client with personal attention, enhancing the overall client experience.
Tailoring Legal Solutions to Unique Needs
Understanding the unique needs of each client is a priority for Sterling Lawyers in Green Bay. Each Green Bay divorce attorney takes the time to understand each client's specific situation and offer a transparent, tailored service. They are known for their fixed fee pricing structure, eliminating any unwelcome surprises commonly associated with hourly billing. This personalized approach results in higher client satisfaction and improved results.
Leveraging Years of Family Law Practice
With a long-standing history of serving clients, Sterling Lawyers possess an enviable breadth of knowledge in family law. They aim to make the process economical and efficient for their clients. Their rich experience ensures confidence when dealing with such sensitive matters, reassuring clients that they are in capable hands.
Facilitating Uncomplicated Divorce Mediation Proceedings
Sterling Lawyers are committed to minimizing disruptions and maximizing resolution during the family law proceedings. They work diligently to make the divorce mediation process as effortless and fast as possible. Their lawyers handle a wide range of issues such as property division, child custody, and support, and alimony. They are committed to achieving clear resolutions reflecting the decisions of both parties while reducing conflict.
Your Journey with Our Support
Considerations during the legal process can range from the impact of children, financial implications, and emotional well-being. Sterling Lawyers offer family law modification services, as circumstances can change over time. They guide clients through these modifications and provide ongoing support. Their commitment extends to keeping clients informed and updated on their case's progress. They also offer additional resources to assist clients throughout their journey.
Picking the Right Advocate
Selecting an attorney with experience handling similar cases provides the client with confidence and peace of mind. Sterling Lawyers has a strong track record as Green Bay divorce mediation attorneys, focusing on important aspects such as the welfare of children, fair asset distribution, and peaceful resolutions. Their in-depth knowledge of family law, familiarity with local courts, and negotiation skills make them a strong advocate for their clients throughout the legal process.
Your Roadmap to Peace
The typical stages in the divorce mediation process include initial consultation, filing documents, negotiation, and potentially court proceedings. Despite the challenges, Sterling Lawyers' deep understanding of family law enables them to guide clients successfully through each stage. Their unique approach ensures a higher likelihood of achieving a favorable resolution.
Your Route to Harmonious Resolution with Sterling Lawyers.
Starting the divorce mediation process involves consulting with a lawyer to evaluate the situation, understand rights, and explore available options. Sterling Lawyers encourage individuals to reach out to them to schedule a consultation. Early consultation can prevent legal pitfalls, preserve evidence, and establish a strong foundation for your case.
Bringing together the key points discussed throughout the article, Sterling Lawyers in Green Bay, Wisconsin offer a personalized approach, extensive experience, and ongoing support. They are committed to easing this difficult process, supporting clients through each stage with compassion. They stand out as a trusted choice for representation in Green Bay. There is comfort in knowing that you have a knowledgeable attorney by your side when facing divorce mediation. We invite you to take the next step and contact us to discuss your case goals, and how to assist you. Serving the community in Brown County, we are eager to provide you with a consultation.
For Immediate help with your family law case or answering any questions please call (262) 221-8123 now!
Frequently Asked Questions
How can a Green Bay divorce mediation lawyer help me resolve my divorce peacefully?
A Green Bay divorce mediation lawyer can provide guidance and facilitate constructive communication between you and your spouse during a divorce mediation. Their role is to promote consensus and help both parties come to an agreement on issues such as property division, child custody, and spousal support. Having an attorney experienced in divorce mediation ensures your interests are well represented and can help the proceedings go smoothly.
What is the role of a Green Bay divorce mediation lawyer during a mediation session?
The role of an attorney during a mediation session involves facilitating discussions, helping to negotiate agreements and providing legal advice to their client. They don't make decisions, but rather provide the necessary guidance and information for you to make informed decisions. They ensure the legal aspects of any agreements made in mediation are accurately documented and proceed according to law.
How long does the mediation process usually take with a Green Bay divorce mediation attorney?
The length of the divorce mediation process can vary greatly depending on the complexities of the case and the willingness of both parties to cooperate and negotiate. Your Green Bay divorce mediation attorney can provide more detailed information based on your specific circumstances.