Green Bay Paternity Attorneys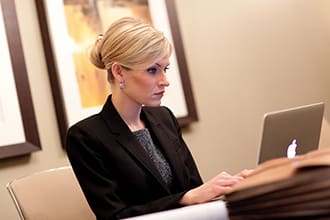 Join one of our experienced family law attorneys and learn about the divorce process, common issues, and participate in a Q and A session.
RSVP here.
Upcoming dates:
Green Bay Paternity Lawyers at Sterling Lawyers, LLC
Legal Options that Work for You
There are three basic separation paths depending on your situation. If you're not sure what to choose or are ready to take the next step, call to speak with an attorney for case-specific advice.
Uncontested
Help from the Pros for Simpler Cases
Starting at $2750
Best when you both agree on most separation issues
Get help preparing the paperwork
Ask question at legally complex points
Have peace of mind with your settlement
Mediated
Greater Level of Help for Amicable Situations
$3,500 - $6,500/couple
Most amicable process for long-term harmony
Neutral mediation attorney guides you from start to settlement
Reduce conflict by deciding on property division and custody matters together
Fraction of contested divorce costs
Contested
When You Need an Advocate in Your Corner
$499/mo - $100,000
Best for adversarial relationships
Necessary if abuse, substance abuse, or violence is present
Your personal negotiation and litigation team
Critical when trust is an Issue
Going through an paternity can be an emotional rollercoaster, bringing lots of challenges that can feel overwhelming. The legal process, even though it's less adversarial than a contested divorce, is still complicated. During this difficult time, having competent legal help is essential to make things go more smoothly and easily. Having experienced Green Bay paternity lawyers on your side can greatly reduce stress and lead to a good result.
Your Partners in Paternity Cases
Sterling Lawyers, located in Green Bay, Wisconsin, is a reliable choice if you need a lawyer for your paternity. The firm's team of seasoned attorneys is dedicated to easing clients' stress and achieving favorable outcomes. One thing that sets Sterling Lawyers apart is their commitment to providing a personalized experience tailored to each client's needs, which strengthens their relationship.
A Custom Approach for Your Paternity Issues
A personalized approach is key to understanding a client's specific paternity needs. Each Green Bay family law attorney takes time to grasp what makes each client's case unique, provide transparent pricing, and tailor their services accordingly. The firm uses a fixed fee structure to prevent surprise costs and deliver comprehensive, top-quality legal services without worrying about rising fees.
Leveraging Extensive Legal Experience for Paternity
Sterling Lawyers has ample experience with family law, serving clients capably and effectively. The firm's lawyers have an in-depth understanding of the paternity process, which gives clients greater confidence. The focus stays on streamlining the process, keeping it affordable and fast so clients get the support they need quickly and without undue financial strain.
Our Pledge to Simplify Paternity Proceedings
Sterling Lawyers is dedicated to minimizing disruptions and ensuring a smooth transition during legal proceedings. They handle matters like property division, child custody and support, and alimony efficiently, achieving clear resolutions that reflect both parties' decisions. This multifaceted approach promotes collaboration, reduces conflict, and simplifies family law cases.
Steady Support to Guide You through Paternity
Going through an paternity involves weighing factors like impact on children, financial implications, and emotional well-being. Situations can change, and people may need to adjust existing arrangements. Our lawyers assist clients in making such modifications, providing ongoing support. Their dedication includes maintaining long-term relationships with clients, keeping them informed and updated.
The Vital Role of Picking the Right Lawyer
Choosing the right lawyer in family law matters is crucial. A lawyer with a proven record of success, bolstered by testimonials and social media endorsements, is indicative of their competence. Sterling Lawyers knows the local courts and judges and excels in negotiation and litigation, providing clients with robust support.
Mapping Out Your Journey
A typical paternity involves an initial consultation, filing paperwork, negotiation, and sometimes court proceedings. Understanding these steps is key, as is keeping open communication with your lawyer. Sterling Lawyers' grasp of these stages allows them to guide clients through each phase, offering strategic advice and advocating for their best interests.
The Importance of Legal Consultation
Starting an paternity begins with a consultation to evaluate your circumstances, know your rights, and explore options. Sterling Lawyers encourages people to request a consultation to determine eligibility. This initial meeting can empower clients by providing a clear view of their rights, choices, and potential outcomes.
The complexities of an paternity highlight the benefit of competent legal representation. Sterling Lawyers provides this through a comprehensive, caring approach, guiding clients through each stage and easing pressures often associated with family law. As a trusted choice in Green Bay, Sterling Lawyers invites potential clients to contact them to discuss achieving a positive outcome.
For Immediate help with your family law case or answering any questions please call (262) 221-8123 now!
Frequently Asked Questions
How can a Green Bay paternity lawyer assist me in establishing paternity rights in court?
A lawyer can assist you by guiding you through the legal process, explaining your rights and obligations, and representing you in court if necessary. Whether you are trying to establish or contest paternity, your attorney will help protect your rights and interests.
What is the role of a DNA test in a paternity case in Green Bay, WI?
A DNA test is a scientifically accurate way to establish paternity. Your Green Bay paternity attorney can ensure the test is conducted correctly and help you understand the implications of its results.
Can a Green Bay paternity lawyer assist me with child custody and support issues?
Yes, a lawyer can also help you navigate issues of child custody and support. Once paternity is established, the lawyer can help you understand your financial responsibilities and your rights regarding childcare and visitation.