Hoffman Estates Divorce Mediation Attorneys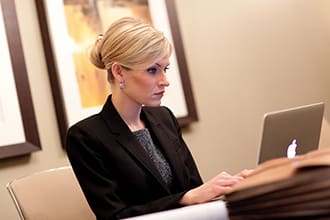 Join one of our experienced family law attorneys and learn about the divorce process, common issues, and participate in a Q and A session.
RSVP here.
Upcoming dates:
Hoffman Estates Divorce Mediation Lawyers at Sterling Hughes, LLC
Are you ready to move forward? Call (312) 757-8082 to schedule a strategy session with one of our attorneys.
Divorce mediation signifies a sensitive period as individuals grapple with personal and legal intricacies. The significance of retaining legal representation proficient in this area should not be underrated. This integral support can help in making the process straightforward and alleviate unnecessary stress. Having access to an experienced Hoffman Estates divorce attorney is crucial to overcoming the complexities that are often inherent in this process.
Your Reliable Beacon in Hoffman Estates
Our team offers unique features that make us a coveted choice for clients seeking representation in Hoffman Estates. Our seasoned attorneys are committed to alleviating the stress and providing desired outcomes by navigating clients through complex legal cases. Our goal is to ensure that clients are protected and to smoothly guide them through the process. The breadth of knowledge and experience in this area of law sets us apart from other firms.
Crafting Unique Solutions
Understanding your unique divorce mediation needs in Hoffman Estates is an essential part of our tailored approach. Every client's case is treated as individual, as we dedicate time to understand and meet each requirement. Our transparent quotes offer cost-effectiveness and eliminate the surprises associated with hourly billing. The high-quality legal representation we offer ensures you don't worry about escalating costs, while our personalized approach enhances client satisfaction and outcomes.
Unraveling the Tangles in Family Law
We take pride in our extensive background in serving clients with excellence. The knowledge our attorneys possess illuminates the process. We strive to make this process affordable, avoiding unnecessary delays and financial strain. A sense of confidence and competence is instilled in our clients knowing their sensitive matters are in capable hands.
Streamlined Proceedings with Hoffman Estates Divorce Mediation Lawyers
A commitment to minimizing disruptions and maximizing resolution during legal proceedings is at the heart of our work at Sterling Lawyers. We strive to make the family law process effortless and quick, ensuring a smooth transition with minimal disruptions. Our team of professionals handles matters such as property division, child custody, support, and alimony with a well-rounded approach. We create resolutions that reflect both parties' decisions, fostering collaboration and reducing conflict.
A Helping Hand Each Step of the Way
Dealing with divorce mediation involves considering factors such as the impact on children, financial implications, and emotional well-being. We understand that circumstances may change over time and offer modification services to adapt existing arrangements. Our team is equipped to guide clients through these modifications, providing ongoing support. Even beyond initial consultations and legal representation, our commitment to keeping clients informed about their case progress ensures clear communication. Our firm also offers resources such as educational workshops and referrals to relevant professionals, showing our dedication to maintaining long-term relationships with clients.
Key Factors in Choosing an Attorney
Working with an attorney who has successfully handled similar cases in the past is a significant advantage. Divorce mediation often entails protecting children's best interests, ensuring assets are equitabley distributed, and promoting peaceful resolutions. Choosing an attorney familiar with local courts and judges can provide peace of mind during the legal process. An attorney's role is to act as a strong advocate, guiding clients through a family law process, providing advice and representation at every step.
A Roadmap to Harmony
The legal process involves multiple steps such as initial consultation, filing documents, negotiation, and potentially court proceedings. We guide clients through each stage, providing strategic advice while advocating for their best interests. Understanding legal requirements, documentation needs, and dealing with opposing parties can be complex. However, being guided by a team proficient in these areas ensures a higher likelihood of a favorable resolution.
Harnessing the Potential of Consultation
Starting the divorce mediation process involves an initial consultation with an attorney to evaluate the situation, understand your rights, and explore available options. We encourage individuals to reach out and schedule a consultation to determine their eligibility. The risks of not seeking legal advice when dealing with these matters can be significant. Early consultation with an attorney can empower individuals by providing them with a clear understanding of their rights, options, and potential outcomes.
The importance of proper legal assistance when facing divorce mediation cannot be overstated due to the complexities involved and the benefits of having a knowledgeable attorney on your side. We are committed to easing the process for clients in Hoffman Estates by providing a personalized service. We encourage readers to take the next step and contact our team to discuss their individual cases and how we can assist in achieving a positive outcome. Based in Cook County, we invite readers needing further information to reach out for a consultation.
For Immediate help with your family law case or answering any questions please call (312) 757-8082 now!
Frequently Asked Questions
Can our minor children attend divorce mediation sessions in Hoffman Estates?
Involving minor children in divorce mediation sessions in Hoffman Estates is generally not recommended. Mediation is meant to facilitate communication between the disputing parties - the parents. Bringing children into this environment can be stressful for them. They may feel pressured to take sides or may hear adult issues not meant for them. The mediator focuses on the parents to reach agreements, not resolving issues directly involving the children. However, the children's needs and interests can still be discussed and provided for in a mediated settlement.
When is mediation not recommended for Hoffman Estates divorce?
Divorce mediation is not always suitable in Hoffman Estates in cases involving domestic violence, mental illness, substance abuse or where one party refuses to negotiate in good faith. Mediation requires parties to communicate and compromise. If there are safety concerns, severe mental health issues or unwillingness to make concessions, litigation may be necessary to resolve the issues and protect rights. Mediation also may not work if there is disagreement over major issues like child custody. An experienced divorce attorney can advise if mediation is appropriate.
How enforceable are mediated divorce agreements in Hoffman Estates?
Mediated divorce agreements are fully enforceable in Hoffman Estates once approved by the court. Just like settlements reached in litigation, mediated agreements must conform to Illinois laws relating to property division, child support, etc. The final settlement is submitted to the court and incorporated into a Marital Settlement Agreement. If one party violates terms later, the agreement is binding, and the other party can pursue legal action for breach of contract and contempt. Mediated settlements allow parties to customize terms but have the same enforceability as litigation judgments.