Hoffman Estates Military Divorce Attorneys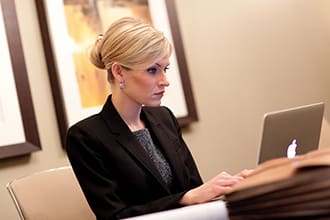 Join one of our experienced family law attorneys and learn about the divorce process, common issues, and participate in a Q and A session.
RSVP here.
Upcoming dates:
Hoffman Estates Military Divorce Lawyers at Sterling Hughes, LLC
Are you ready to move forward? Call (312) 757-8082 to schedule a strategy session with one of our attorneys.
Navigating the intricate nature of military divorce is an emotional journey. The process often involves a tangle of challenges and complexities, not to mention the considerable emotional strain it puts on individuals. Fortunately, having Hoffman Estates divorce lawyers by your side can streamline the process and alleviate some of this strain. By choosing representation from Sterling Lawyers, you will have guidance from individuals with extensive practical knowledge of this intricate field of law. Our team can enhance your understanding, reduce your stress, and ensure that you are empowered throughout the process.
Charting the Legal Landscape of Military Separation
Our group of skilled lawyers bring their dedication to the table, ensuring reduced pressure on clients while also aiming for favorable outcomes. They not only assist in navigating the intricate process effectively but also safeguard the best interests of clients. Their adeptness in this field has earned them a distinctive reputation among other law firms in the city. By consistently providing personalized attention to each client, we enhance the overall experience and satisfaction.
Tailoring Your Legal Journey with our Unique Methods
Understanding the unique needs of individuals undergoing a military divorce in Hoffman Estates is central to our approach. The firm takes the time to comprehend each client's unique situation and provides transparent quotes while tailoring their services accordingly. A significant advantage of collaborating with this firm is their fixed fee pricing structure. This approach offers cost-effectiveness and eliminates the financial surprises commonly experienced with hourly billing. Ultimately, this comprehensive, high-quality legal representation yields both increased client satisfaction and improved outcomes.
Delving into our Rich Family Law Knowledge
Sterling Lawyers prides itself on its extensive experience serving clients with diligence and excellence. Their attorneys have comprehensive knowledge and practical understanding of the family law process. The firm is dedicated to streamlining the process and making it affordable for clients, ensuring they receive the much-needed support without unnecessary delays or financial strain. Their substantial experience assures clients that they are in capable hands.
Seamless Legal Process: The Sterling Lawyers Promise
We demonstrate a consistent commitment to minimizing disruptions and maximizing resolution during family law proceedings. Our team work diligently to streamline the legal process for their clients, reducing stress, and unnecessary delays. Moreover, we handle various legal proceedings such as property division, child custody and support, and alimony, providing a versatile approach to family law cases. Each Hoffman Estates military divorce lawyer is committed to achieving a clear resolution that reflects your interests.
Beyond the Courtroom
Military divorce involves considering various factors such as the impact on children, financial implications, and emotional well-being. Changes in circumstances can necessitate modifications in agreements, and Sterling Lawyers can guide clients through these modifications, providing continued support. The firm also maintains transparent communication lines and regularly updates on case progress.
The Pillars of Selecting a Military Divorce Attorney
When facing a military divorce, choosing a lawyer with a successful track record handling similar cases is vital. Sterling Lawyers' track record instills confidence in its clients and contributes to their peace of mind during the legal process. Besides protecting children's interests, ensuring fair distribution of assets, and promoting peaceful resolutions are the focus points of a family law lawyer.
Traversing the Military Divorce Process with Sterling Lawyers
The steps involved in a military divorce typically include initial consultation, filing documents, negotiation, and potentially court proceedings. Sterling Lawyers guides clients through these stages, providing strategic advice and advocating for their best interests. However, clients may encounter challenges during proceedings such as legal requirements, documentation, or dealing with opposing parties. Here is where one of our attorneys play a critical role, using unique strategies to navigate cases effectively.
The Most Important Decision
To begin your journey, it's crucial to consult with a Hoffman Estates military divorce attorney to evaluate your situation, understand your rights, and explore available options. Early consultation prevents legal pitfalls, preserves evidence, and establishes a strong foundation for a successful case. We consultation services that equip individuals with a clear understanding of their rights, options, and potential outcomes. Contact Sterling Lawyers to discuss your case and allow us to assist you in achieving your goals.
For Immediate help with your family law case or answering any questions please call (312) 757-8082 now!
Frequently Asked Questions
How does VA disability pay factor into a Hoffman Estates military divorce?
VA disability pay is considered separate, non-marital property in a Hoffman Estates military divorce. It is the injured spouse's compensation for pain/suffering and normally cannot be divided. However, if any portion is classified as "disposable retired pay", that amount could be divided like a pension. Your attorney can help determine if any disability pay is subject to division in Hoffman Estates. You may need to provide documentation on type/reasoning for disability pay. The main amount should remain for the spouse who is disabled.
How do I serve divorce papers to my active duty spouse from Hoffman Estates?
To serve divorce papers to an active duty spouse from Hoffman Estates, you have a few options: 1) Send a process server to your spouse's base; 2) Hire a certified proxy server near the base; 3) Contact your spouse's commanding officer and request they facilitate service; 4) Mail the papers via certified mail with return receipt. Your Hoffman Estates attorney can advise the best method to ensure proper service while your spouse is active duty, even if they are deployed or at a base far from Hoffman Estates.
What happens if my spouse committed adultery during deployment?
If your spouse committed adultery during a Hoffman Estates military deployment, it could significantly impact divorce and custody proceedings. Adultery is forbidden under the Uniform Code of Military Justice and grounds for a fault-based divorce in Illinois. Your attorney can file citing adultery as the reason to potentially obtain a more favorable settlement. Custody may also be affected as adultery shows poor moral character and judgment. Evidence proving the adultery should be gathered. The circumstances may warrant modifying custody, support or property division in your favor.