Hoffman Estates Uncontested Divorce Attorneys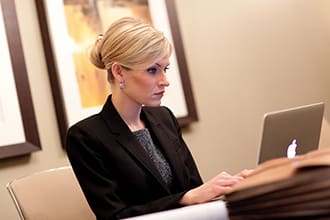 Join one of our experienced family law attorneys and learn about the divorce process, common issues, and participate in a Q and A session.
RSVP here.
Upcoming dates:
Hoffman Estates Uncontested Divorce Lawyers at Sterling Hughes, LLC
Are you ready to move forward? Call (312) 757-8082 to schedule a strategy session with one of our attorneys.
Embarking on the journey of an uncontested divorce can be emotionally draining, fraught with challenges and complexities. It requires much more than paperwork—the process calls for understanding, empathy, and a firm hand to navigate the legal labyrinth. Sterling Lawyers, located in Hoffman Estates, Illinois, brings a team of seasoned professionals who can streamline the steps and ease the burden of this critical time in life. Handling such a legal case with seasoned guidance offers unmatched benefits, making the journey less stressful and more manageable.
Navigating Life's Detours with Skill
Sterling Lawyers stands as a beacon of trust among those seeking representation. Each Hoffman Estates divorce attorney has ample field experience, aiming to alleviate client stress and strive for favorable outcomes. Our ultimate objective is to simplify the complex navigations inherent to these legal proceedings, ensuring that our clients' best interests remain at the forefront. The proficiency we possess in this arena gives us a distinct edge over other law firms in the city. We are committed to personalized client interaction, enhancing their experience through detailed attention and understanding.
Embracing a Personalized Approach
Understanding the unique needs of your uncontested divorce, we go the extra mile to comprehend each client's specific circumstances. We provide transparent quotes that suit individual requirements, and our fixed fee pricing structure eliminates any surprises. This cost-effective approach lets our clients enjoy comprehensive legal representation without the worry of escalating costs. Partnering with a law firm that adopts this personalized approach introduces several benefits—improved client satisfaction and higher chances of favorable outcomes being just two among many.
Tried and Tested: Drawing from Extensive Family Law Experience
For years, Sterling Lawyers has served clients with nothing short of excellence. Our lawyers possess a deep understanding of the family law process, their knowledge proving beneficial when simplifying and making the process more affordable for our clients. This robust experience translates into an elevated level of confidence when managing family law matters—reassuring clients that they have placed their trust in capable hands.
Paving the Way for a Smooth Legal Journey
As a law firm dedicated to minimizing disruptions and maximizing resolution during legal proceedings, we strive to streamline our clients' journey, reducing stress and unnecessary delays. Our primary goal is to facilitate an effortless journey through the family law process—ensuring a smooth transition and minimizing disruptions to our clients' lives. Our professional lawyers handle various aspects such as property division, child custody, and support, shaping our well-rounded approach to dealing with these matters. We are committed to achieving a clear resolution that reflects both parties' decisions, fostering collaboration and reducing conflict.
Support throughout the Uncontested Divorce Experience
Factors like the impact on children, financial implications, and emotional well-being are crucial when going through an uncontested divorce. Sterling Lawyers also provides family law modification services, as circumstances can change over time, necessitating alterations to existing arrangements. Our seasoned attorneys can guide clients through these modifications and provide continuous support. We commit to keeping our clients informed and updated on their cases' progress and provide additional resources like access to legal research materials or relevant professional referrals. Even after addressing immediate needs, we remain dedicated to maintaining long-term relationships with our clients.
Why a Proven Track Record Matters in Choosing Your Attorney
Working with an attorney who has successfully handled similar cases in the past offers numerous advantages. The importance of a proven track record and extensive experience cannot be overstressed when selecting an attorney. Social media mentions and client testimonials stand as proof that Sterling Lawyers instills confidence in clients, contributing to their peace of mind during the legal process. The focus of an uncontested divorce is protecting children's best interests, ensuring fair asset distribution, and promoting peaceful resolutions. Choosing a family law attorney is crucial due to their in-depth understanding of family law, local courts, judges, and negotiation and litigation tactics—acting as a strong advocate and guiding clients through the process.
Your Guide through the Uncontested Divorce Process
An uncontested divorce involves various steps—initial consultation, filing documents, negotiation, and potentially court proceedings. The process can present challenges and require open communication with your attorney. At Sterling Lawyers, our proficient lawyers guide clients through these stages with strategic advice based on our comprehensive understanding of family law cases.
Realizing the Importance of Legal Consultation
Starting the process requires individuals to consult with an attorney to evaluate their situation, understand their rights, and explore available options. While eligibility for the process varies based on jurisdiction and individual circumstances, Sterling Lawyers is available for consultation regarding eligibility. Without seeking legal advice, individuals face potential risks with their legal cases. Early consultation with an attorney can prevent legal pitfalls, preserve evidence, establish a strong foundation for a successful case, provide understanding of their rights, options, and potential outcomes.
Our experienced team, personalized approach, extensive experience, commitment to smooth proceedings, ongoing support, and the importance of consulting with an uncontested divorce attorney. The complexities involved in such a case illustrate how valuable it is to have a knowledgeable lawyer at your side. Located in Cook County, Illinois, our firm remains dedicated to personalized service—easing the difficult journey for clients seeking representation in Hoffman Estates. Take the next step—contact us to discuss individual cases and how Sterling Lawyers can assist you for a positive outcome concerning your case.
For Immediate help with your family law case or answering any questions please call (312) 757-8082 now!
Frequently Asked Questions
Is there a waiting period for an uncontested divorce in Hoffman Estates?
Yes, there is a waiting period for an uncontested divorce in Hoffman Estates. In Illinois, there is a mandatory minimum waiting period of 60 days from when the divorce is filed to when the judge can enter the final divorce decree, even for uncontested cases. The waiting period exists so any possibility of reconciliation can be explored, and documentation finalized before the divorce is final. This 60 day waiting period applies statewide, including in Hoffman Estates. The court can choose to extend the waiting period beyond the minimum 60 days if needed before granting the divorce decree.
What are Illinois residency requirements for an uncontested Hoffman Estates divorce?
To file for an uncontested divorce in Hoffman Estates, Illinois has a 6-month residency requirement. This means one spouse must have been a resident of Illinois for at least 6 months immediately before filing the petition for dissolution of marriage. There are exceptions if the grounds for divorce occurred in Illinois and one spouse was a resident at that time. For military members, they only need to be stationed in Illinois for 90 days to meet residency requirements for an uncontested Hoffman Estates divorce.
How soon can I remarry after an uncontested Hoffman Estates divorce?
After an uncontested divorce in Hoffman Estates, there is no longer a waiting period before remarrying. As soon as the divorce decree is entered by the judge, both parties are free to legally remarry right away. Previously, Illinois required a 6 month waiting period after a divorce was finalized before remarriage was permitted. However, this restriction was removed in 2016. Now as soon as your uncontested Hoffman Estates divorce is finalized by the court, you can obtain a new marriage license and legally remarry immediately.