Hoffman Estates Paternity Attorneys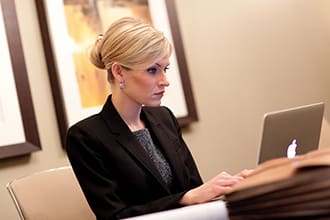 Join one of our experienced family law attorneys and learn about the divorce process, common issues, and participate in a Q and A session.
RSVP here.
Upcoming dates:
Hoffman Estates Paternity Lawyers at Sterling Hughes, LLC
Are you ready to move forward? Call (312) 757-8082 to schedule a strategy session with one of our attorneys.
The path of paternity is often fraught with emotional turbulence and legal complexities. For individuals grappling with this challenging process, the reassurance of a seasoned Hoffman Estates family law attorney and their guidance is invaluable. The lawyers at Sterling Lawyers bring their wealth of knowledge to the table, making the choicest strategies and legal options accessible for those navigating the family law landscape. By engaging with skilled legal professionals, you can feel empowered and supported throughout this difficult journey.
Journeying Through the Paternity Process
We strive to relieve clients' stress and achieve favorable outcomes. The trusted team of lawyers lends their dedicated assistance to those seeking representation. Their objective is to simplify the complex process and safeguard the best interests of their clients. Superior to other law firms in the city, Sterling Lawyers prides itself on offering personalized attention to each client, enhancing their experience during this sensitive period.
Personalized and Tailored Legal Services
Understanding your unique paternity needs, the team takes the time to grasp each client's distinct situation. In doing so, they provide transparent quotes and tailor their services to meet your individual requirements. The firm employs a fixed fee pricing structure, which eliminates surprises commonly tied to hourly billing and offers cost-effectiveness. When you have comprehensive, top-quality legal representation on your side, you no longer need to worry about escalating costs.
Extensive Track Record in Family Law
Sterling Lawyers has a long track record of delivering excellent service to clients. Their attorneys have a deep understanding of the process, committed to making it affordable for clients without unnecessary delays or financial strain. Their knowledge provides clients with a high degree of confidence and competence when dealing with paternity legal cases.
Our Dedication to Smooth Legal Processes
We prioritize minimizing disruptions and expediting resolutions during family law proceedings. We take every effort to ensure that the process is effortless and fast, ensuring a smooth transition and minimizing disturbances to clients' lives. Our lawyers handle legal proceedings such as property division, child custody, support, and alimony. They are devoted to achieving a clear resolution reflecting both parties' decisions, fostering collaboration, and reducing conflict.
Consistent Support Throughout the Legal Journey
There are many factors to consider when going through family law, such as the impact on children, financial repercussions, and emotional well-being. Sterling Lawyers offers modification services in family law, as circumstances can change over time. The highly regarded paternity attorneys guide clients through these modifications providing ongoing support. They also keep clients informed and updated on the progress of their cases through clear communication channels and regular updates.
The Importance of Selecting a Proven Attorney
Choosing a lawyer with a prior successful track record is crucial. Our attorneys have excelled in similar cases in the past. This experience instills confidence in clients, as evident from client testimonials on social media, promoting peace of mind during the legal process. They are well-versed with family law, local courts, and judges, and have substantial negotiation and litigation experience.
Guiding You Through the Resolution Process
The process involves initial consultation, filing documents, negotiation, and potentially court proceedings. There may be potential challenges during legal proceedings such as legal requirements or dealing with conflicting parties. However, Sterling Lawyers offers strategic advice and guide clients through each stage due to their knowledge in this field. They employ unique strategies to navigate paternity cases effectively.
Start Your Journey off Right
The first step of the process involves consulting with a paternity lawyer to evaluate your situation, understand your rights, and explore available options. Determining your eligibility simply one call away. Early consultation prevents legal pitfalls, preserving evidence, and establishing a solid foundation for a successful case. Contact us for a consultation now and start a new chapter in your life.
For Immediate help with your family law case or answering any questions please call (312) 757-8082 now!
Frequently Asked Questions
Can I file for paternity before the child is born in Hoffman Estates?
In Hoffman Estates, it is possible to file a petition to establish paternity even before the child is born. This is known as a pre-birth paternity action. It allows legal rights and duties to be determined in advance of the child's arrival. To do this, an expected father would petition the court and the mother would need to be properly served. Genetic testing cannot be completed yet, so the court may order testing shortly after birth to legally confirm fatherhood before issuing an order.
Will my name be on the birth certificate after a Hoffman Estates paternity case?
After going through a paternity case in Hoffman Estates, the father's name can be added to the child's birth certificate. Once fatherhood is legally established and the court issues an order, the father has the right to be named on the birth record. He will need to provide a certified copy of the paternity judgment to the Illinois Department of Public Health. They will then amend the original birth certificate to add the father's information.
What rights does a father have if paternity is not established in Hoffman Estates?
If paternity is not legally established in Hoffman Estates, the father has very limited rights. Without being named the legal father, he cannot seek custody or visitation rights in court. He has no legal obligation to the child but also cannot make any medical, educational, or other decisions. He would not be able to put his name on the birth certificate either. Unless fatherhood is determined through the courts or a Voluntary Acknowledgement of Paternity, he remains solely a biological father without enforceable rights.