Hoffman Estates Collaborative Divorce Attorneys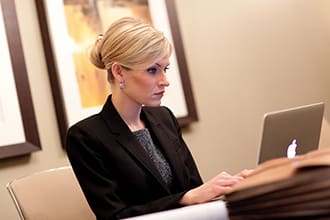 Join one of our experienced family law attorneys and learn about the divorce process, common issues, and participate in a Q and A session.
RSVP here.
Upcoming dates:
Hoffman Estates Collaborative Divorce Lawyers at Sterling Hughes, LLC
Are you ready to move forward? Call (312) 757-8082 to schedule a strategy session with one of our attorneys.
When the reality of divorce dawns, immense emotional turmoil can oftentimes overshadow the pragmatic steps needed to navigate such a situation. Collaborative divorce, although a gentler alternative to traditional litigation, brings with it a maze of challenges. The peace of mind and guidance that a knowledgeable attorney brings cannot be overstated. Sterling Lawyers, a trusted establishment in Hoffman Estates, Illinois, stands out as a beacon of relief during such challenging times, offering much-needed legal guidance. The benefits of having seasoned legal assistance while traversing the labyrinth of family law are multifold, providing ease and clarity during turbulent times.
Overcoming Emotional in Collaborative Divorce
Understanding the intricacies of legal cases, we consistently provide extraordinary services to clients. Each Hoffman Estates divorce lawyer takes the time to alleviate clients' stress and consistently works towards viable outcomes, ensuring a streamlined and quick resolution. Their unparalleled understanding of this unique area of family law elevates them above other firms within the city. The commitment to individualized attention to each client enhances the entire legal experience, ensuring that every client feels heard and supported during these challenging times.
Tailored Solutions for Each Unique Legal Situation
Realizing that every situation is different, the team offers a personalized approach to each individual case. By taking the time to really understand each client's specific needs, they tailor their services accordingly. Transparency is paramount; clear quotes are given upfront, with no hidden costs due to the fixed fee pricing structure. This eliminates expensive surprises and enables clients to focus on the legal proceedings without the worry of escalating costs. This unique approach aids in attaining high client satisfaction and favorable outcomes.
Leveraging Decades of Experience in Family Law
Sterling Lawyers prides itself on its high level of experience and excellence in service for their clients. Their attorneys understand the collaborative divorce process fully, ensuring that affordable and timely resolution is possible for clients. The reassuring confidence and competence they bring to their practice allow clients to feel secure in entrusting their outcome.
Ensuring Smooth Transition
Addressing family law matters, we are dedicated to minimizing disruptions and maximizing resolution. We aim is to streamline the collaborative divorce process for clients, ensuring minimal disruption to their lives and timely resolution. Our professional attorneys adeptly navigate issues such as property division, child custody, and providing alimony. Our commitment is towards fostering collaboration and reducing conflict.
Continuous Support During the Course of Your Legal Journey
Going through the journey of a collaborative divorce involves consideration of factors such as impact on children, financial implications, and personal emotional well-being. We offer family law modification services as circumstances may evolve over time. The Hoffman Estates collaborative divorce attorneys seamlessly guide clients through these modifications while offering unwavering support. Clients are kept informed about the progress of their case, ensuring clear communication channels and regular updates. This dedication leads to long-term relationships with clients, even after the immediate needs are resolved.
Trust and Validation: The Importance of an Attorney's Track Record
Working with an attorney who has a successful track record with similar cases can give potential clients peace of mind. This gives them confidence in the attorney's ability to navigate their own case successfully. Sterling Lawyers focus is on protecting the interests of children involved, ensuring fair distribution of assets and promoting peaceful resolutions. Such an attorney can provide advice and representation at every step, becoming a strong advocate for their client.
Understanding the Roadmap
The collaborative divorce process involves initial consultation, filing of documents, negotiation, and potentially court proceedings. Our lawyers assure their clients by guiding them through each stage of this process, facing potential challenges head-on and ensuring open communication throughout. The firm employs strategic advice and advocacy to achieve a favorable resolution for clients.
Your Journey Made Easier with Sterling Lawyers
To start the process of collaborative divorce, consultation with an attorney is critical. Seeking a consultation from a family law attorney empowers individuals by providing them with a clear understanding of their rights, options, and potential outcomes. An early consultation can prevent legal pitfalls, establish a sturdy foundation for a successful case, and preserve evidence. Seeking quality legal guidance when confronting collaborative divorce is essential due to its complexities. The reputation of our team ensures personalized service while easing the arduous process of divorce. Contact Sterling Lawyers for a consultation or further information.
For Immediate help with your family law case or answering any questions please call (312) 757-8082 now!
Frequently Asked Questions
How enforceable are collaborative divorce agreements in Hoffman Estates?
Collaborative divorce agreements reached in Hoffman Estates are fully enforceable and binding once finalized by the court. Like mediated settlements, collaborative agreements must conform to Illinois laws on property division, child custody, support, etc. The final agreement is submitted to the court and incorporated into a Judgment for Dissolution of Marriage. If one spouse violates terms later, the other can pursue legal action for breach of contract and contempt of court. The collaborative agreements allow customized solutions but carry the same legal enforceability as litigated judgments.
When is collaborative divorce not recommended in Hoffman Estates?
Collaborative divorce is not always suitable in Hoffman Estates, such as for cases involving domestic abuse or where a spouse is unwilling to provide full financial disclosure. The cooperative process requires honesty, good faith negotiations, and communication between parties. If there are safety concerns or resistance to transparency, litigation may be necessary to protect rights. Collaborative divorce also won't work if one spouse insists on taking an unreasonable position that lacks compromise. An attorney can advise if collaboration will work or if litigation is needed.
Can minor children participate in the collaborative process in Hoffman Estates?
Involving minor children directly in collaborative divorce sessions in Hoffman Estates is generally not recommended. The process is meant to facilitate open communication between the disputing parties - the parents. Bringing children into this environment can cause stress and make them feel pressured to take sides. However, the children's needs and interests can still be adequately represented by child professionals on the collaborative team. The final agreement terms should focus on the children's well-being even without their direct participation.