Evanston Uncontested Divorce Attorneys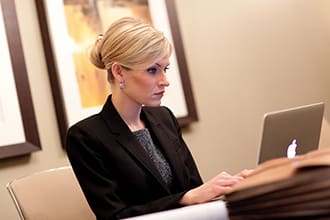 Join one of our experienced family law attorneys and learn about the divorce process, common issues, and participate in a Q and A session.
RSVP here.
Upcoming dates:
Evanston Uncontested Divorce Lawyers at Sterling Hughes, LLC
Are you ready to move forward? Call (312) 757-8082 to schedule a strategy session with one of our attorneys.
An uncontested divorce can be an emotionally challenging journey. The process is often filled with complexities that can make it a stressful experience. At such a crucial time, the need for a seasoned Evanston divorce attorney who can make the process smoother and less stressful becomes evident. Working with an attorney from Sterling Lawyers in Evanston, Illinois, means you are teaming up with someone who has the knowledge to guide you through this critical time, which can bring a sense of comfort and assurance.
Your Trusted Allies in Evanston, Illinois
Our team stands out as a trusted choice for those seeking representation in uncontested divorce proceedings in Evanston. A distinguishing feature of the firm is its team of seasoned attorneys who are dedicated to relieving the stress of clients and aiming to achieve favorable outcomes. We navigate the complex legal case quickly and easily, ensuring that the best interests of clients remain protected. This depth of knowledge makes us stand apart from other law firms in the city. An important part of our approach is to provide personalized attention to each client, which significantly enhances the client's experience.
Tailored Legal Care
Understanding your unique legal needs in Evanston is a key aspect of Sterling Lawyers' approach to uncontested divorces. The firm takes time to comprehend each client's specific objectives and tailors its services to meet those unique needs. Their method includes providing transparent quotes, listening to clients' unique circumstances, and tailoring their services accordingly. They also employ a fixed fee pricing structure, ensuring costs are upfront and eliminating any surprises usually associated with hourly billing. This personalized approach leads to increased satisfaction among clients and better outcomes.
From Insight to Action
The team draws from an extensive background in family law to serve their clients. Their knowledge of the process involved in an uncontested divorce provides clients with a higher level of confidence and reassurance that their cases are being handled effectively. The firm's commitment is strongly geared towards making the process affordable and efficient for their clients, ensuring they receive the necessary support without undue delays or financial strain.
Seamless Legal Processing
Our firm is committed to minimizing disruptions and maximizing resolution during family law proceedings. The aim is to make the uncontested divorce process effortless and quick while ensuring a smooth transition. Important tasks such as property division, child custody and support, and alimony are handled by our skilled attorneys, providing a comprehensive approach to family law cases. We strive to achieve a clear resolution reflecting both parties' decisions, fostering collaboration and reducing conflict.
Staying by Your Side throughout the Uncontested Divorce Journey
Several factors contribute to the complexity of an uncontested divorce, such as implications on children, financial considerations, and emotional well-being. Sterling Lawyers provides family law modification services as circumstances can change over time. The attorneys guide clients through these changes and provide ongoing support. The firm stands by its commitment to keeping clients informed, ensuring clear communication channels and regular updates. They also offer resources and services to aid clients throughout their journey, and maintain long-term relationships with clients, even after the immediate needs have been resolved.
The Essential Qualities of a Competent Attorney
The advantages of working with an attorney who has successfully handled similar cases in the past cannot be overstated. Experience and a proven track record are vital when selecting an attorney for an uncontested divorce case. This track record instills confidence in clients and contributes to their peace of mind during the legal process. An uncontested divorce prioritizes safeguarding children's wellbeing, dividing assets fairly, and finding harmonious solutions. Lawyers contribute essential knowledge in family law, connections with local courts and judges, and proficiency in negotiation and litigation during the proceedings. They are available to help you at every step.
Navigating the Uncontested Divorce Process
The process of an uncontested divorce involves steps like initial consultation, filing documents, negotiation, and potentially court proceedings. Our attorneys can guide clients through each of these stages, providing strategic advice while advocating for their best interests. Common challenges that clients may encounter during proceedings are also addressed effectively by the attorneys. Their knowledge in navigating an uncontested divorce effectively ensures a higher likelihood of achieving a favorable resolution.
Kickstarting Your Legal Pursuit
Individuals can start the uncontested divorce process by consulting an Evanston uncontested divorce attorney to evaluate their situation, understand their rights, and explore available options. They are committed to personal service and easing the difficult process. Legal assistance is critical to navigate the complexities of an uncontested divorce and having a knowledgeable attorney by one's side is highly beneficial. Reach out for a consultation to determine your eligibility for an uncontested divorce. Early consultation with an attorney offers numerous benefits like preventing legal pitfalls, preserving evidence, and establishing a strong foundation for a successful case.
For Immediate help with your family law case or answering any questions please call (312) 757-8082 now!
Frequently Asked Questions
How detailed do the terms in an uncontested divorce agreement need to be in Evanston?
The terms in an Evanston uncontested divorce agreement must be detailed enough cover all issues and allow the court to approve, but some flexibility can be left for later negotiation within bounds. Terms need to address division of assets/debts, alimony, child custody and support, health insurance, taxes, and any other relevant marital rights and responsibilities. Evanston attorneys can ensure necessary items are sufficiently covered for an enforceable agreement.
Do both spouses have to attend the final court hearing for an uncontested divorce in Evanston?
In an Evanston uncontested, no-fault divorce, only one spouse needs to attend the final court prove-up hearing. Typically, this will be the petitioner who filed initially. The respondent can waive rights to appear. However, for a smoother approval process, it helps if both parties and their lawyers are present to answer any questions. But an uncontested final hearing is usually quick and only requires one spouse before the judge.
How can filing taxes jointly impact an uncontested divorce agreement in Evanston?
Filing joint tax returns creates shared liability for any tax debts or refunds owed. An Evanston uncontested divorce agreement must address distributing past refunds or liability from previously filed joint returns. It should also prohibit future joint filing after divorce is finalized. Discussing taxes with your Evanston divorce attorney when drafting the settlement terms can help protect both parties financially in relation to joint returns.
Sterling Lawyers, LLC in Evanston is formerly known as 'Sterling Hughes, LLC'