Evanston Divorce Mediation Attorneys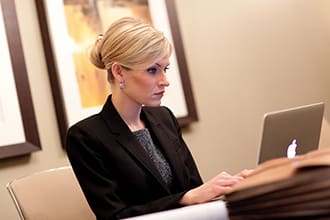 Join one of our experienced family law attorneys and learn about the divorce process, common issues, and participate in a Q and A session.
RSVP here.
Upcoming dates:
Evanston Divorce Mediation Lawyers at Sterling Hughes, LLC
Are you ready to move forward? Call (312) 757-8082 to schedule a strategy session with one of our attorneys.
Divorce mediation, a complex process filled with emotional turmoil, often becomes overwhelming. Amid such circumstances, Sterling Lawyers steps in to ease this journey by streamlining the complexities of the legal procedures. Each Evanston divorce attorney aims to support individuals through this phase, guiding them towards peaceful and mutually satisfying resolutions.
Unraveling the Emotional Maze of Divorce Mediation
Divorce mediation can be a confusing and emotionally charged process. This Evanston-based firm understands that. They don't just focus on the legal aspects of divorce, they also consider the emotional hurdles that their clients are experiencing. Their professional yet empathetic attorneys ensure that clients are comfortable and confident during this difficult time. Sterling Lawyers focus on the personal needs of each client enhances the overall experience and solidifies their standing in the community.
A Tailored Approach to Your Unique Needs
The highly regarded firm centers its services on understanding unique needs during divorce mediation cases in Evanston. They provide transparent quotes tailored to individual needs and offer a fixed fee pricing structure, thereby eliminating any financial unpredictability. This personalized approach ensures client satisfaction and increased likelihood of successful outcomes.
Deep-rooted Experience in Family Law Matters
Our team's broad experience in family law is matched by their determination to make the process cost-effective and efficient for clients. Sterling Lawyers and their pool of seasoned attorneys instills confidence in clients that their legal cases are tackled with the utmost professionalism.
Our Pledge for Smooth Legal Proceedings
This well-established firm is devoted to ensuring smooth family law proceedings. Their aim is to minimize disruption while speeding resolution. The team's ability to handle complex legal proceedings like property division, child custody, alimony, etc., reduces conflict and promotes clarity.
Comprehensive Support throughout Your Journey
The attorneys consider factors such as children's welfare, financial implications, and emotional well-being during divorce mediation. The firm provides family law modification services to adapt existing arrangements according to changing needs. They offer additional resources and services such as legal research materials and educational workshops, emphasizing their commitment to long-term relationships with clients.
Importance of Engaging an Experienced Attorney
Working with an attorney from Sterling Lawyers, renowned for its impressive track record, inspires confidence. The primary focus rests on protecting the best interests of children, ensuring fair assets distribution and promoting peaceful resolutions. Their team ensures that every step of the process is navigated efficiently and effectively.
A Guided Path Towards Resolution
The process of divorce mediation can be complex, including stages such as initial consultation, document filing, negotiation, and potential court proceedings. The capable attorneys skillfully navigate these stages with their clients. They stand ready to handle any challenges that may arise during proceedings.
The Power of Early Consultation
The first step towards navigating divorce mediation is scheduling a consultation with the seasoned attorneys from Sterling Lawyers. A consultation helps individuals understand their rights, navigate any legal complexities and explore available options. Early consultation can prevent legal pitfalls, preserve evidence, and create a strong foundation for a successful legal case. Quality legal assistance is paramount when dealing with divorce mediation matters, and our team is an excellent resource. With our individualized services, commitment to achieving positive outcomes and impressive track record, our team is ready to assist you through every phase of your divorce mediation journey.
For Immediate help with your family law case or answering any questions please call (312) 757-8082 now!
Frequently Asked Questions
Are the decisions made during Evanston divorce mediation legally binding?
Decisions made during Evanston divorce mediation are not legally binding. They are, instead, understood as agreements between both parties. Once an agreement is reached, it is put into writing and then presented to a court for approval. This agreement, once approved and signed by a judge, becomes a legally binding order. However, until this step is taken, the decisions reached in mediation are simply agreements and can be modified or disregarded if both parties consent.
What information do I need to gather before starting divorce mediation in Evanston?
Before starting divorce mediation in Evanston, it is essential to gather all relevant information about your finances, assets, property, debts, and children if applicable. This includes income details, bank statements, mortgage or rent documents, car loans, credit card debts, and other expenses. Additionally, prepare a list of your assets such as property, vehicles, retirement accounts, and other valuables. Information regarding children such as their school details, medical records, and other care-related details should also be collected if applicable. It would be helpful to note your goals and outcomes you wish to achieve from the mediation process.
What if my partner refuses to cooperate during divorce mediation in Evanston?
If your partner refuses to cooperate during divorce mediation in Evanston, you may have to explore other options. It's important to note that mediation requires the voluntary participation and cooperation of both parties to be effective. If one party doesn't engage constructively, the mediator can suggest separating the sessions, or the process may need to be terminated. In such cases, your attorney can guide you on the necessary legal steps you can take to protect your interests, which may include proceeding to court litigation. Always remember that an unwilling participant can make mediation counterproductive and frustrating.
Sterling Lawyers, LLC in Evanston is formerly known as 'Sterling Hughes, LLC'