Evanston Paternity Attorneys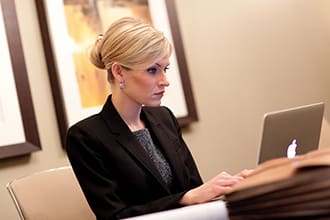 Join one of our experienced family law attorneys and learn about the divorce process, common issues, and participate in a Q and A session.
RSVP here.
Upcoming dates:
Evanston Paternity Lawyers at Sterling Hughes, LLC
Are you ready to move forward? Call (312) 757-8082 to schedule a strategy session with one of our attorneys.
The journey of paternity can often be a labyrinth of emotions – fraught with complexities and challenges. During this critical period in your life, an Evanston family law attorney from Sterling Lawyers can be your beacon of guidance, ensuring that the process is as effortless as possible. By entrusting the process to experienced lawyers, you can navigate the intricacies of this sensitive legal matter with confidence and ease.
Unveiling Evanston's Legal Representatives
Sterling Lawyers is a trusted law firm known for its skilled lawyers in family law. What sets them apart is their unwavering dedication to client satisfaction and an enviable record of achieving positive outcomes. They prioritize ensuring that the complexities of navigating legal cases are reduced to their simplest forms, protecting their clients' interests along the way. Their dedication and individualized approach elevate the client's experience, truly making them a reliable choice in Evanston.
Embracing a Client-Centered Approach
Understanding the unique needs associated with family law allows us to focus on a tailored approach for each client. We invest time to grasp clients' unique situations and formulate solutions accordingly. The fixed fee pricing structure eliminates unpredicted costs, ensuring cost-effectiveness. The benefits of this personalized strategy include an increased level of client contentment and better outcomes.
Harnessing a Wealth of Experience in Family Law Matters
Sterling Lawyers excels at handling family law cases based on their extensive experience. Their deep understanding of paternity processes endows them with a high level of confidence that supports their clients throughout the legal journey. The firm simplifies the process while making it affordable, ensuring clients receive the needed support without unnecessary delays or financial strain.
Promoting Seamless Legal Proceedings
Family law matters can sometimes disrupt the rhythm of clients' daily lives, and we are committed to minimizing such disruptions. We strive to streamline the process for their clients, eliminating stress and delays. We handle legal proceedings such as property division, child custody, and support, facilitating a holistic approach to family law. The aim is to achieve a clear resolution that respects both parties' decisions, fostering collaboration and reducing conflict.
Continuous Support is an Integral Part of the Journey
Paternity matters involve multiple considerations, including children's welfare, financial implications, and emotional well-being. Recognizing this, our team extends ongoing support to clients even after their immediate needs have been resolved. They provide family law modification services, guiding clients through these adjustments as circumstances evolve. Apart from initial consultation and legal representation, they keep clients informed about the progress of their case, offering additional resources and services that can assist clients throughout.
Selecting Your Legal Ally
Experienced attorneys like those at the firm are skilled at handling similar cases, which enhances client confidence and peace of mind. Their successful track record in family law underlines their ability to protect children's best interests, ensure fair asset distribution, and foster peaceful resolutions. A lawyer's role in paternity matters is paramount as they act as a strong advocate for the client, guiding them step by step through the legal process.
Paving the Way Towards Resolution
Navigating paternity cases involves various stages – from initial consultation to potential court proceedings. Clients may encounter complexities such as legal requirements and documentation during the process. Our skilled attorneys are adept at guiding clients through each stage, providing strategic advice and advocating for their best interests.
Empower Your Journey with Quality Representative
Paternity proceedings necessitate a consultation with a lawyer to comprehend the situation fully and explore available options. Sterling Lawyers stands ready to help clients understand their rights and possible outcomes through such consultations. Early consultation with an attorney can prevent legal pitfalls and establish a strong foundation for a successful case.
For Immediate help with your family law case or answering any questions please call (312) 757-8082 now!
Frequently Asked Questions
What legal rights does a father have in Evanston before paternity is formally established?
Before paternity is legally established in Evanston, the father has few rights when it comes to the child. He cannot pursue custody, visitation, decision-making authority, or have standing to object to adoption. Once paternity is formally established through court order or voluntary acknowledgement, the father gains full parental rights and obligations.
Can I request child support retroactively once paternity is established in Evanston?
Yes, in Evanston you can request retroactive child support dating back to the child's birth once paternity is legally established regarding that father. The court can order the father to pay back support to reimburse the custodial parent's expenses in raising the child without financial contribution. However, the judge considers ability to pay and other factors in deciding retroactive support amounts.
Will my name be added to the birth certificate once paternity is decided in Evanston?
Typically, once paternity is legally established through a court order in Evanston, the father's name can be added to the birth certificate upon request. The judge will specify whether amending the birth record is ordered. The mother and father's names can then be listed as the legal parents. Changes to the birth certificate require filing the appropriate documents with the county clerk.
Sterling Lawyers, LLC in Evanston is formerly known as 'Sterling Hughes, LLC'