Evanston Military Divorce Attorneys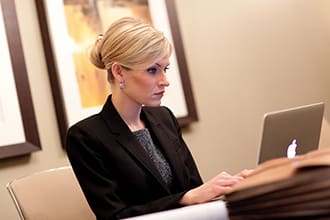 Join one of our experienced family law attorneys and learn about the divorce process, common issues, and participate in a Q and A session.
RSVP here.
Upcoming dates:
Evanston Military Divorce Lawyers at Sterling Hughes, LLC
Are you ready to move forward? Call (312) 757-8082 to schedule a strategy session with one of our attorneys.
Going through a military divorce involves exceptional challenges and complexities beyond a typical civilian divorce. Determining asset division, child custody, and other arrangements requires difficult decisions during an already taxing time. Evanston divorce lawyers who can streamline the process and reduce frustrations is indispensable. With perceptive legal guidance, individuals can focus on moving ahead positively.
Overcoming Obstacles in Your Family Law Case
Sterling Lawyers comprehends military divorce intricacies and compassionately guides clients through each phase. Located in Evanston, the skilled attorneys have extensive knowledge helping clients with family law needs in Cook County. Their lawyers take time to understand your unique goals, providing personalized attention and transparent quotes. They demystify the complex process, protecting clients' priorities while easing stress. With extensive knowledge of family law nuances, our attorneys clarify the intricacies of law so you can look to the future.
Taking a Customized Approach to Your Case
Every military divorce situation is distinctive. That's why Sterling Lawyers provides a tailored approach, grasping each client's specific needs in Evanston and tailoring services accordingly. Lawyers lucidly explain your options, furnishing complete counsel while eliminating surprise fees. Their fixed pricing delivers value, so you get high-caliber representation without escalating hourly costs. An individualized approach boosts satisfaction and success. You want an attorney who listens and develops customized solutions for your family's needs.
Extensive Military Family Law Experience
With a proven record excellently guiding clients, our lawyers possess substantial military divorce knowledge. We understand the details involved and leverage their experience to provide effective counsel. Our team simplifies the process, making quality representation affordable. Trust your case is in skilled hands dedicated to fully supporting you while avoiding unnecessary delays or expenses. Their extensive background brings confidence and capability when handling sensitive matter.
Minimizing Disruptions Through Efficient Advocacy
Our attorneys aim to minimize disruptions and accomplish timely resolutions for military divorce cases. They streamline the process, reducing stress so arrangements are finalized promptly. They work tirelessly to make proceedings hassle-free, ensuring a smooth transition with minimal life disruption. With professionals managing intricacies, you can stay focused on your family and optimal outcomes reflecting both parties' decisions. Their balanced approach encourages collaboration and reduces conflict.
Providing Continuous Support Throughout Your Journey
Military divorce involves factors like impact on children, financial implications, and emotional challenges. We provide adaptable services as circumstances evolve over time. Lawyers guide clients through potential modifications, offering continuing resources so you have assistance throughout your journey. Clear communication and regular case updates keep you informed. Our dedication to sustaining long-term relationships ensures support even after immediate needs are met.
Selecting the Right Legal Advisor for Your Family
Choosing an attorney experienced with family law cases is vital. A proven background provides confidence your case is in skilled hands. Sterling Lawyers has successfully guided numerous clients through negotiations, disputes, and hearings. Their practical knowledge contributes to your peace of mind, as shown by positive client feedback. Protecting families' interests while ensuring fair outcomes is a key focus. An attorney's skill is invaluable for grasping complex laws and advocating strategically for you.
Clarifying the Path to Military Divorce Resolution
The process involves steps like consultation, filing petitions, negotiations, and potentially court hearings. Timelines vary based on jurisdiction and complexity. Open communication with your attorney is essential throughout. Our lawyers utilize their knowledge to guide you through each phase of military divorce disputes, providing strategic advice and fully representing your interests. They work diligently to address challenges like legal requirements, documentation, and interactions with the other party. Unique approaches ensure strong advocacy and optimal outcomes. Their extensive knowledge empowers informed decisions.
Empower Your Course of Action – Consult an Attorney
Before beginning military divorce proceedings, consulting an experienced attorney is critical to fully evaluate your situation, thoroughly understand your rights, and explore options. Eligibility depends on individual circumstances and laws. To determine your options, the knowledgeable team encourages you to schedule an initial consultation. Consulting an attorney early on is crucial for avoiding pitfalls and establishing a solid legal foundation. An attorney can explain the intricacies and help empower smooth navigation of the journey. Contact us today to take the first step toward resolving your needs.
For Immediate help with your family law case or answering any questions please call (312) 757-8082 now!
Frequently Asked Questions
How are GI Bill benefits handled for divorcing military spouses in Evanston?
For divorcing spouses in Evanston, GI Bill benefits earned during the marriage are considered marital property that can be divided or assigned. The court looks at factors like who originally earned them, whether they've been used, and each spouse's education needs. The unused benefits have value, so a dollar amount or percentage may be awarded to the non-military spouse in the Evanston divorce property division.
Can I still utilize resources on base like counseling during an Evanston military divorce?
Yes, you can still utilize resources on the military base like counseling services during a divorce. Family support programs, financial advisors, housing assistance, and legal aid through JAG may continue to be available through the divorce process unless your spouse is the service member. Changing ID cards, base access rules, and healthcare coverage can happen eventually in the case.
How will taxes and property ownership be handled for our Evanston marital home on base?
For a marital home located on base in Evanston, property division and tax implications get more complicated in a military divorce. If awarded to the non-military spouse, they may need to qualify for residency in base housing. Ongoing property taxes may differ from civilian homes. The home's value may also be impacted by location on base. Consult an Evanston military divorce attorney experienced with on-base real estate issues when negotiating property settlement terms.
Sterling Lawyers, LLC in Evanston is formerly known as 'Sterling Hughes, LLC'