Evanston Contested Divorce Attorneys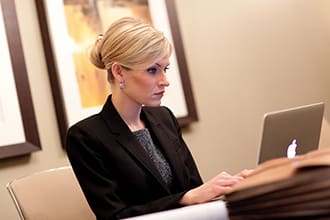 Join one of our experienced family law attorneys and learn about the divorce process, common issues, and participate in a Q and A session.
RSVP here.
Upcoming dates:
Evanston Contested Divorce Lawyers at Sterling Hughes, LLC
Are you ready to move forward? Call (312) 757-8082 to schedule a strategy session with one of our attorneys.
Going through a contested divorce can be an emotionally draining and complex process. The labyrinth of legal procedures, coupled with the heightened emotional stress, can make it incredibly challenging. This is when the help of Evanston divorce attorneys is needed, one who has both the legal knowledge and empathy to facilitate a smooth legal process. Our team is equipped to handle these intricate and strenuous situations, providing individuals with proficient legal guidance to navigate the complex terrain of family law with the least possible stress.
Steering Through Family Law with Reliable Allies
The committed attorneys at Sterling Lawyers are dedicated to relieving clients' stress and achieving favorable outcomes. The goal is to navigate the complex process quickly and simply, ensuring the best interests of clients are upheld. Their understanding of this area of family law has positioned them as a trusted choice for representation in Evanston. They also demonstrate a steadfast commitment to personalized attention, which significantly enhances the client experience.
Our Individualized Approach to Contested Divorce
We take time to understand your unique needs. The dedicated team takes the time to understand each client's specific needs and tailor their services accordingly. They provide transparent quotes that are uniquely suited to individual requirements. This law firm operates on a fixed fee pricing structure, removing surprises typically associated with hourly billing and offering a cost-effective solution. Clients have the reassurance of receiving comprehensive, high-quality legal representation without the stress of escalating costs.
Time-Tested Knowledge and Rich Experience
With years of cumulative experience, our lawyers are well-versed in the procedures of family law. They are committed to making the legal process affordable for clients, ensuring they receive the support they need without unnecessary delays or financial strain. This extensive experience gives clients a higher level of confidence and reassurance that their cases are in adept hands.
Our Commitment to Easing Stress in Life
We strive to minimize disruptions and maximize resolutions during family legal proceedings. By working to streamline the legal process, the focus is on reducing stress and unnecessary delays. Making the process as effortless and quick as possible is a central part of their commitment. Our contested divorce lawyers are adept at handling legal proceedings from property division to child custody and support, offering well-rounded solutions to any family law case.
Continuous Support Through Your Legal Journey
Contested divorce cases often involve a variety of factors such as the impact on children, financial implications, and emotional well-being. Thankfully, Sterling Lawyers offers family law modification services for when circumstances change over time. They guide clients through these modifications and provide ongoing support. Furthermore, they ensure clear communication channels and regular updates regarding case progress. This commitment to maintaining long-term relationships with clients remains evident even after immediate needs have been resolved.
Choosing Your Legal Shield
One of the key advantages of working with our team is our successful track record in handling similar cases in the past. A law firm's successful track record and experience can significantly contribute to a client's peace of mind during the legal process. Protecting the best interests of children, ensuring fair distribution of assets, and promoting peaceful resolutions are some of the main focuses in a contested divorce. Choosing an attorney well versed in family law, who is familiar with local courts, judges, and proficient in negotiation and litigation, is crucial.
Traversing the Legal Terrain
Going through a contested divorce involves various steps, including initial consultation, filing documents, negotiation, and potentially court proceedings. Clients may encounter challenges during legal proceedings such as meeting legal requirements and dealing with documentation. Our attorneys guide clients through each stage, providing strategic advice and advocating for their best interests.
Starting off Strong with an Initial Consultation
To start the process, it is crucial to consult with an attorney able to evaluate your situation, understand your rights, and explore available options. Sterling Lawyers offers a thorough consultation that helps clients determine their eligibility and understand potential outcomes. The benefits of early consultation with a contested divorce attorney include preventing legal pitfalls, preserving evidence, and establishing a strong foundation for a successful case.
For Immediate help with your family law case or answering any questions please call (312) 757-8082 now!
Frequently Asked Questions
What are the grounds for divorce I can file on in a contested divorce in Evanston?
In an Evanston contested divorce, you can file on grounds of irreconcilable differences, mental cruelty, adultery, felony conviction, alcoholism/drug addiction, or physical abuse. Illinois is a no-fault state, so you need only assert irreconcilable differences to proceed. However, alleging fault grounds like adultery may impact property division or custody disputes. An experienced Evanston divorce lawyer can advise on which grounds to file under based on your circumstances.
Should I consider settlement offers before trial in an Evanston contested divorce?
Before proceeding to trial in an Evanston contested divorce, you should carefully consider any reasonable settlement offers, with guidance from your divorce attorney. Litigation is expensive, emotionally draining, and the outcome uncertain. Accepting a negotiated settlement allows more control over the divorce terms like asset distribution and support. Your Evanston lawyer can advise if the offer seems equitable based on potential trial outcomes.
Can I represent myself in a contested divorce in Evanston or do I need a lawyer?
It is not advisable to represent yourself in a contested Evanston divorce. The litigation process is complex, with many deadlines, documents, and procedures. An experienced divorce attorney knows how to gather evidence, conduct discovery, negotiate settlement, and argue your case in court. They have the legal knowledge and objectivity needed for the best outcome. Going pro se often puts individuals at a great disadvantage during contested divorce litigation.
Sterling Lawyers, LLC in Evanston is formerly known as 'Sterling Hughes, LLC'