Evanston Child Custody Attorneys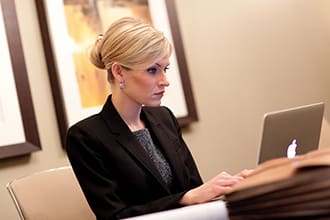 Join one of our experienced family law attorneys and learn about the divorce process, common issues, and participate in a Q and A session.
RSVP here.
Upcoming dates:
Evanston Child Custody Lawyers at Sterling Hughes, LLC
Are you ready to move forward? Call (312) 757-8082 to schedule a strategy session with one of our attorneys.
Going through child custody proceedings can be an incredibly emotional and challenging time. Determining custody arrangements after a separation or divorce involves critical decisions regarding your children's future. You may feel overwhelmed navigating the complex legal process on your own. That's when Evanston divorce lawyers who can make legal arrangements streamlined and hassle-free come in. With excellent guidance by your side, you can ensure your children's best interests are protected while you focus on moving forward.
Overcoming Challenges with Compassionate Advocates for Families
The qualified lawyers at Sterling Lawyers understand that family law cases require sensitivity and complexity. The team has extensive experience assisting clients with family law needs in Cook County. Our attorneys take time to comprehend your unique goals, providing personalized attention and transparent quotes. They are dedicated to simplifying the process, working diligently to accomplish favorable outcomes while protecting your children's best interests. With in-depth knowledge of family law, our lawyers demystify the intricacies of family law so you can stay focused on your children.
Taking a Personalized Approach to Your Case
Every case is distinctive and that's why our child custody attorneys provide a tailored approach, taking time to grasp your specific needs and adjusting services accordingly. Lawyers explain your options clearly, furnishing complete legal counsel while eliminating surprise fees. The fixed-fee pricing structure ensures value, so you get high-caliber representation without worrying about escalating hourly costs. A customized approach enhances client satisfaction and leads to superior outcomes. You want an attorney who will listen and provide individualized solutions for your family's needs.
Skilled Guidance from Seasoned Family Law Advisors
With years of experience handling family law cases excellently, the team of lawyers possess deep knowledge of the process. They comprehend the details involved and provide effective guidance based on their know-how by streamlines the process, making quality legal representation affordable. You can trust your case is in skilled hands dedicated to assisting you fully while avoiding unnecessary delays or expenses. Their substantial experience brings confidence and capability when handling sensitive child custody matters.
Minimizing Disruptions Through Strategic Advocacy
Sterling Lawyers attorneys aim to minimize disruptions and accomplish timely resolutions during family law cases. They streamline the process, reducing stress and delays so arrangements are completed smoothly and promptly. Our lawyers work tirelessly to make custody proceedings effortless for clients, ensuring a hassle-free transition and minimizing disruption to your life. With professionals at your side handling legal intricacies, you can stay focused on your children and achieving the custody outcome that best fits your family. Their balanced approach encourages collaboration, reducing conflict while ensuring arrangements reflect both parties' decisions.
Providing Ongoing Support Throughout Your Journey
Child custody arrangements can change over time as circumstances evolve and children mature. The attorneys provide ongoing support, guiding clients through potential modifications. They grasp that balancing children's needs, co-parenting relationships, school changes, relocation, and other factors requires skill and care. Our child custody attorneys offer continuing family law services, education, and resources so you have assistance throughout your journey. Clear communication and regular updates ensure you stay informed. The firm's dedication to sustaining long-term relationships means they assist you even after immediate needs are met.
Choosing a Trusted Advisor for Your Family
Choosing an attorney with experience handling similar cases is vital for a successful outcome. A proven background inspires confidence that your case is in capable hands. Sterling Lawyers has successfully guided numerous clients through custody disputes, negotiations, and hearings. Their practical knowledge contributes to your peace of mind, as shown by positive client feedback. Protecting children's interests and ensuring fair, unified outcomes are key focuses. An attorney's knowledge is invaluable for grasping complex child custody laws, court familiarity, and advocating strategically on your behalf. Allowing a knowledgeable family law attorney to guide you is key for navigating this emotional journey smoothly.
Demystifying the Path to Resolution
The process involves steps like initial consultation, filing petitions, negotiations, and potentially court hearings. Timelines vary based on jurisdiction and complexity. Open attorney communication is key throughout. Our lawyers utilize their knowledge to guide you through each stage of custody disputes, providing strategic advice and fully representing your interests. They work tirelessly to navigate challenges like legal requirements, documentation, and interactions with the other party. Unique approaches ensure strong advocacy and optimal outcomes. The firm's extensive knowledge empowers clients to make informed decisions on the path to resolution.
Empower Yourself with a Consultation
Before initiating child custody proceedings, it is imperative to consult an experienced attorney to fully evaluate your situation, thoroughly understand your rights, and explore options. Eligibility for pursuing or modifying custody arrangements depends on individual circumstances and local laws. To determine your options, the knowledgeable Sterling Lawyers team encourages you to schedule an initial consultation. Consulting with an attorney at the outset is crucial for avoiding potential pitfalls and establishing a solid legal foundation. An attorney can explain the intricacies involved and help empower you to navigate the journey smoothly. Don't go it alone. The experienced team is ready to help you move forward during this emotional time.
For Immediate help with your family law case or answering any questions please call (312) 757-8082 now!
Frequently Asked Questions
How can I increase my chances of winning with the help of an Evanston child custody attorney?
To increase your chances of winning child custody in Evanston with an attorney, demonstrate your ability to provide a safe, stable home and meet the child's needs. Maintain employment, housing, and a support network in the area. Document your involvement in the child's healthcare, school, and extracurricular activities. Show that the current schedule and relationship is working. Present witnesses who can attest to your parenting. Hire an experienced lawyer to advocate for your custodial rights as the best outcome for the child.
How do attorneys in Evanston handle complex child custody cases?
Evanston attorneys handle complex child custody cases by collecting evidence like school and medical records, affidavits from witnesses, and expert evaluations or testimony if needed. Negotiating parenting agreements first is often pursued. But if trial is necessary, lawyers will aggressively argue for custody terms protecting the child's best interests. They handle all aspects from filings, discovery, and litigation to final orders. An experienced Evanston child custody lawyer can navigate high conflict cases.
What are the legal implications of relocating after winning a child custody case, and how can an Evanston lawyer help?
If relocating after winning your case, inform your lawyer to ensure compliance with notice requirements and any impact on legal obligations. Your attorney can defend against challenges, modify orders if the move necessitates changes in parenting time, and take steps to enforce the orders across state lines if needed. They can also advise whether the relocation risks custody modification in any way. Consult counsel to protect the custody rights won.
Sterling Lawyers, LLC in Evanston is formerly known as 'Sterling Hughes, LLC'