Evanston Property Division Attorneys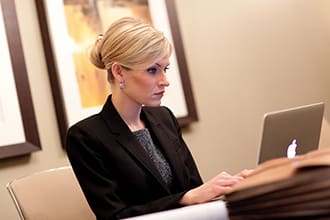 Join one of our experienced family law attorneys and learn about the divorce process, common issues, and participate in a Q and A session.
RSVP here.
Upcoming dates:
Evanston Property Division Lawyers at Sterling Hughes, LLC
Are you ready to move forward? Call (312) 757-8082 to schedule a strategy session with one of our attorneys.
Dividing assets during a relationship dissolution often causes high levels of emotional strain, with complexities and disputes arising in many cases. It is at times like these that one needs a competent Evanston family law lawyer who can make the process streamlined and less stressful. With a seasoned attorney, individuals can benefit from proficient legal guidance during property division proceedings.
Maneuvering Property Division Pitfalls with Skill
Sterling Lawyers stands out as a trusted choice for clients seeking representation in property division cases in Evanston due to their comprehensive range of services and client-centric approach. The experienced attorneys at the law firm dedicate themselves to relieving client's stress and strive to achieve favorable outcomes by navigating the complex legal case efficiently. Their profound grasp of this field sets them apart from other law firms in Evanston, ensuring that clients' best interests are always protected.
Understanding Your Unique Needs
Understanding the unique needs of property division cases, our team offers a personalized approach to its clients. The team thoroughly understands each client's specific situation and tailors their services according to those needs. By adopting a fixed fee pricing structure, the firm cuts out the surprises that often come with hourly billing, ensuring that clients receive comprehensive and high-quality legal representation without having to worry about escalating costs.
Harnessing Years of Family Law
With extensive experience in serving clients, the team brings a high level of confidence and competence to handling property division proceedings. They are committed to making the process affordable and efficient, providing much-needed support to clients without causing unnecessary financial strain or delays.
Ensuring Smooth and Uninterrupted Legal Proceedings
Sterling Lawyers is committed to minimizing disruptions and maximizing resolution during family law proceedings. They work tirelessly to streamline the process for clients, reducing stress and unnecessary delays. The property division attorneys handle related legal proceedings such as child custody and support, and alimony, offering a well-rounded approach to family law cases.
Your Journey with Continuous Support
Property division often brings about an array of challenges such as financial implications, the impact on children, and the emotional toll it can take on an individual. Sterling Lawyers offers modification services as circumstances can change over time, requiring existing arrangements to be adapted. The attorneys can guide clients through these modifications and provide ongoing support, ensuring clear communication channels and regular updates about the progress of their family law cases.
The Key to Selecting a Skilled Attorney
Working with an attorney who has a successful track record of similar cases is beneficial as they can instill confidence in clients and contribute to their peace of mind during this tough process. Selection should be based on their in-depth knowledge of family law, familiarity with local courts and judges, and their experience in negotiation and litigation. The attorney's role is crucial in guiding clients through the legal process, offering advice, and representation at each step.
The Path Forward in Property Division
The property division process typically involves an initial consultation, filing of documents, negotiation, and potentially court proceedings. Sterling Lawyers guides clients through each stage, offering strategic advice and advocating for their best interests. Despite common challenges that clients may encounter during the proceedings, our team has unique strategies that ensure a higher likelihood of achieving a favorable resolution.
The Power of an Informed Decision
Starting the process requires consulting with an Evanston property division attorney to evaluate their situation, understand their rights, and explore available options. The attorneys at Sterling Lawyers can assist individuals in determining their eligibility for the process, highlighting the importance of seeking legal advice when dealing with family law matters.
For Immediate help with your family law case or answering any questions please call (312) 757-8082 now!
Frequently Asked Questions
On what grounds can I request an unequal property distribution in an Evanston divorce?
In an Evanston divorce, you can request an unequal property distribution on grounds like a major disparity in incomes after divorce that an equal split would worsen; one spouse substantially contributed to the career or education advancement of the other; one spouse gave up career opportunities, has poor job prospects, or has serious health issues impacting finances; one spouse mismanaged assets, hid/wasted assets, or racked up excessive debt. Your Evanston lawyer must prove circumstances justifying deviation from equal.
How is financial debt handled for purposes of property division in Evanston?
In an Evanston divorce, debt is divided equitably like assets. Debt incurred jointly during marriage for family expenses is marital debt to be split. Debt in one spouse's name may be assigned to them if they received sole benefit. However, excessive spending by one spouse to hide money may justify assigning more debt to them. Non-marital debt predating marriage generally stays with the original spouse. An Evanston attorney can help negotiate fair debt division based on contributions.
How far back do I have to document non-marital property contributions in an Evanston divorce?
In an Evanston divorce, non-marital property claims should be documented as far back as possible, ideally to the date of acquisition or receipt of the gift/inheritance. Records within at least 5 years are recommended. Tracing earlier can strengthen arguments that assets were and remained separate property. Provide your Evanston lawyer any evidence verifying origins and separation of non-marital property funds used for purchases during marriage.
Sterling Lawyers, LLC in Evanston is formerly known as 'Sterling Hughes, LLC'