Evanston Collaborative Divorce Attorneys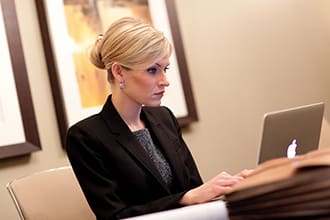 Join one of our experienced family law attorneys and learn about the divorce process, common issues, and participate in a Q and A session.
RSVP here.
Upcoming dates:
Evanston Collaborative Divorce Lawyers at Sterling Hughes, LLC
Are you ready to move forward? Call (312) 757-8082 to schedule a strategy session with one of our attorneys.
Embarking on the path of collaborative divorce can be a roller-coaster of emotions. It's a complex process filled with challenges that can leave even the toughest individuals feeling overwhelmed. Sterling Lawyers can help individuals navigate this critical time. With their deep legal understanding, each Evanston divorce lawyer aims to streamline the legal process and alleviate hassles. The guidance offered by such skilled attorneys can be invaluable, helping to navigate this difficult terrain.
Embarking on the Journey of Collaborative Divorce
When you're faced with a family law case, Sterling Lawyers is a name you can trust. Unique features like a team of seasoned attorneys dedicated to relieving clients' stress and achieving favorable outcomes, makes them stand out. Their aim is always to simplify the process while protecting the interests of their clients. Their legal proficiency sets them apart from other law firms. We are committed to offering personalized attention to each client, enhancing their experience with the firm.
Meeting Your Specific Collaborative Divorce Needs
Every collaborative divorce matter is unique and requires an understanding of the specific needs of the involved parties. We go that extra mile in understanding each client's situation and tailoring their services to meet these individual needs. With a transparent pricing structure, we offer a cost-effective approach without surprises that often come with hourly billing. This personalized approach leads to increased client satisfaction and better outcomes.
A Wealth of Family Law Experience
With years of experience serving clients, our team has built a reputation for excellence. Each attorney's deep understanding of the collaborative divorce process assures clients that they are in capable hands. Committed to making the process affordable and devoid of unnecessary delays, they provide much needed support during this critical time. This experience translates into a higher level of confidence when dealing with family law challenges.
A Pledge to Efficiency: Nurturing Smooth Legal Proceedings
Minimizing disruptions and maximizing resolution is one of our top commitments. Striving to make the process effortless and fast, we ensure a smooth transition with minimum disruptions to clients' lives. The lawyers on our team are versed in handling various aspects of family law matters such as property division, child custody and support, and alimony. They remain committed to achieving a clear resolution that fosters collaboration and reduces conflict.
Ensuring Your Tranquility
A collaborative divorce journey involves various considerations – impact on children, financial implications and emotional well-being. We understand that circumstances change over time and existing arrangements may need adjustments. Clients are guided through these modifications and are provided with ongoing support. Beyond the initial consultation and representation, we also maintain clear communication channels, keep clients updated on their case progress and offer additional resources to assist clients throughout their journey.
The Importance of Experience in Your Attorney
An attorney with a successful track record in dealing with similar cases can provide invaluable support during a collaborative divorce process. Our proven track record instills confidence in clients. The primary focus is always protecting the best interests of children, ensuring fair distribution of assets and promoting peaceful resolutions. The in-depth knowledge of a seasoned attorney can provide much-needed advocacy and guidance through the legal process.
Unraveling the Steps in Collaborative Divorce
The process of collaborative divorce involves several stages – initial consultation, filing documents, negotiation, and potentially court proceedings. Sterling Lawyers provides strategic advice at each stage, guiding clients diligently through each phase. They equip clients with knowledge about potential challenges or complexities during the proceedings and guide clients towards a favorable resolution.
Remembering the Importance of Quality Legal Assistance
Embarking on a journey of collaborative divorce necessitates a consultation with an attorney to evaluate individual situations and to understand available options. Seeking legal advice can protect individuals from potential risks associated with family law cases. A consultation can provide a clear understanding of rights, options and potential outcomes. Schedule a consultation and determine your eligibility.
For Immediate help with your family law case or answering any questions please call (312) 757-8082 now!
Frequently Asked Questions
How can I prepare financially and emotionally for a collaborative divorce in Evanston?
To prepare for a collaborative divorce in Evanston, make copies of all financial documents, gather records to value assets and track separate property claims, and budget anticipated changes in living expenses. Consider counseling to manage the emotional impact and co-parenting changes. Build your support network. Interview collaborative lawyers to find the right fit. Do not make any unilateral moves regarding assets or accounts during the family law process.
How can I get an emergency order during a collaborative divorce in Evanston?
Getting an emergency order during a collaborative divorce involves petitioning the court since the collaborative process cannot address emergencies. A party needs to demonstrate urgent circumstances, like a risk of harm to self or children, that require temporary orders while collaborative sessions continue. The court can enter limited orders, then jurisdiction returns to the original process again. Consult your attorney about options.
Are communications during collaborative divorce confidential in Evanston?
Generally, communications during the collaborative divorce process are confidential in Evanston. Parties usually sign an agreement prohibiting disclosure of settlement discussions, emails, meeting notes, or statements made during the collaborative sessions, with limited exceptions. This promotes open and honest negotiations. However, any final written agreement drafted is not necessarily confidential.
Sterling Lawyers, LLC in Evanston is formerly known as 'Sterling Hughes, LLC'