Racine Property Division Attorneys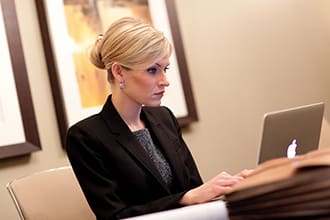 Join one of our experienced family law attorneys and learn about the divorce process, common issues, and participate in a Q and A session.
RSVP here.
Upcoming dates:
Racine Property Division Lawyers at Sterling Lawyers, LLC
Legal Options that Work for You
There are three basic separation paths depending on your situation. If you're not sure what to choose or are ready to take the next step, call to speak with an attorney for case-specific advice.
Uncontested
Help from the Pros for Simpler Cases
Starting at $2750
Best when you both agree on most separation issues
Get help preparing the paperwork
Ask question at legally complex points
Have peace of mind with your settlement
Mediated
Greater Level of Help for Amicable Situations
$3,500 - $6,500/couple
Most amicable process for long-term harmony
Neutral mediation attorney guides you from start to settlement
Reduce conflict by deciding on property division and custody matters together
Fraction of contested divorce costs
Contested
When You Need an Advocate in Your Corner
$499/mo - $100,000
Best for adversarial relationships
Necessary if abuse, substance abuse, or violence is present
Your personal negotiation and litigation team
Critical when trust is an Issue
Dealing with property division can be an emotionally challenging experience. The complexities and challenges individuals face during this process can feel overwhelming. We understand the difficulties that come with family law. Our team of experienced attorneys is here to make the process streamlined and hassle-free, providing you with the legal guidance you need during this critical time.
Understanding the Emotional Terrain
If you're facing family law challenges in Racine, our law firm is here to provide you with trusted legal representation. At Sterling Lawyers we have earned a reputation for excellence in handling cases related to property division. Our team of experienced Racine property division attorneys is dedicated to relieving your stress and achieving favorable outcomes. We understand the complexities involved in family law and strive to navigate the process quickly and simply, always ensuring your best interests are protected. Our knowledge sets us apart from other law firms in the city. Each Racine family law lawyer is committed to providing personalized attention to each client, enhancing your overall experience.
A Personalized Touch by Embracing Unique Situations
We believe in a personalized approach to property division. We understand that each client's needs are unique. That's why we take the time to listen and understand your specific circumstances. Our services are tailored to meet your individual needs, ensuring transparency and clear communication throughout the process. With our fixed fee pricing structure, you can expect cost-effectiveness and peace of mind, without worrying about escalating costs. Our goal is to provide you with comprehensive and high-quality legal representation, ensuring a positive outcome.
A Wealth of Experience in Family Law
Our law firm brings extensive experience in family law matters. We have served numerous clients with excellence, handling their cases skillfully. Our attorneys possess deep knowledge of the family law process, allowing us to navigate your case with confidence and competence. We are committed to streamlining the process and making it affordable for you. With Sterling Lawyers, you can trust that your property division case is in capable hands.
Commitment to Smooth Proceedings in Property Division
We are dedicated to minimizing disruptions and maximizing resolution during family law proceedings. We understand the importance of streamlining the process for our clients, reducing stress and unnecessary delays. Our goal is to make the property division process effortless and fast, ensuring a smooth transition and minimizing disruptions to your life. We handle a range of legal proceedings, including child custody and support, and more, providing a well-rounded approach to family law cases. We are committed to achieving clear resolutions that reflect the decisions of both parties, fostering collaboration and reducing conflict.
Providing Ongoing Support throughout the Journey
Property division can have a significant impact on various aspects of your life, including your children, finances, and emotional well-being. Our team of attorneys provide ongoing support throughout your journey. We understand that circumstances can change over time, and modifications may be necessary. Our family law modification services are available to guide you through these changes and provide continued support. We keep you informed and updated on the progress of your case, maintaining clear communication channels and providing regular updates. Additionally, we offer access to legal research materials, educational workshops, and referrals to other relevant professionals. Our dedication to maintaining long-term relationships ensures that even after your immediate needs have been resolved, we are here for you.
Selecting the Right Attorney for Property Division
Choosing an attorney with experience in family law is crucial. Our experience and track record instill confidence in our clients and contribute to their peace of mind during the legal process. Our main focus in property division cases is to protect the best interests of all parties involved, ensuring fair distribution of assets and promoting peaceful resolutions. Our attorneys have in-depth knowledge of family law, knowledge in negotiation and litigation, and familiarity with local courts and judges. We act as strong advocates, guiding you through the process and providing advice and representation at every step.
Charting a Course for Fair Property Division
Property division involves several steps, including an initial consultation, filing documents, negotiation, and potentially court proceedings. We understand the path to resolution in family law. We provide strategic advice and guide you through each stage, leveraging our knowledge. Our unique strategies and approaches effectively navigate legal cases, increasing the likelihood of achieving a favorable resolution. We are here for you, addressing timelines, potential challenges, and maintaining open communication throughout the process.
Moving Ahead with Confidence
When facing family law, seeking legal advice is crucial. We empower individuals and businesses by providing clear understanding of their rights, options, and potential outcomes. A consultation with our experienced property division attorneys is the first step to evaluate your situation, understand your rights, and explore available options. Eligibility varies based on jurisdiction and individual circumstances, making a consultation with our attorneys essential. Without seeking legal advice, you may risk potential pitfalls and negative implications. Early consultation with our attorneys helps in preserving evidence, preventing legal pitfalls, and establishing a strong foundation for your case.
We are committed to providing trusted legal representation for property division cases in Racine, Wisconsin. Our personalized approach, extensive experience, and dedication to smooth proceedings set us apart as the go-to law firm in the city. We understand the challenges and complexities involved and are here to support you through each stage of the process. Contact us today for a consultation and let us assist you in achieving a positive outcome in your legal matter. We serve the Racine County community and look forward to helping you during this difficult time.
For Immediate help with your family law case or answering any questions please call (262) 221-8123 now!
Frequently Asked Questions
Is it necessary to hire an attorney in Racine, WI for property division?
While it is not legally required to hire an attorney for property division, it is highly recommended. An attorney in Racine, WI experienced in property division can provide legal advice, handle all the paperwork, represent your interests in court if necessary, and help you achieve the best possible outcome. Their knowledge greatly increase your chances of a successful outcome.
Can mediation be used for property division in Racine, WI?
Yes, mediation can be a viable option for property division in Racine, WI. A property division attorney or mediator experienced in Racine, WI can guide you through the mediation process and make sure that your interests are protected throughout.
What happens to property acquired after separation in Racine, WI?
In Racine, WI, property acquired after separation is generally considered separate property and is not subject to division in the same way as marital property.
Sterling Lawyers, LLC in Racine is formerly known as 'Sterling Law Offices, S.C.'