Beaver Dam Military Divorce Attorneys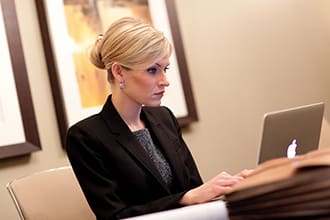 Join one of our experienced family law attorneys and learn about the divorce process, common issues, and participate in a Q and A session.
RSVP here.
Upcoming dates:
Tue, Dec 5 at 5:30pm
With
Attorney Mike Kyrios
Beaver Dam Military Divorce Lawyers at Sterling Lawyers, LLC
Legal Options that Work for You
There are three basic separation paths depending on your situation. If you're not sure what to choose or are ready to take the next step, call to speak with an attorney for case-specific advice.
Uncontested
Help from the Pros for Simpler Cases
Starting at $2750
Best when you both agree on most separation issues
Get help preparing the paperwork
Ask question at legally complex points
Have peace of mind with your settlement
Mediated
Greater Level of Help for Amicable Situations
$3,500 - $6,500/couple
Most amicable process for long-term harmony
Neutral mediation attorney guides you from start to settlement
Reduce conflict by deciding on property division and custody matters together
Fraction of contested divorce costs
Contested
When You Need an Advocate in Your Corner
$499/mo - $100,000
Best for adversarial relationships
Necessary if abuse, substance abuse, or violence is present
Your personal negotiation and litigation team
Critical when trust is an Issue
Addressing the emotionally charged sphere of military divorce imposes unique challenges and complexities. Individuals often find the process daunting and stressful due to its intricate legalities and personal stakes. Having Beaver Dam divorce lawyers to unravel this tough journey can ensure a smoother and less fraught experience. The advantage of a practicing attorney lies in their seasoned knowledge of handling diverse cases, ensuring the legal process becomes less intimidating and more comprehensible.
Braving the Storm of Military Divorce
Sterling Lawyers, located in Beaver Dam, Wisconsin, has earned a trusted reputation as a team of military divorce attorneys. Their focus is on relieving stress by guiding clients through the legal process to achieve a favorable outcome efficiently and effectively. Unique features of their services, such as personalized client attention, help them stand out from other law firms. They maintain a single-minded dedication to ensuring their clients' best interests are protected.
Crafting Solutions Unique to Your Situation
Understanding the distinctive military divorce concerns in Beaver Dam is crucial for personalized service. Sterling Lawyers takes the time to analyze each client's unique situation and fine-tune their services in line with individual parameters. They offer transparent quotes, tailoring their services to meet specific needs. Added to this, they uphold a fixed fee pricing structure, eliminating hourly billing surprises and helping create an affordable solution. The benefits of comprehensive legal representation without the worry of escalating costs cannot be overstressed.
Drawing from a Deep Well of Experience
Sterling Lawyers boasts a long-standing reputation for service excellence in the sphere of military divorce. The depth of their knowledge, coupled with their vast experience, gives clients confidence and provides reassurance during this crucial time. Focused on streamlining the process and making it affordable, they strive to provide necessary support without delays or financial strain.
Seamless Proceedings and Unwavering Support
The team at Sterling Lawyers is committed to reducing disruptions and maximizing resolution during this family law process. Their goal is to make military divorce proceedings as smooth and quick as possible, ensuring minimal impact on clients' lives. They offer complete services covering different legal processes such as property division, child custody and support, and alimony. They strive for a clear resolution that embodies fair decisions from both parties, promoting cooperation and minimizing conflict.
Our Continued Support on Your New Journey
Military divorce cases involve several considerable factors, such as the potential impact on children, financial outcomes, and emotional well-being. As circumstances can change over time, Sterling Lawyers also provides family law modification services. Their military divorce attorneys are equipped to guide clients through these modifications and offer sustained support. The law firm places immense importance on maintaining a clear line of communication with their clients, keeping them abreast of the progress in their case and offering additional resources for support.
Essential Factors When Selecting Your Legal Champion
The advantage of working with an attorney who has previously handled similar cases is significant. Sterling Lawyers, with their proven track record in military divorce proceedings, instills confidence in their clients. It is crucial to select an attorney with a deep understanding of family law, a strong network within the local courts, and considerable experience in negotiating and litigating.
Charting the Course: Understanding Our Approach to Resolution
The journey through a military divorce often involves several steps, including the initial consultation, filing necessary documents, negotiation, and potentially court proceedings. Sterling Lawyers, with their extensive knowledge of military divorce cases, guide their clients through every stage, offering strategic advice and advocating for their best interests.
The Importance of an Initial Consultation
Sterling Lawyers' Beaver Dam military divorce attorneys recommend starting the process with a consultation to assess the situation, understand individual rights, and explore potential options. The firm emphasizes the significance of early consultation in averting legal pitfalls, preserving evidence, and preparing for a successful case.
The key role of an attorney during a military divorce, as emphasized by Sterling Lawyers, lies in making the process less complicated and providing a strong support system. The firm's commitment to personalized service and easing the arduous journey assists clients throughout each stage with compassion and deep knowledge. The firm's consistent record of satisfaction makes it a trusted choice for representation in military divorce cases in Dodge County, where Beaver Dam is located. Call Sterling Lawyers to discuss your specific case and explore how they can assist in achieving a favorable outcome.
For Immediate help with your family law case or answering any questions please call (262) 221-8123 now!
Frequently Asked Questions
Can an attorney help me understand the military pension division rules during a divorce in Beaver Dam?
The military pension is a valuable asset in a divorce and the rules governing its division are quite complex. With the assistance of a Beaver Dam military divorce lawyer, you can better understand how the Uniformed Services Former Spouses' Protection Act (USFSPA) allows courts to treat military retirement pay as property, rather than income, meaning it can be divided in a divorce.
How is spousal support determined in a military divorce in Beaver Dam?
Spousal support determination in a military divorce in Beaver Dam, follows the same general considerations as in a civilian divorce, except that the military does enforce provisions to ensure support for the lower-income spouse during the separation. It's essential to consult a Beaver Dam military divorce attorney to get a clear understanding of your military spousal support rights and how it will be enforced.
What are the implications for health insurance coverages after a military divorce in Beaver Dam?
The implications for health insurance coverages after a military divorce in Beaver Dam, WI, can be different compared to a civilian divorce. Generally, a former military spouse may keep receiving TRICARE coverage if the criteria for 20/20/20 or 20/20/15 rule is met.
Sterling Lawyers, LLC in Beaver Dam is formerly known as 'Sterling Law Offices, S.C.'