Baraboo Uncontested Divorce Attorneys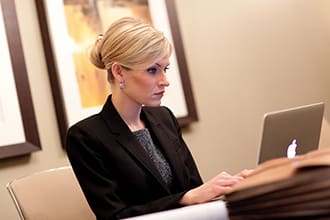 Join one of our experienced family law attorneys and learn about the divorce process, common issues, and participate in a Q and A session.
RSVP here.
Upcoming dates:
Baraboo Uncontested Divorce Lawyers at Sterling Lawyers, LLC
Legal Options that Work for You
There are three basic separation paths depending on your situation. If you're not sure what to choose or are ready to take the next step, call to speak with an attorney for case-specific advice.
Uncontested
Help from the Pros for Simpler Cases
Starting at $2750
Best when you both agree on most separation issues
Get help preparing the paperwork
Ask question at legally complex points
Have peace of mind with your settlement
Mediated
Greater Level of Help for Amicable Situations
$3,500 - $6,500/couple
Most amicable process for long-term harmony
Neutral mediation attorney guides you from start to settlement
Reduce conflict by deciding on property division and custody matters together
Fraction of contested divorce costs
Contested
When You Need an Advocate in Your Corner
$499/mo - $100,000
Best for adversarial relationships
Necessary if abuse, substance abuse, or violence is present
Your personal negotiation and litigation team
Critical when trust is an Issue
The process of uncontested divorce can be an emotional rollercoaster, often presenting numerous challenges and complexities for individuals involved. It is crucial to have an attorney who can streamline the process and provide hassle-free guidance during such an emotionally charged time. By working with experienced legal professionals, individuals can successfully navigate the intricacies of their legal case and reap the benefits of experienced guidance.
Navigating the Emotional Journey of Uncontested Divorce
Each Baraboo divorce attorney is dedicated to relieving clients' stress and achieving favorable outcomes while navigating the complex process quickly and efficiently. The firm's exceptional knowledge of family law sets them apart from other law firms in the region. The attorneys at Sterling Lawyers are committed to providing personalized attention to each client, enhancing their overall experience.
A Personalized Approach
Understanding that every legal case is unique, Sterling Lawyers focuses on tailoring its services to meet the needs of each client. Taking the time to understand clients' individual situations, the firm offers transparent quotes and custom solutions. They emphasize a fixed fee pricing structure, ensuring cost-effectiveness and eliminating unexpected expenses commonly associated with hourly billing. Benefits of this personalized approach include enhanced client satisfaction and more favorable outcomes.
Extensive Experience in Family Law
The attorneys at Sterling Lawyers boast a wealth of experience in family law, offering unparalleled support to their clients. Deep-seated knowledge in the uncontested divorce process enables the firm to navigate the case with confidence and competence, ensuring client peace of mind. Their commitment to affordability and streamlined proceedings allows clients to receive the support they need without unnecessary financial stress or delays.
Smooth Proceedings With Family law
Sterling Lawyers is dedicated to minimizing disruptions and maximizing resolutions for their clients. As they strive to streamline the legal process, clients can benefit from reduced stress and fewer unnecessary delays. The goal of the lawyers is to make the uncontested divorce process effortless and fast, ensuring that all parties involved can move forward with minimal disruption. With a well-rounded approach, they handle property division, child custody, support disputes, and alimony while promoting collaboration and reducing conflict.
Support From Day One to the Last
During the process, various factors may demand attention, such as children's welfare, financial implications, and emotional well-being. Sterling Lawyers provides family law modification services to adapt existing arrangements as circumstances change. Offering ongoing support, their Baraboo uncontested divorce attorneys guide clients through modifications and consistently offer transparent communication, updates, and additional resources such as educational workshops, legal research materials, and referrals to other relevant professionals. The firm is committed to cultivating long-term relationships with clients, even after their immediate legal needs have been resolved.
Factors in Choosing an Attorney
It is crucial to work with an attorney with previous successes in family law cases. A proven track record and extensive experience ensure that clients remain confident in their choice to work with Sterling Lawyers. The attorneys focus on protecting children's best interests, ensuring fair distribution of assets, and promoting peaceful resolutions. Navigating the legal landscape with the right family law attorney means clients can benefit from in-depth knowledge, familiarity with local courts, and experience in negotiation and litigation.
Guiding Your Journey
The uncontested divorce process typically follows several stages, including an initial consultation, filing documents, negotiations, and potentially court proceedings. By understanding what to expect during the process, clients can more effectively prepare for challenges that may arise. Our knowledge in the area enables us to guide clients through every stage of the case, avoiding common complications and solving each difficulty with strategic advice. Clients are encouraged to explore unique strategies to ensure a favorable resolution for all parties involved.
The Importance of Consultation
Before beginning the uncontested divorce process, it is essential to first consult with an attorney who can evaluate your situation. Eligibility is determined by jurisdiction and individual circumstances. Sterling Lawyers encourages clients to seek consultations to discuss their unique case. By consulting with an attorney early in the process, clients can avoid legal pitfalls and lay the foundations for a successful legal outcome.
Sterling Lawyers, provides an unparalleled level of knowledge, creating a personalized approach, and offering ongoing support to their clients. With extensive experience and commitment to smooth proceedings, their lawyers are a trusted choice for uncontested divorce representation in Baraboo, Wisconsin. The importance of finding a knowledgeable attorney for your family law matter cannot be understated. These professionals will guide you through each step, ensuring that your best interests are continually protected. By taking the next step and contacting Sterling Lawyers, they can discuss your individual circumstances, goals, and the best way to achieve a positive outcome for your case. Residents of Sauk County are encouraged to reach out for a consultation or more information and experience the level of dedication provided by the firm.
For Immediate help with your family law case or answering any questions please call (262) 221-8123 now!
Frequently Asked Questions
What is an uncontested divorce, and how is it different from a contested divorce in Baraboo, WI?
An uncontested divorce in Baraboo, WI, is a type of divorce where both spouses agree on all relevant issues, such as property division, child custody, and spousal support. This type of divorce typically involves less conflict and a quicker resolution than a contested divorce, where the parties cannot reach an agreement on these matters.
How long does an uncontested divorce take in Baraboo, WI, compared to a contested divorce?
The duration of an uncontested divorce in Baraboo, WI, largely depends on how quickly the parties can reach an agreement on all relevant issues and complete the required paperwork. Uncontested divorces are generally quicker and less expensive than contested divorces, as they do not require extensive negotiations, court hearings, or trial proceedings.
What issues should we resolve to qualify for an uncontested divorce in Baraboo, WI?
To qualify for an uncontested divorce in Baraboo, WI, both spouses must mutually agree on all key matters, including property division, child custody and visitation, child support, and spousal support or alimony. If there are any unresolved disputes regarding these issues, the case may be considered contested and require additional legal proceedings.
Sterling Lawyers, LLC in Baraboo is formerly known as 'Sterling Law Offices, S.C.'