Appleton Divorce Mediation Attorneys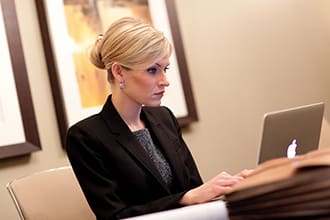 Join one of our experienced family law attorneys and learn about the divorce process, common issues, and participate in a Q and A session.
RSVP here.
Upcoming dates:
Appleton Divorce Mediation Lawyers at Sterling Lawyers, LLC
Legal Options that Work for You
There are three basic separation paths depending on your situation. If you're not sure what to choose or are ready to take the next step, call to speak with an attorney for case-specific advice.
Uncontested
Help from the Pros for Simpler Cases
Starting at $2750
Best when you both agree on most separation issues
Get help preparing the paperwork
Ask question at legally complex points
Have peace of mind with your settlement
Mediated
Greater Level of Help for Amicable Situations
$3,500 - $6,500/couple
Most amicable process for long-term harmony
Neutral mediation attorney guides you from start to settlement
Reduce conflict by deciding on property division and custody matters together
Fraction of contested divorce costs
Contested
When You Need an Advocate in Your Corner
$499/mo - $100,000
Best for adversarial relationships
Necessary if abuse, substance abuse, or violence is present
Your personal negotiation and litigation team
Critical when trust is an Issue
Coming to terms with the end of a marriage is an emotionally challenging experience. Coping with the difficulties of this transition while trying to resolve issues fairly and amicably calls for a skilled Appleton divorce attorney well-versed in divorce mediation. Professional legal guidance can help make the process smoother, more efficient, and less stressful for everyone involved.
Divorce Mediation Attorneys in Appleton
Residents of Appleton, Wisconsin, can trust the knowledgeable team at Sterling Lawyers for their divorce mediation needs. What sets this firm apart is its unique commitment to understanding and accommodating the distinct requirements of each client. The firm's attorneys provide personalized attention, guiding clients through the legal case with sensitivity and compassion.
Personalized Legal Solutions
Their lawyers take pride in the personalized approach that each client seeks when looking for divorce mediation in Appleton. They invest time in understanding the nuances of each case to provide customized, transparent quotes tailored to suit individual needs. The fixed fee pricing structure offers clients cost-effectiveness without the constant worry of escalating costs. Sterling Lawyers' dedication to delivering personalized, comprehensive legal representation ensures the best possible outcomes for its clients.
Extensive Family Law Knowledge
Sterling Lawyers boasts a wealth of experience in handling diverse family law cases, including divorce mediation. The firm's attorneys are well-versed in the procedural aspects of mediation, committed to facilitating the process and making it more affordable for clients. Their wealth of experience instills confidence and reassurance, ensuring clients that they are in capable hands throughout the journey.
Saving Time Through Efficiency
The firm is dedicated to minimizing disruptions and maximizing resolutions during divorce mediation proceedings. By streamlining the legal process, the attorneys at Sterling Lawyers reduce stress and ensure timely resolutions. The professional lawyers are adept at handling legal proceedings such as property division, child custody and support, and alimony, providing a comprehensive approach to family law cases. Their commitment to achieving a clear resolution fosters collaboration, reduces conflict, and facilitates smoother transitions.
Right by Your Side
Navigating the path of family law involves addressing key concerns such as the impact on children, financial implications, and emotional well-being. Sterling Lawyers offers family law modification services to accommodate changing circumstances and assist clients in adapting existing arrangements. The Appleton divorce mediation attorneys at Sterling Lawyers provide ongoing support, guiding clients through the journey beyond consultation and legal representation. They maintain open communication channels and provide regular updates, ensuring clients stay informed and confident throughout the process.
Selecting the Right Legal Professional
Finding a skilled attorney who has successfully handled similar cases in the past is essential for divorce mediation clients. The track record and legal experience of attorneys instill confidence in clients and contribute to their peace of mind. The main focus of family law is to protect the best interests of children, ensuring fair distribution of assets and promoting peaceful resolutions. A reliable attorney with in-depth knowledge of family law, local courts, and negotiation skills is crucial to achieving favorable outcomes in mediation cases.
Steps Toward Achieving Mediation Success
Embarking on the process involves a series of steps, including initial consultations, filing documents, negotiation, and in some cases, court proceedings. Clients should expect timely resolutions, potential challenges, and maintain open communication with their attorney throughout the process. The attorneys at Sterling Lawyers guide clients through each stage, providing strategic advice and advocating for their best interests. Their unique strategies and approaches navigate the complexities of divorce mediation cases effectively, increasing the likelihood of reaching a favorable resolution.
To begin the process, individuals must consult with a knowledgeable attorney. A consultation evaluates each situation, clarifies rights, and explores available options. The Appleton divorce mediation attorneys at Sterling Lawyers can help clients determine their eligibility for mediation. Seeking consultation early on prevents legal pitfalls, preserves evidence, and lays a strong foundation for a successful case. A consultation, besides empowering clients, provides a clear understanding of rights, options, and potential outcomes while navigating the complexities of family law.
Emphasizing the importance of the comprehensive approach, ongoing support, and personalized attention, the firm's attorneys help clients navigate the often-complicated process. Their commitment to providing top-notch legal assistance in Appleton ensures the best possible outcome for clients. By consulting with a dedicated attorney from Sterling Lawyers, individuals facing divorce mediation can trust their cases are handled with the utmost compassion and professionalism. Reach out to Sterling Lawyers to schedule a consultation and to discuss your unique circumstances and goals with an attorney who understands the family law dynamics in Appleton, Wisconsin.
For Immediate help with your family law case or answering any questions please call (262) 221-8123 now!
Frequently Asked Questions
What are the advantages of using an Appleton divorce mediation lawyer for my divorce?
Using an Appleton divorce mediation lawyer has several advantages over traditional litigation, such as cost-savings, more control over the final outcome, a faster resolution, and a more amicable process for both parties. It also allows couples to work through their disagreements collaboratively and create mutually beneficial agreements that take into account their unique needs and circumstances, resulting in less stress and negativity for everyone involved, including the children.
what role does an Appleton divorce mediation attorney play?
The attorney's role is to keep the discussions on track, remain impartial, and provide legal information and advice to both parties as needed. They also ensure that the final agreements reached are fair and legally enforceable.
Is divorce mediation legally binding, and can an Appleton divorce mediation lawyer ensure that the final agreements are enforceable?
Divorce mediation itself is not legally binding; however, the agreements reached during mediation can be made legally binding by having them incorporated into a marital settlement agreement or other court orders. An Appleton divorce mediation lawyer can help draft these documents to ensure they are clear, comprehensive, and legally enforceable. Once approved by the court, the agreements become legally binding and enforceable, just like agreements reached through traditional litigation.
Sterling Lawyers, LLC in Appleton is formerly known as 'Sterling Law Offices, S.C.'