Schaumburg Uncontested Divorce Attorneys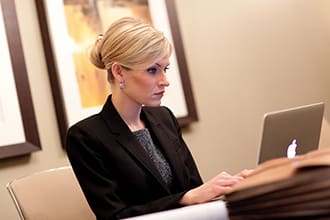 Join one of our experienced family law attorneys and learn about the divorce process, common issues, and participate in a Q and A session.
RSVP here.
Upcoming dates:
Schaumburg Uncontested Divorce Lawyers at Sterling Hughes, LLC
Are you ready to move forward? Call (312) 757-8082 to schedule a strategy session with one of our attorneys.
Navigating the emotional landscape of an uncontested divorce can be one of the most challenging experiences in a person's life. Besides the personal turmoil, the complexities of the legal process can be overwhelming. That's why having a Schaumburg divorce attorney who can make this process streamlined and hassle-free becomes crucial. We understand the intricacy of such legal situations, providing unwavering support and dedicated legal guidance during this critical time in your life. Our team aims to turn a stressful situation into a manageable process, helping you face the future with certainty.
Your Beacon in Schaumburg for Uncontested Divorce
Sterling Lawyers has become a beacon of trust for clients seeking legal representation for uncontested divorce in Schaumburg. Our team is known for its extensive knowledge and dedication to not just relieving clients' stress but achieving favorable outcomes. We aim to simplify the complex process, ensuring your best interests are always protected. What sets us apart from other law firms in Schaumburg is the level of understanding we have regarding family law matters. We provide personalized attention to each client, enhancing your experience by addressing your unique needs.
Embracing a Customized Approach for Your Unique Needs
We understand that each uncontested divorce case is unique. We invest time to comprehend each client's specific needs, tailoring our services accordingly. By understanding your unique situation, we can provide transparent quotes, avoiding hidden costs or surprises. With our fixed fee pricing structure, we provide comprehensive, high-quality legal representation without mounting costs. Our customized approach creates an environment of increased client satisfaction and better outcomes.
Decades of Profound Legal Experience
Our Schaumburg uncontested divorce attorneys have a vast experience serving clients with excellence. The team's profound knowledge about the finer details of the legal case makes us stand out as a reliable choice for clients. We focus on making the process affordable and convenient for clients, ensuring they receive necessary support without delays or financial strain. Our vast experience translates into a high level of confidence when dealing with legal matters, reassuring clients that they are in capable hands.
A Smooth Journey through the Legal Process
We are committed to minimizing disruptions and maximizing resolution during family law proceedings. We strive to make the process of divorce as effortless as possible, ensuring a smooth transition with minimal disruptions to your life. Our professional lawyers work with various aspects of legal proceedings such as property division, child custody, and alimony, providing a well-rounded approach to your case. We are committed to achieving a clear resolution reflecting both parties' decisions, fostering collaboration and reducing conflict.
Your Companion for the Long-Haul
When starting an uncontested divorce, there are factors to consider such as the impact on children, financial implications, and emotional well-being. As circumstances can change over time, you may need to adapt existing arrangements. The attorneys at Sterling Lawyers guide clients through these modifications and provide ongoing support. Several resources and services are available to ensure you are never alone during your journey. Our dedication extends past the immediate needs and helps maintain long-lasting relationships with our clients.
The Advantage of Only Family Law
Selection of an attorney rests on many factors, including past successful similar cases, a proven track record, and considerable experience. The reassurance offered by the team has greatly contributed to our clients' peace of mind during a difficult time. Our focus lies in protecting the best interests of children, ensuring fair distribution of assets, and promoting peaceful resolutions. By providing advice and representation at every step, we assume the role of strong advocates guiding clients through the legal maze.
The Road to Resolution
Understanding the uncontested divorce process could be made simpler by outlining the typical steps involved, including initial consultation, filing documents, negotiation, and court proceedings if necessary. It's important to understand potential challenges and the importance of maintaining open communication with your attorney. The attorneys at Sterling Lawyers guide clients through each stage, offering strategic advice and advocating for their best interests using unique strategies.
Your Comforting and Competent Ally
To start your legal case, it might be beneficial to consult with an attorney to evaluate your situation, understand your rights, and explore available options. With Sterling Lawyers by your side, you can navigate through the complexities of an uncontested divorce with ease. To determine if you qualify for this process at all, it would be a reasonable idea to reach out to the team for a consultation. Seeking advice will provide you with a clear understanding of your rights, options, and potential outcomes, thus empowering you to take an informed decision.
For Immediate help with your family law case or answering any questions please call (312) 757-8082 now!
Frequently Asked Questions
What documents are required for an uncontested divorce in Schaumburg?
Several documents are necessary for an uncontested divorce in Schaumburg. First, you'll need to prepare the Petition for Dissolution of Marriage, which states the grounds for divorce and details about child custody, property division, and support, if applicable. Also needed are a Summons, which notifies your spouse of the divorce action, and a domestic relations cover sheet. If you and your spouse have reached an agreement, you must also prepare a Marital Settlement Agreement and a Joint Parenting Agreement, if you have children. A Financial Disclosure Statement listing all your assets and liabilities is also usually required.
What are the benefits of hiring a Schaumburg attorney for an uncontested divorce?
Hiring a Schaumburg attorney for an uncontested divorce offers several benefits. An experienced attorney can guide you through the complex legal system, ensuring all paperwork is accurately completed and filed on time. They can provide valuable counsel on the possible outcomes and help negotiate the terms of the divorce agreement, even in an uncontested divorce. They can help you understand your rights and obligations and ensure a fair settlement. Moreover, a local attorney will be aware of the specific requirements and practices of the Schaumburg courts, ensuring a smoother process.
What can I expect during the first consultation with a Schaumburg uncontested divorce attorney?
During your first consultation with a Schaumburg uncontested divorce attorney, you can expect a candid conversation about your case. The attorney will gather information about your marriage, finances, property, and children, if any. They will explain the legal aspects of an uncontested divorce and what you can expect throughout the process. They will ask questions to understand your expectations and concerns. It's also an opportunity for you to ask questions about the attorney's experience, fees, and how they will communicate with you. It's important to leave the consultation feeling informed and confident in the attorney's skill to represent you.