Schaumburg Divorce Mediation Attorneys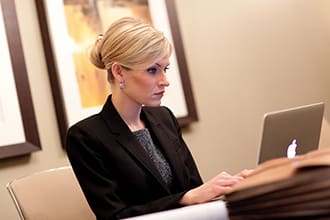 Join one of our experienced family law attorneys and learn about the divorce process, common issues, and participate in a Q and A session.
RSVP here.
Upcoming dates:
Schaumburg Divorce Mediation Lawyers at Sterling Hughes, LLC
Are you ready to move forward? Call (312) 757-8082 to schedule a strategy session with one of our attorneys.
Divorce mediation is often a complex journey, filled with emotional hurdles and legal intricacies. During such a challenging period in life, an attorney's guidance and support can be invaluable. The lawyers at Sterling Lawyers understand the complexities of Schaumburg divorce mediation and are equipped with the legal knowledge to help make the process as smooth and stress-free as possible. They strive to alleviate your worries, ensuring your interests are well-protected throughout this critical period.
Charting Your Path Through Emotional Rapids
Our team stands out as a trusted choice for individuals seeking representation. Our divorce mediation lawyers who are dedicated to relieving their clients' stress and achieving favorable outcomes. When working with a Schaumburg divorce attorney, their objective is to navigate the complex process as swiftly and as efficiently as possible, while ensuring their clients' interests are safeguarded. This dedication to client satisfaction sets them apart from their counterparts in the city.
Personalized Strategy That Matches Your Needs with Your Case
Understanding that every legal case is unique, Sterling Lawyers offers a personalized approach to its clients. They take the time to comprehend each client's specific situation and provide a transparent quote, tailoring their services to individual needs. Moreover, the firm offers a fixed fee pricing structure, which eliminates billing surprises and ensures cost-effectiveness. Through their individual-centric services, clients receive comprehensive, high-quality legal aid without having to worry about escalating costs.
Unfolding the Layers of Family Law
Our attorneys possess comprehensive knowledge on the intricacies of divorce mediation. They are committed to making the process affordable and efficient for their clients. Their vast experience translates into a higher level of competence and reassurance when tackling divorce related matters. Clients can be confident that their case is in capable hands.
A Pledge for Straightforward Proceedings
Striving for minimal disruptions and maximum resolutions during family law proceedings, Sterling Lawyers works tirelessly to streamline the process for their clients. They aim to make divorce mediation as effortless and fast as possible, ensuring a smooth transition and minimizing disruptions to clients' lives. Their lawyers adeptly handle legal proceedings such as child custody, support, alimony, and property division, thereby providing a well-rounded approach to family law cases.
Continuous Support from Your Attorney
Divorce mediation involves several considerations such as the impact on children, financial implications, and emotional well-being. The attorneys on the team are available for guidance throughout this journey, even after your immediate needs are resolved. They offer assistance beyond the initial consultation, keeping clients informed and updated on the progress of their case. The firm also provides access to additional resources such as legal research materials and educational workshops.
The Keystone Ingredient: Selecting Your Legal Advocate
Choosing a lawyer with a proven track record and considerable experience in dealing with similar cases can significantly influence the outcome of your case. Our attorneys have demonstrated consistent success in their past cases, which provides confidence to clients. Our comprehensive understanding of family law and familiarity with local courts and judges proves invaluable during negotiations and litigation.
Methodically Unraveling the Knots
The process of divorce mediation involves several steps from initial consultation to filing documents, negotiation, and potentially court proceedings. Sterling Lawyers guides clients through each stage, addressing potential challenges and ensuring open communication throughout. Through their deep understanding of the intricacies involved, they assist clients by providing strategic advice tailored to their best interests.
Taking Charge with a Consultation
Sterling Lawyers offers an experienced team of attorneys equipped with comprehensive knowledge on the complexities of family law. An early consultation prevents potential legal pitfalls, preserves evidence, and establishes a strong foundation for a successful case. It provides individuals with a clear understanding of their rights, options, and potential outcomes, empowering them to make informed decisions. Consult with a divorce mediation attorney to evaluate your situation and explore available options.
For Immediate help with your family law case or answering any questions please call (312) 757-8082 now!
Frequently Asked Questions
What should I expect from the divorce mediation process with a Schaumburg attorney?
During the divorce mediation process with a Schaumburg attorney, you should expect a structured process that aims to mitigate conflict and promote cooperative solutions. The attorney guides couples through discussions on pertinent issues such as property division, spousal support, child custody, visitation rights, etc. The attorney's role is to facilitate communication, clarify misunderstandings, and explore potential solutions, providing legal info when necessary. The process centers on communication and compromise, promoting mutual agreement over contested court litigation. However, note that the attorney can't enforce any agreements, as mediation is mostly voluntary.
How do I choose a Schaumburg divorce mediation attorney?
Choosing a Schaumburg divorce mediation attorney requires considering factors such as their experience, knowledge, communication skills, and fee structure. It's crucial to seek a lawyer focused on family law and divorce mediation. Review their qualifications, case history, and clients' feedback. An initial consultation will help determine if there's a comfortable rapport - their ability to clearly explain the process, patiently answer your queries, and make you feel at ease is vital. The attorney should be unbiased and prioritize your and your children's best interests over personal gain.
Will a judge respect our divorce mediation agreement from Schaumburg courts?
Judges in Schaumburg courts generally respect agreements made during divorce mediation, provided they are fair and equitable. In fact, judges typically encourage mediation as it fosters cooperative problem-solving and reduces court workload. However, judges have the responsibility to review the agreement to ensure it maintains the state's legal standards, particularly regarding children's welfare and rights. If any terms of the agreement are deemed unjust, the judge has the discretion to request the couple to revise those clauses or decide on them if the couple is unable to agree.