Schaumburg Military Divorce Attorneys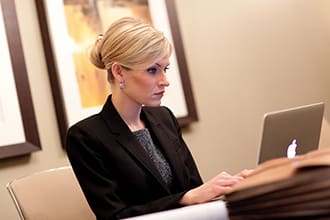 Join one of our experienced family law attorneys and learn about the divorce process, common issues, and participate in a Q and A session.
RSVP here.
Upcoming dates:
Schaumburg Military Divorce Lawyers at Sterling Hughes, LLC
Are you ready to move forward? Call (312) 757-8082 to schedule a strategy session with one of our attorneys.
Navigating the emotional journey that is military divorce can be a turbulent and challenging experience, fraught with complexities and potential pitfalls. This emotionally challenging chapter of life underscores the importance of having knowledgeable Schaumburg divorce lawyers who can guide you through the process. This invaluable legal guidance from experienced attorneys can streamline the process and ease the stress associated with this challenging time, offering substantial benefits to those navigating through these complex situations.
Understanding the Heart's Battlefield in Military Divorce
Sterling Lawyers has become a trusted option for those seeking representation. Providing distinct services and unique features that distinguish them from other law firms in the city, they offer a dedication to alleviating client stress and aiming for the best possible outcomes. Their team of experienced attorneys strives to navigate the complex process quickly and simply, always prioritizing the best interest of the clients. What sets the family law firm apart from others is not only their profound understanding of this legal field but also their commitment to providing each client with personalized attention, enhancing the overall client experience.
Crafting Solutions Unique to You: Our Customized Approach
The personalized approach is a cornerstone of our methodology when assessing unique needs. Our firm commits to gaining a comprehensive understanding of each client's specific requirements and tailoring services accordingly. Utilizing a transparent, clearly explained quote approach, our military divorce lawyers ensure that their services meet every individual need. Apart from our personalized approach, we operate on a fixed-fee pricing model, eliminating financial surprises often associated with hourly billing. This cost-effective model allows clients to receive high-quality legal representation without worrying about escalating costs.
Capitalizing on Extensive Experience in Navigating Family Law
The team boasts an extensive history of serving clients with excellence in aspects of family law. Our attorneys have a deep understanding of military divorce processes, demonstrating superior competence when dealing with such matters. This extensive experience translates into a higher level of confidence for clients, assuring them that their cases are handled competently. The firm focuses on streamlining the process, making it affordable for clients, and ensuring that they receive the needed support without unnecessary delays or financial strain.
Commitment to Seamless Proceedings
Our commitment to smooth proceedings during family law proceedings is demonstrative of their dedication to minimizing disruptions and maximizing resolution. The firm strives to make family law a smooth and swift process, ensuring a smooth transition with minimal disruptions to the client's lives. In handling legal proceedings like property division, child custody and support, and alimony, the team of skilled lawyers provide a well-rounded approach to family law cases. They devote themselves to achieve a clear resolution that reflects both parties' decisions, fostering collaboration and reducing conflict.
Our Continued Assistance Post-Divorce
Sterling Lawyers goes beyond legal representation; they provide ongoing support throughout the journey. Important factors such as the impact on children, financial implications, and emotional well-being are carefully considered. Family law modification services are readily available, considering circumstances can change over time, and individuals may have to adapt existing arrangements. In times of change, the military divorce attorneys guide clients through these modifications and provide ongoing support. The firm is committed to keeping clients informed and updated on the progress of their cases, maintains clear communication channels, and provides regular updates.
The Importance of a Proven Track Record
Experience and a proven track record are crucial when selecting an attorney for a military divorce case. Working with an attorney who has successfully handled similar cases in the past instills confidence in clients and contributes to their peace of mind during the legal process. The role of an attorney in family law cases is to act as a strong advocate and guide clients through the legal process, providing advice and representation at every step.
Stages of a Military Divorce Process
Navigating through military divorce cases involves various stages from initial consultation to negotiation, litigation, or alternative dispute resolution methods. Potential challenges and complexities such as legal requirements, documentation, or dealing with opposing parties may arise during legal proceedings. However, the profound knowledge of Sterling Lawyers in dealing with family law cases enables them to guide clients through each step, provide strategic advice and advocate for their best interests.
Emphasizing the Importance of Initial Consultation
A consultation with a military divorce attorney is crucial for anyone facing challenges in family law. A consultation empowers individuals by providing them with a clear understanding of their rights, options, and potential outcomes. Contact one of our knowledgeable military divorce lawyers today.
For Immediate help with your family law case or answering any questions please call (312) 757-8082 now!
Frequently Asked Questions
What are common challenges in military divorces in Schaumburg?
Common challenges in military divorces in Schaumburg often involve jurisdiction. Given the nature of military service, one or both spouses may be deployed overseas or live in different states, creating complexities around where the divorce should be filed. Furthermore, dealing with the division of military pensions and benefits can be complex due to specific federal laws. Child custody and visitation issues can also be particularly challenging due to the potential for deployments and reassignments. Lastly, the emotional stress experienced by military families, often related to long periods of separation or trauma, can add another layer of difficulty to these divorces.
Is it better to settle a military divorce in Schaumburg through mediation or litigation?
Settling a military divorce in Schaumburg largely depends on the level of conflict and the complexity of the divorce issues. Mediation can be a good option for couples who can communicate effectively and agree on key issues such as division of property, military benefits, and child custody. It is often less adversarial and can be less costly than litigation. However, if there are high levels of conflict, disputes over military benefits, or concerns about hidden assets, litigation may be necessary. Ultimately, both mediation and litigation have their pros and cons, and choosing the best method depends on the couple's unique situation.
What could delay my military divorce process in Schaumburg?
Navigating the court system can be time-consuming, and a few factors could potentially delay your military divorce process in Schaumburg. These may include disagreements between spouses about divorce-related issues, complexities related to the division of military pensions and benefits, jurisdictional issues if one spouse is deployed or stationed out of the state, and any need for temporary orders dealing with child custody and support. Furthermore, if you are serving overseas, you have the right to "stay" the divorce proceedings until you return, which can potentially delay the process.