It is important that the court acquires jurisdiction over the persons of the defendant and the plaintiff or the petitioner. Jurisdiction over the person of the defendant is acquired upon the proper service of summons. "If service isn't proper, you'll have to start all over again," explains attorney Kinsler.
Attorney Toby Kinsler answers your questions on serving divorce papers. He discusses with Anthony Karls why we must serve divorce papers or "give notice." Attorney Kinsler also explains the recommended process for serving divorce papers.
Any family law action is actually a civil suite. What you're suing for, is the right to have a divorce, or the right to get custody or placement, or the right to a legal separation. It is a civil lawsuit, so you must follow the rules of civil procedure. One of the most important steps in this process is notice. You are giving, or getting notice, that you are being sued.
"You have a right to know that someone is suing you for something," explains attorney Kinsler. "If service isn't proper, you'll have to start all over again." This is why it is important to know the right way to serve divorce papers.
Options for Serving Divorce Papers
Service by Mail
Service by Publication
The Best Way to Serve Anyone is Personal Service. This can be done either by Civil Process Server (Recommended), or by the Sheriff.
In order for service to be free of issues, at Sterling Lawyers we always use a civil process server to make sure the person is personally served and we have admission of service signed.
We make it a matter of practice to serve people in person using a civil process server. It doesn't have to be embarrassing for the individual when done right. There is enough tension in family law. Our attorneys will work with a conscientious civil process server in order to avoid injecting unnecessary conflict into the process.
---
Sterling Lawyers, LLC is one of America's fastest-growing family law firms focused on innovating client service. Stay up to date with our weekly content by joining the Sterling Series email newsletter. We bring you stories about building strong families and creating healthy company cultures.
Up Next
Recommended for you
After a divorce is final, you can usually remove your ex spouse from the life insurance policy unless a court orders otherwise to secure support payments.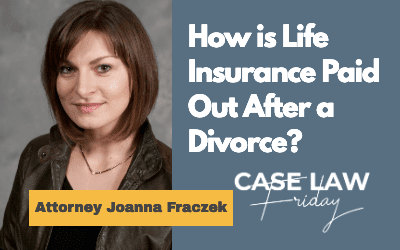 What's Hot
Our Most Important Stories Right Now
Other Sterling Series Shows You May Enjoy
Want the Sterling Team in your inbox?
Sadly, we won't fit but our newsletter will. Get a weekly recap of new Sterling Series episodes in your inbox each week.
Need Help?
The mission of the Sterling Series is to build up and strengthen families. Sterling Lawyers, LLC focuses on empowering family law clients in accordance with the Sterling Series mission and if you need help we are here for you. Getting started takes three simple steps. 
Find out how simple the divorce process can be when you work with a law firm that puts you first. Book your consult today!
Book Your Consultation with Sterling Lawyers, LLC