Top Tips to Effectively Survive Divorce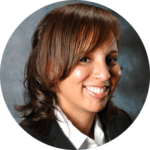 Latrice Knighton is an award-winning divorce attorney, life coach, and speaker. She solves problems using her experience and legal knowledge to offer practical advice.
Every great relationship requires a lot of time, commitment and energy.
This rule applies to relationships with your friends, your children and especially, your spouse.
A successful relationship requires that you build a strong financial future together, remain in-sync raising your children, and stay focused on keeping your romantic relationship alive — which all require significantly more time and effort than most people imagine.
But sometimes no matter how dedicated or committed you are to making a relationship work, sometimes your relationship just doesn't get better.
That's when we have to ask ourselves a really important question: should we stay the course and double down on our commitment — or do we cut our losses by going through the process of divorce and move on? The answer is not always obvious.
But knowing when to leave a relationship is necessary if you plan to have a long and happy life.
If you've ever felt torn between whether you should commit to or quit your relationship or marriage, this episode is for you.
In this episode, you'll get three must-ask and must-answer questions to help you decide when to quit and when to commit.
What's more, these same three questions are crucial to ask before you file for divorce or legal separation from your significant other. Write them down now and save your future self untold amounts of time, money and heartache.
You say that not caring does not mean being Indifferent. It means to be comfortable with being different. What does that mean?
This is a big hangup, because when people hear not caring they imagine someone being disrespectful and indifferent to what is going around. And the truth is that indifference does not solve any problems. It is just another form of avoidance of those problems.
A healthy form of that would be comfortable with the adversity and put your energy towards the things that matter to you.
People always strive for happiness, and there is always value in that. There is value in not beating yourself up when not in that state as well.
The main point was that it is okay to feel bad. Everybody is going to feel bad sometimes. A huge component of living a healthy life is that it is important to accept that. When you get mad at yourself because you are mad it creates a feedback loop of guilt or anger which can spiral out of control.
There is importance in learning how to care about something deeper than a "negative emotion" itself and not let it beat you up as it is just apart of life sometimes.
So much satisfaction comes from solving problems. If you eliminate that you are actually doing yourself a disservice.
Problems are the building blocks of happiness, and that is really counterintuitive to most people because they think happiness is no problems. But the truth is that there needs to be some sort of struggles, but they need to be good struggles. Struggles that invigorate you, feel important to you, and contribute to the people around you as that's what provides meaning.
What if the problems are so bad that they do not produce meaning or contribution?
You ultimately need to find a way to solve them. The problems are never going to go away and it is really down to choosing those problems. Generally if people feel stuck it's because they do not have the power to solve something in their life. The truth is that you always have the power to react or create the meaning in your life.
It is usually a matter of perspective. The first action should be to change it. The second action should be to do something to set about solving it.
It is not about what will make you happy, but what pain are you willing to sustain?
It's easy for people to have visions for themselves. The problem is that what actually produces the success is our ability to try and enjoy the struggle involved in it.