Maintaining Communication During Divorce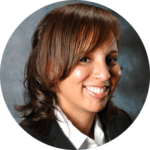 Latrice Knighton is an award-winning divorce attorney, life coach, and speaker. She solves problems using her experience and legal knowledge to offer practical advice.
Communication is the key to success for any relationship.
Divorce
may seem like a way to completely cut contact from the other person, but if there's a child involved it may be harder than one might think. If involvement in the child's life is important to you, it's worth overcoming the differences between each adult and be there for the child.
Jeanne Bascom is a licensed clinical social worker and a substance abuse counselor with over 20 years of experience in both the Mental Health and Addiction fields. She is here to discuss about communication skills that are built with her clients to be productive co-parents in their child's life for those that are going through a divorce.
Where did you grow up and how did you get to where you are today?
I grew up in Milwaukee in the Washington Heights area and lived there for most of my life. I come from a big family where I'm one of eleven kids. I am the fifth child, but the eldest girl. My undergrad education is in fishery biology and after graduating I worked as a cook for many years so I never really got a job in my intended major. Later in life I went through some life changes and went to pursue more schooling and got my Master of Social Work (MSW) degree from UW – Milwaukee.
What do you do for work as of today?
I have a license to deal with mental health and substance abuse while a lot of people just do mental health. I deal a lot with mood disorders and family work.
How do you typically approach the marriage side of family work?
The main problem with most couples is communication and a lack of understanding. So, I generally start out with helping them to learn how to listen and understand what the issues are and how to compromise.
Is there any special consideration to how you approach divorcing parents and their children? Intact families vs families that are breaking up?
What is their goal? What are they trying to achieve? How do I help them be nice to one another and communicate without increasing their anger? If my parents are angry and they can't even talk, how am I able to talk about what I need? These are questions that need to be looked into and getting people past their issues for the betterment of their children.
Is there a certain area that you concentrate on for the substance abuse side of your work?
It's any area when it comes to addiction as the symptomatology is the same regardless of what you're doing. It's all about understanding why it's happening and how do we put steps in place to not continue to use.
Is there a type of substance abuse that you see more frequently than others?
Right now it's heroine and alcohol and it has been that way for quite a while.
Is there one type of substance that you're finding that is extraordinarily destructive in a pretty quick way?
It would all depends where people are at with the addiction. As of right now I would say opioids are very destructive and very hard for people to let go of.
What's the best way to contact you?
My phone number which is (262) 254-1112 extension 11.