How to Maintain Your Warrior Spirit When Facing Obstacles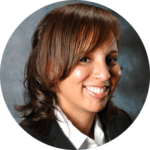 Latrice Knighton is an award-winning divorce attorney, life coach, and speaker. She solves problems using her experience and legal knowledge to offer practical advice.
"Tough times never last, but tough people do." ~Robert Schuller
If you've ever felt overwhelmed by the current obstacles you are facing, this episode is for you.
When we are going through tough times – they seem to last forever.  We feel as though the pain is never going to end and that pain leads to feelings of hopelessness.
When we feel hopeless, we are not motivated to do much because we don't believe that anything that we do can make a difference.  But we can change things in our lives by taking action, which is what tough people do.
Tough people are not born but are created.
Learning techniques to overcome obstacles is necessary when necessary if you want to have a long and happy life.
In this episode, you'll get tips to help you overcome obstacles and lessen the amount of pain you are feeling. Regardless of what you may face, issues like covering the cost of divorce or even death can be things that prevent you from being you.
What's more, these same tips are critical anytime you are facing a challenge or feel uncertain about the future. Write them down now and save your future self untold amounts of time, money and heartache.
When it comes to handling a challenge — what have you typically done when facing an obstacle? What technique has worked out the best for you?
Leave a comment below and let me know. Remember to share as much detail as you'd like in your reply.
You get to choose the path your life takes. My hope is that today's show and every show will help you make choices that are aligned with your personal values and goals.
As always, thanks for reading, watching and adding your voice. You matter. Your voice matters.
With love,
Latrice