How to Make Yourself Happy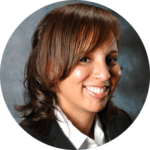 Latrice Knighton is an award-winning divorce attorney, life coach, and speaker. She solves problems using her experience and legal knowledge to offer practical advice.
Every one of us wants to be happy. 
And, each one of us has different ideas about what we need in order to be happy.
But we all get the same feelings and thoughts when we are not happy.  When we are not happy, we tend to feel scared.  When we are not happy, we worry about what is going to happen next in our lives.  When we are not happy, we over-analyze every situation and try to manipulate it to get what we want  — which all requires significantly more time and energy than we can muster up.
Sometimes no matter how much thought and dedication you have made toward getting what you want to become happy, you don't get what you want and you become frustrated.
That's when we have to ask ourselves a really important question: what do I do when things are not working out as I want – do I keep trying — or do I give up on my dreams? The answer is not always obvious.
But knowing what to do when you are stuck in a rut is the only way out. Not only is this possible through self-reflection, but other tasks that might seem trivial may assist you when you're feeling down.
Take marriage, for example, you can feel like you're at the top of the world when things are going well, but if things are falling apart for some divorce may seem like the only explanation.
If you've ever overwhelmed with worry about what your next step should be, this episode is for you.
In this episode, you'll get three must-ask and must-answer questions to help you decide what to do when you are stuck in a rut.
What's more, these same three questions are crucial to ask before you take any action regarding your personal and professional life. Write them down now and save your future self untold amounts of time, money and heartache.
When it comes to your happiness — have you ever been frustrated when things have not worked out the way that you wanted? Were you able to be happy? What did you do to achieve happiness?
Leave a comment below and let me know. Remember to share as much detail as you'd like in your reply.
You get to choose the path your life takes.  My hope is that today's show and every show will help you make choices that are aligned with your personal values and goals.
As always, thanks for reading, watching and adding your voice. You matter.  Your voice matters.
With love,
Latrice