Achieving Goals With the Help of a Coach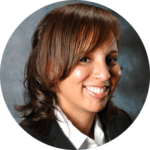 Latrice Knighton is an award-winning divorce attorney, life coach, and speaker. She solves problems using her experience and legal knowledge to offer practical advice.
Life is unpredictable. There are many twists and turns and we look back reflecting on how we got here. When life starts to throw hurtles your way, it can be difficult to always overcome them. Of the many possible issues, divorce can be just one of them. However, just like with anything in life, reaching goals in a timely manner can be a hurdle in and of itself.
A coach is someone who offers clients guidance on getting onto the next level of life. They work one-on-one with clients to find out what it is they want to accomplish and asks them empowering questions to aid them in achieving the things that they want rather than telling them what to do.
Katie Rasoul, of Team Awesome, is a leadership coach and culture expert helping leaders grow personally and professionally through her company. She has been practicing for more than a decade along with being a TEDx speaker alumna and author of the best-selling book Hidden Brilliance.
In this episode, you'll get advice and tips on the usefulness of a coach during a big life transitions.
What are your certifications as a coach?
I have my certification from the ICF (international Coach Federation), which is a is a governing body around the ethics of coaching, principles of good coaching, and a professional model so you stay true to what coaching should be rather than other programs like consulting. This 9 month training program to become a certified professional coach ensure that I know the best practices as a coach along with demonstrating that I put in the time to learn the skills in order to do my job to the best of my ability.
What type of class do you typically help?
I generally focus on groups or individuals in an organization who are professionals or in leadership roles. They're typically driven people that are looking to move onto their next steps or obtain goals quicker.
In what ways is coaching offered to your clients?
Packages are based on how many sessions you're looking for each month while ranging from two, three, or four sessions. This is also heavily based on how quickly you would like to move towards your goals. There is a minimum amount of months of time when signing up – being six months – but most people stay longer than the minimum.
What is an ELI (Energy Leadership Index) and how does it benefit your clients?
The Energy Leadership Index is an assessment that you take and it shows your energy levels and attitude that you show in your normal day. By being an ELI master practitioner, I'm able to accurately assess my clients and provide them with an understanding on how they react and this allows them to consciously choose a response that is more helpful in stressful situations rather than the typical reaction that might be harmful depending on the situation.
When do people decide that they need a coach?
Any sort of life transitions is when people really start looking, but that is not the only time they're helpful. Sometimes people may feel a little stuck and don't know where to start coaching can be helpful.
What is your book Hidden Brilliance about?
It's really an expansion on the topic of coaching and my own personal story and journey about myself and learning about the "high achieving introvert." Then on the back half of the book, there are some activities that are all the things that I did to get from point A to point B and live bigger and find my purpose in life.
What's the best way to contact you if someone would like to find more information?
My website "teamawesomecoaching" is a great place to start that offers a ton of great information about what I do. I also have a pretty extensive blog and I sends out a newsletter every Friday if you're interested in finding out my latest projects.
---
References: Katie Rasoul, Team Awesome