Tips on Dealing with Your Spouse During Divorce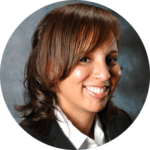 Latrice Knighton is an award-winning divorce attorney, life coach, and speaker. She solves problems using her experience and legal knowledge to offer practical advice.
Divorce brings out the worst in people. This is due to the fear and anxiety present which pushes actions of self-interest. One of the first things that should be discusses are new rules and guidelines to set in place to protect yourself with your spouse. With these set rules in place, it not only will protect you, but also allows you to take the higher moral ground and not stoop to their level.
13 tips to know when dealing with your spouse during your divorce:
If the love is gone, substitute politeness by walking away from arguments.

This helps minimize conflict between both parties.

Be skeptical: half of what is said is meant to deceive you by telling you what they want you to believe.
Play dumb: Sometimes it can be a good thing to play dumb, you're able to understand when they're lying to you because you already know the truth.

This gives you time to plan ahead and gather evidence that will be used in your favor.

Expect your spouse to resent your lawyer and to attempt to undermine their advice.

The whole goal of your lawyer is to get the best outcome for you, so of course your spouse does not see this as a good thing.

Don't enter into private negotiations without your lawyer's knowledge and advice.

Private negotiations are nearly always not in your best interests. If they are, your spouse won't have a problem with you contacting your attorney.

Don't make agreements or sign anything without talking to your lawyer first.

What might seem insignificant to you might have a big role on what is impacted on the rest of your agreements.

When in doubt, believe your lawyer, not your spouse. Your attorney always has your best interest in mind unlike your spouse.
Use your attorney as a hired insulator.

Learn to say: "talk to your lawyer and have them talk to mine."
If you have an aggressive spouse, this allows you a way to not directly give them an answer if they always expect one.

Don't rub in your legal victories.

Sore losers try to even the score and may become more difficult to work with as the divorce progresses.

Obtain a post office box if you still live with your spouse.

By doing this, it prevents your mail being intercepted by your spouse. Give that mailing address to your attorney as soon as possible.

Do not keep files in connection with your case at your marital residence or any location where your spouse could seize them. Another option is to lock them up in a safe place.

Placing them in a separate location does not allow them the opportunity to learn your entire case and strategy.

Do not presume that your counsel receives copies of any correspondence, legal pleadings, or notices that you may receive in the mail or by judicial process. Upon receiving any such documents, contact your attorney immediately and send the counsel copies to them.
Do not be intimidated by your spouse if an ultimatum or deadline is given to you. One does not negotiate "under the gun" as to time. That offer or a better offer may always be available.