Know Whether to Stay or Leave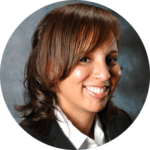 Latrice Knighton is an award-winning divorce attorney, life coach, and speaker. She solves problems using her experience and legal knowledge to offer practical advice.
Every great relationship requires a lot of time, commitment and energy.
This rule applies to relationships with your friends, your children and especially, your lover.
A successful love relationship requires that you work with your significant other to build a strong financial future together, communicate to remain in-sync raising your children, and focused on keeping the romance alive — which all require a lot more time and effort than most people realize.
But sometimes no matter how dedicated or committed you are to making a love relationship work, the romantic feelings fade and you no longer feel like working at the relationship anymore.
That's when we have to ask ourselves a really important question: should we stay in the relationship and double down on our commitment — or do we end the relationship and try to move on? The answer may not be obvious.
But knowing when to leave a love relationship is necessary if you plan on having a long and happy life.
If you've ever felt torn between whether you should stay or leave a love relationship (including a marriage), this episode is for you.
In this episode, you'll get three must-ask and must-answer questions to help you decide when to stay or leave a love relationship.
What's more, these same three questions are crucial to ask before you file for legal separation or divorce from your significant other. Write them down now and save your future self untold amounts of time, money and heartache.
When it comes to ending a love relationship or marriage  — have you ever felt torn between staying and leaving? What helped you decide?
If you are still uncertain, here are some more questions you can use to reflect if you should stay or go.
Leave a comment below and let me know. Remember to share as much detail as you'd like in your reply.
You get to choose the path your life takes.My hope is that today's show and every show will help you make choices that are aligned with your personal values and goals.
As always, thanks for reading, watching and adding your voice. Your voice matters because you matter.
With love,
Latrice