How to Get the Job You Really Want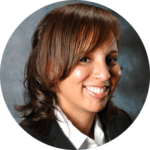 Latrice Knighton is an award-winning divorce attorney, life coach, and speaker. She solves problems using her experience and legal knowledge to offer practical advice.
Every one of us wants a job or career that we LOVE.
This typically involves great pay, good benefits, be able to create your own schedule, room for growth and an awesome work environment.
Many of us believe that we cannot have the job or career that we really love – because we have not found it yet. Finding the right job at the right company takes a lot of work — and requires more time and effort than most people want to invest.
But sometimes you know that you can no longer stay at your job and at the same company because it is killing you.
Many times we ask question our jobs and careers right around a major change – like the end of a marriage or the ringing in of a new year.  That's when we have to ask ourselves a really important question: should we stay at our current job and current company — or do search for the job at the company that will make us happy? For some, that question is uncomfortable.
But knowing when to leave a job or career – or start a new one – is necessary if you plan to have a long and happy life.
If you've ever felt uncertain about what to do if you are looking for a new job right now or wait until the beginning of the new year, this episode is for you.
In this episode, you'll get three awesome tips to figure out when to start your job search and what to do.  
What's more, these same three tips are crucial to ask anytime you are considering an employment change.  Write them down now and save your future self untold amounts of worry, ambivalence and time.
When it comes to changing your job or starting a new one — what has stopped you from moving forward?  What do you need to help yourself move forward?
Leave a comment below and let me know. Remember to share as much detail as you'd like in your reply.
You get to choose the path your life takes.  My hope is that today's show and every show will help you make choices that are aligned with your personal values and goals.
As always, thanks for reading, watching and adding your voice. You matter.  Your voice matters.
With love,
Latrice