How to Deal with Judgmental People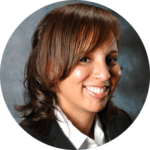 Latrice Knighton is an award-winning divorce attorney, life coach, and speaker. She solves problems using her experience and legal knowledge to offer practical advice.
Every person wants to feel appreciated and respected.
More specifically, we want to be appreciated and respected at least by our family and friends.
When we feel appreciated and respected, we are in loving relationships.  We are more open to be vulnerable, grow from the knowledge shared by others, and feel safe to try new things and communicate our feelings with those same people we have been in long-term relationship with.
But sometimes you don't get the appreciation and respect that you deserve – even when you have been giving it out to others. Perhaps, as a couple, you have grown apart and as a result the respect is dwindling.
That's when we have to ask ourselves a really important question: how do I deal with the judgment of my family and friends  — or do I talk to them about it (or possibly cuss them out) or do I just ignore the comments that are being made? The answer is not always obvious.
But knowing how to handle disrespect is important if you want to keep your same relationships and learn how to draw a line in the future for behavior you will accept.
If you've ever disrespected by a family member or friend and don't know what to do, this episode is for you.
In this episode, you'll get three tips to help you decide what to do when you feel judged.
What's more, these same three questions are crucial to ask in any relationship  – romantic, friend, work, etc.. Write them down now and save your future self untold stress and heartache.
When it comes to dealing with a disrespectful comment – what have you done in response in the past?  How did it change your relationship?  How did it change the way you felt?
After reflecting on those questions, there are different actions someone can take to handle judgmental people.
Leave a comment below and let me know. Remember to share as much detail as you'd like in your reply.
You get to choose the path your life takes.  My hope is that today's show and every show will help you make choices that are aligned with your personal values and goals.
As always, thanks for reading, watching and adding your voice. You matter.  Your voice matters.
With love,
Latrice