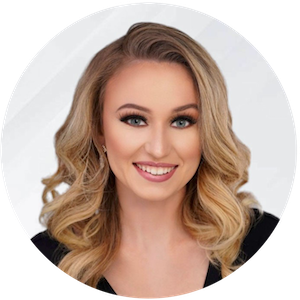 Practice Areas:
Divorce, Child Custody, Child Support
Primary Location:
Naperville, IL
Experience:
Licensed Since 2022
Average Client Rating for
Reagan Airey

Attorney Reagan Airey helps families navigate life's most difficult transitions. Whether facing divorce, child custody issues, or other family law matters, Reagan is committed to providing compassionate counsel and dedicated advocacy.
Now a member of the Illinois State Bar and the Chicago Bar Association, Reagan first discovered her passion for law while studying Psychology at Ball State University. Her interest in understanding people and helping those in need led her to earn a law degree from DePaul University in 2022.
While in law school, Reagan volunteered with Ascend Justice's domestic violence helpline, assisting victims in obtaining protective orders. She also served as a research assistant, gaining valuable experience that helped her become Lead Articles Editor of the DePaul Journal of Health Care Law. For her dedicated public service, Reagan received the Benjamin Hooks Distinguished Public Service Award.
With her degree in hand, Reagan chose to focus her practice on family law. She knew that in this area of law, she could make a meaningful, lasting impact on people's lives during profoundly difficult times. Reagan brings empathy, discretion, and care to every case. Whether a divorce involves complex financial issues, or a custody case requires negotiating across state lines, she is committed to achieving the best possible outcome for her clients.
Are you ready to move forward? Call (312) 757-8082 to schedule a strategy session with one of our attorneys.
Reagan's passion for people extends to her personal interests as well. An avid music and arts enthusiast, she can often be found attending concerts or simply enjoying Chicago's vibrant culture. At home, Reagan's cat Lucy provides welcome companionship and laughs. While not working, Reagan seeks out life's simple pleasures – reading, walking, exploring her neighborhood. It's these little details, her appreciation for both relationships and moments, that shape Reagan's optimistic yet pragmatic perspective.
Reagan's ability to navigate challenging situations with care, discretion and strategy is an asset to any case. For help with your most personal legal matters, call to schedule a consultation with Attorney Reagan Airey.